Puzzles are a great way to teach any topic and 2 part puzzles are perfect for the toddler crowd. Print these free 2 part shape puzzles and you'll be on your way to teach shapes to your toddler or preschooler very soon.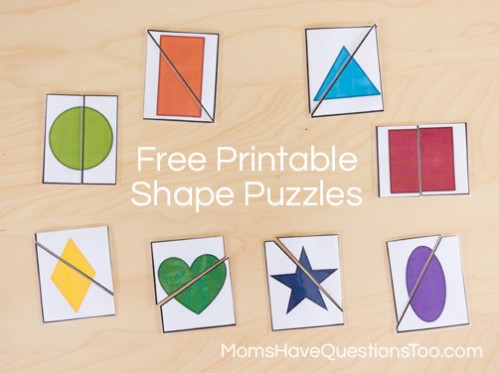 Using these puzzles is pretty self-explanatory, but here are some simple directions for use with toddlers. Simply, put 2-3 shapes on the table at a time. You will have 4 or 6 pieces on the table since each shape has two pieces. Spread the pieces around so they are all mixed up. Have your toddler choose one piece and then have them look for the other piece of that puzzle. When your toddler has both pieces, let them put the puzzle pieces together to complete the shape.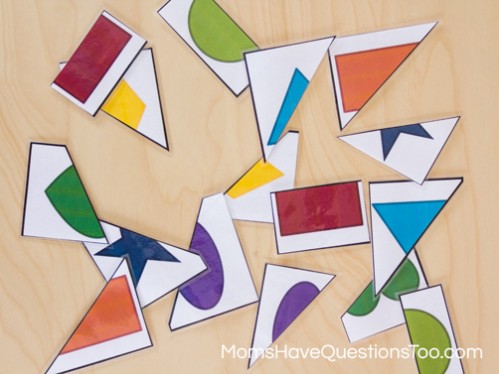 Sometimes Smiley Man has a hard time actually putting the pieces together to make the shape, so I help him. Then, we talk about what shape was just made.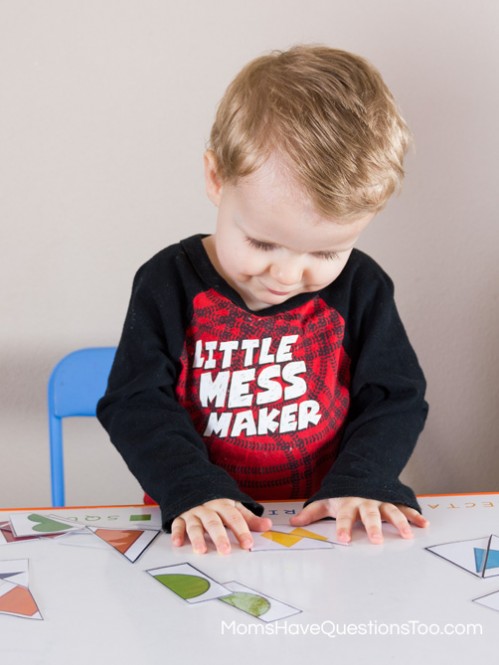 These puzzles also work great for preschool shape activities. When using with preschoolers, put all the shape pieces on a table at a time. Have your preschooler sort through the shapes to find matches and to put the puzzle pieces together. Both Smiley Man and Little Bear love playing with these shape puzzles.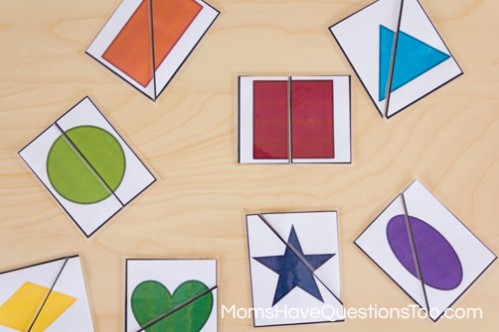 Once all the puzzles are completed, I tell my kids to mess up one shape at a time. I also usually have them say the name of the shape out loud as they are messing it up. This gives them some extra practice at saying the shape name.
One last thing, I want to emphasize that right now I am only teaching Smiley Man the four basic shapes (circle, square, triangle, and rectangle). Whenever I do shape activities with him, I only use those four shapes. We will do lots of preschool shape activities when he gets older and he is still really young, so I don't want to confuse him by teaching him too many shapes. He is the perfect age to learn 4 shapes so that is what we work on.
*Want to see more themed activities like this for toddlers or preschoolers? Check out our store page where our toddler and preschool series are compiled into Activity Packs for only $1.99! The Activity Packs are full of lesson plans, printables, and a curriculum guide.