How can alphabet rubber stamps be used for learning and for fun by my preschooler or toddler?
I bought these Melissa and Doug Alphabet Stamps at the beginning of this year so Smiley Man could use them with my Toddler Curriculum. So far, both Smiley Man and Little Bear LOVE them. They are really sturdy and are really fun for my kids. Suddenly Little Bear is more interested in spelling than he ever has been! :)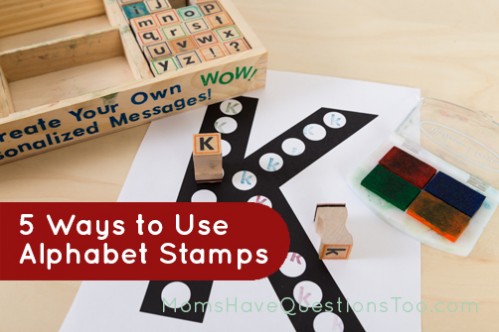 In case you're wondering, it only took about 5 seconds for this rubber stamps set to get "kidified." That means Smiley Man pressed the top of a stamp into the stamp pad instead of the rubber part. You might notice how the lowercase "i" is a bit, blue. And it only got worse from there. ;) I do have to say though, even with the stamping in the wrong place and the mixing of colors on the stamp pad, this set still works great. No, the colors are not as beautiful as they would be if my kids didn't mix the colors, but they love it and that is more important to me. These rubber stamps are high quality and keep my kids busy for long lengths of time.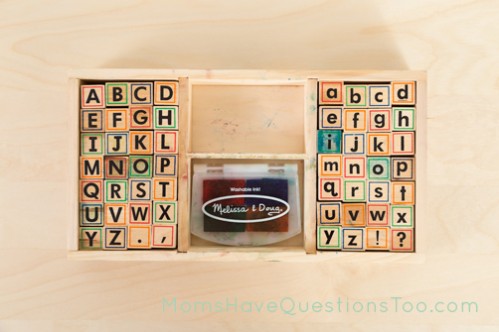 In fact, my only gripe with this stamp set is that the stamps are a little tricky to get out when they are all put away. I might find a different container to store these in so it's easier to get the stamps in and out. By the way, this is not a sponsored post or anything, I just really like these stamps. And now, here are five fun ways to use them.
Write Messages
Use the stamps to write anything that you want. Stamp a letter, stamp a sign, stamp your name. The possibilities are endless.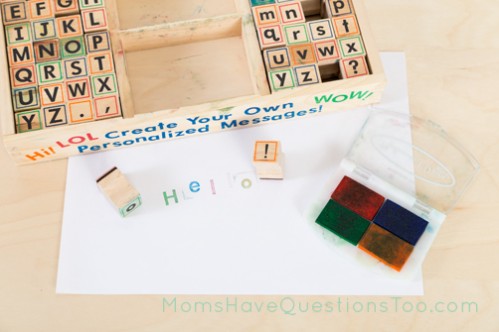 Letter Dot Marker Pages
Use the stamp to fill the empty spaces on letter dot marker pages. This dot marker K is from my Toddler Curriculum, but here is a free set of letter dot marker pages that you can use with alphabet stamps made by 3 Dinosaurs.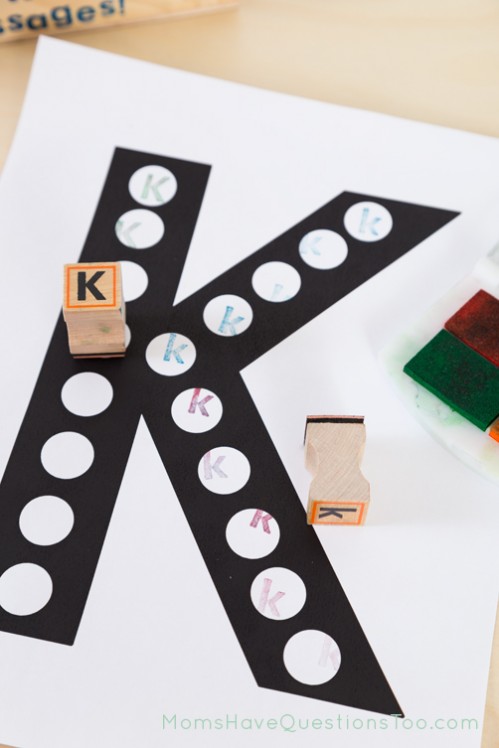 Stamping Pages (or dot marker pages)
This stamping page is also from my Toddler Curriculum and it is made specifically for these alphabet stamps. However, you can really use any type of dot marker page. Try stamping the picture with the letter it starts with. Or, use one letter for the whole page.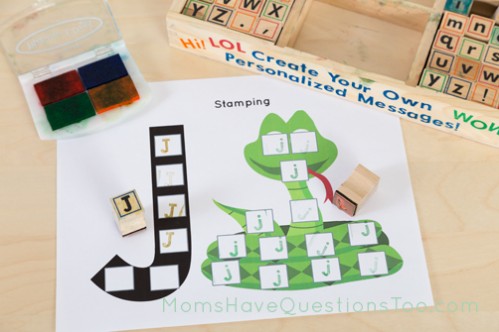 Match Uppercase and Lowercase Letters
Stamp some uppercase letters in playdough (or even on a piece of paper, playdough just makes it more fun). Have your preschool or toddler child find the matches and stamp the correct lowercase letter under each uppercase letter.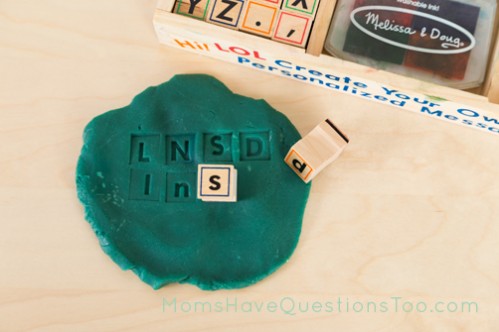 Read, Make, Write
This is a popular type of worksheet that allows kids to read a word, make the word (with alphabet stamps), and then write the word. Here is an example page from my Sight Word Curriculum, but here and here are some other pages you can print for free. Little Bear used to use our DIY Moveable Alphabet with these pages, but now that we have these alphabet stamps, he alternates between the alphabet stamps and his moveable alphabet.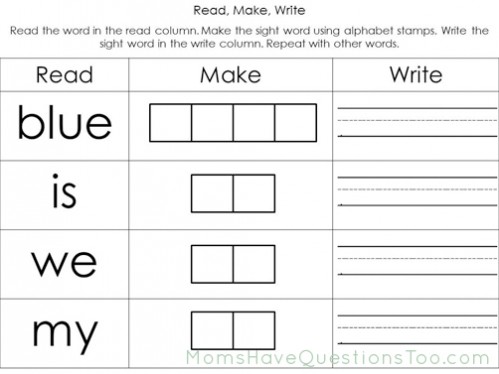 These alphabet stamps have been well loved in our home. What other ways to do you use alphabet rubber stamps?
[hr top]

We've found some fun people with great linky parties. You might just see this post linked up on one of these amazing sites!
No Time for Flashcards, Train Up a Child, Teach Beside Me, 1+1+1=1, Living Montessori Now, In Lieu of Preschool, ABC & 123, Sun Scholars, All Our Days, Frogs and Snails and Puppy Dog Tails, Homeschool Creations, 123 Homeschool 4 Me, Teaching Mama.