What is a fun way I can teach my child about colors or use pattern blocks?
Hello Readers! I am back after getting all moved into my new house! Of course, there is still some unpacking to be done, but I am so grateful to Cassidy for taking over for a week while I could get mostly unpacked. I am so excited to share with you a project that Cassidy and I have been working on for a few months. Activity Packs!
Here at Moms Have Questions Too, we are going to start selling activity packs that come straight from our toddler and preschool series. Our first two packs will be available to buy in one week from today! That means next Thursday, September 26, you will be able to buy a Color Activity Pack and/or a Pattern Block Activity Pack. Wahoo!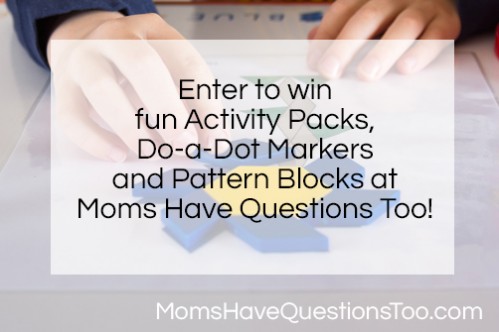 As I said before, the activities in these packs come straight from our toddler and preschool series. So why, you ask, should you buy the packs when you can just get the activities straight from the website? First off, the activity packs are put together much more like a curriculum. They are written with an instructional format, rather than a conversational one. They are compiled in a pdf format that is very printer friendly. Also, the activity packs will have all of the activities and printables in one easy place. Hopefully this will make it much easier to stay organized and do all of our fun activities with your child or preschool class.
In all honesty, you are basically paying for convenience, but with a super low price, who can resist? Plus, we do have one extra perk! In each activity pack that we sell, there will be two additional activities with printables that are not on our website. These activities will be exclusive to the activity packs and should add even more value!
The Activity Packs are digital downloads. You will not receive a printed copy, but you are free to print the activities yourself!
Here is a sample of the inside of the Color Activity Pack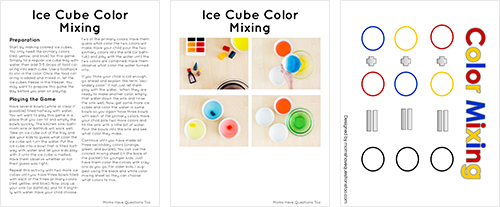 To get everyone even more excited about these awesome activity packs, we are going to do some awesome giveaways. Each giveaway will be for one of the activity packs, plus a material that you would use with the activity pack. The first giveaway will be for the Color Activity Pack AND for a package of Do-a-dot markers! The second giveaway will be for the Pattern Block Activity Pack AND for a container of 250 Pattern Blocks! Be sure to enter both giveaways if you want a chance to win everything. And don't forget. If you don't win, our activity packs will be available for sale starting September 26!
The giveaway is now over. If you'd like to learn more about our Activity Packs or purchase one, please visit our store!
Color Activity Pack and Do-a-Dot Markers Giveaway
Pattern Block Activity Pack and Pattern Block Set Giveaway