This is the last set of generally themed Montessori inspired tot school trays. In July I will start doing some color themed trays, then we'll move on to some shape themed trays, and then we'll move right into the letters. For the future trays, I am trying to plan tot trays that have more Montessori activities and I'm really excited about the ideas I've had so far. Luckily though, this set of Beach tot trays was probably Smiley Man's favorite set of trays that we've ever done, so enjoy looking at all of them. :)
Smiley Man is 25 months old.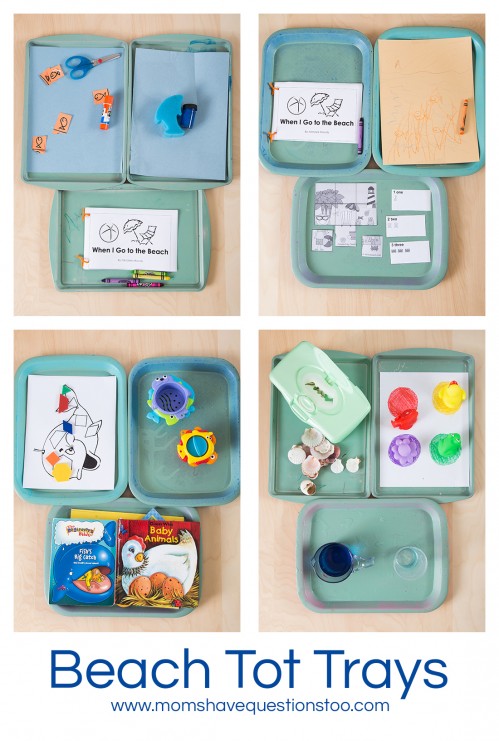 Bath Toy Color Match
This tot tray has a piece of paper with 4 large colored circles on it. It also has four bath toys with a beach theme from the dollar store. Smiley Man takes the bath toys and puts them onto the circle that is the same color of the toy. I was really surprised to find that this was Smiley Man's favorite tray. He loved just playing with the bath toys and he loved putting them on the right circle. I thought this one would be super easy and boring, but he loved it!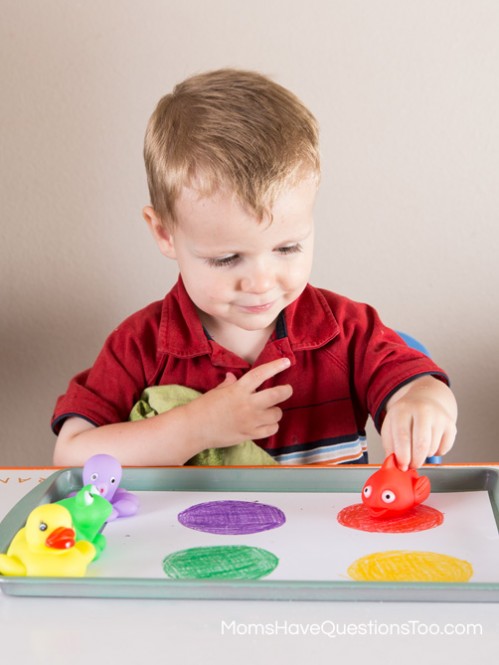 Shells in a Wipes Container
I got a pack of shells from the dollar store and put them onto this tray along with an empty wipes container. I have to say that an empty wipes container isn't a traditional Montessori material for toddlers, but it is one of Smiley Man's favorites. He loves putting things into the wipes container and then dumping them out again. This shell game was no different. He enjoyed it thoroughly.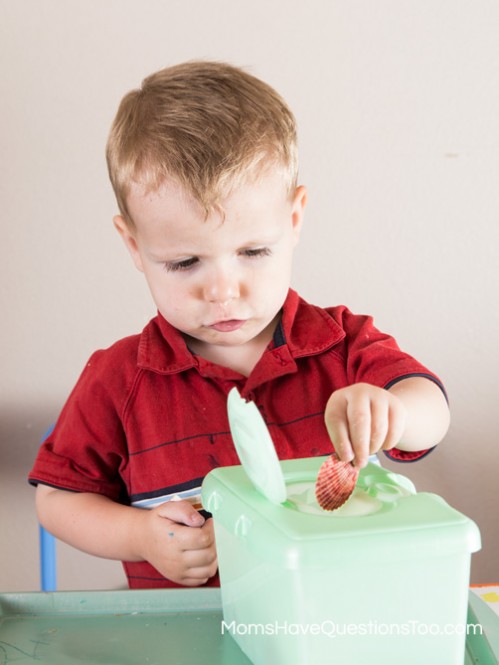 Shape Whale
I made this printable shape whale and put it on a tray along with the pieces of pattern blocks needed to complete the picture. Smiley Man just needed to put the correct pattern blocks onto the correct shapes. This was a little difficult for Smiley Man which tells me that we need to work on shapes more. ;) This is a wonderful toddler school activity for a toddler that is used to seeing and matching shapes.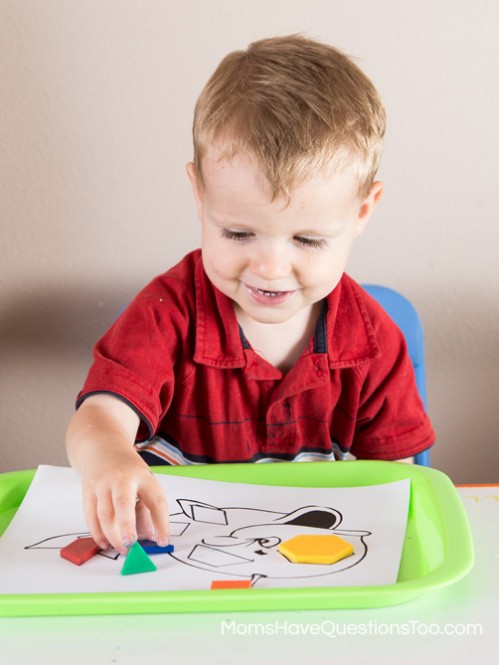 Pouring Blue Water
This tot tray is very Montessori inspired. It simply has a cup filled with blue water and another empty cup on the tray. Smiley Man just had to pour the water from one cup to another. As I fully expected, Smiley Man loved this tray. He loves getting to play with water and he got surprisingly good at the pouring after a while. I was quite impressed.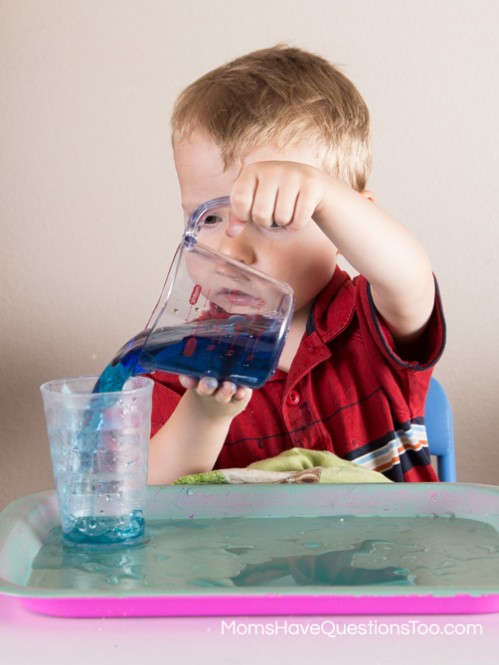 Glue Fish onto the Ocean
I drew small fish on long strips of orange paper for this tot tray. I set the strips on the tray along with some blue paper, scissors, and glue. Smiley Man was definitely excited to see the scissors and he wanted to get to work right away. Smiley Man still struggles greatly with scissors and with a glue stick, but for some reason he still loves these activities.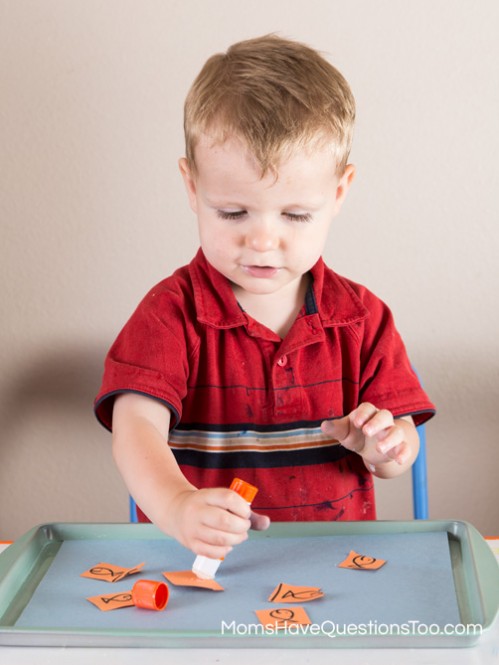 Beach Tot Book
I read this book at least once during the time that these trays are out. If Smiley Man uses this tray while I am working with Little Bear, he can color the pictures or just look at the pictures as he turns the pages. I do not in any way expect Smiley Man to learn how to read by looking at this book. This book is simply for exposure to words and letters and concepts of print.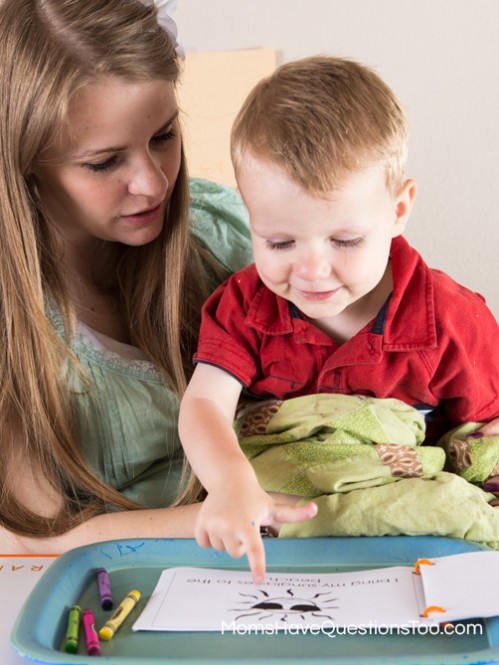 Printables
Beach Counting Cards (Beach Tot Pack page 5), Beach Puzzle (Beach Tot Pack page 15)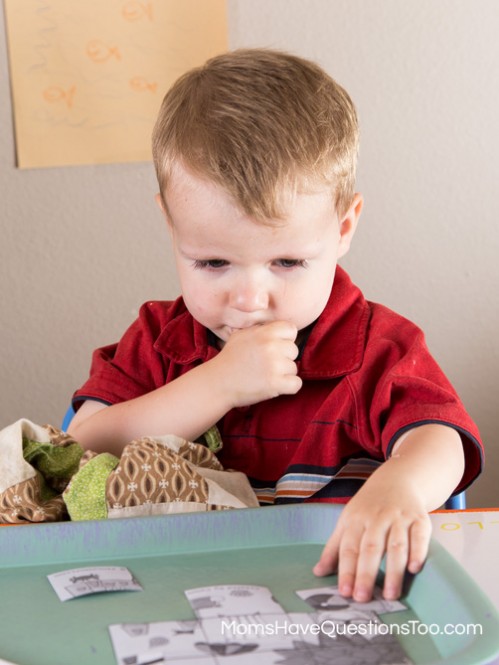 Featured Toy
Nesting sand toys (I couldn't find an exact product match for these on amazon, but here is another fun set of sand toys.)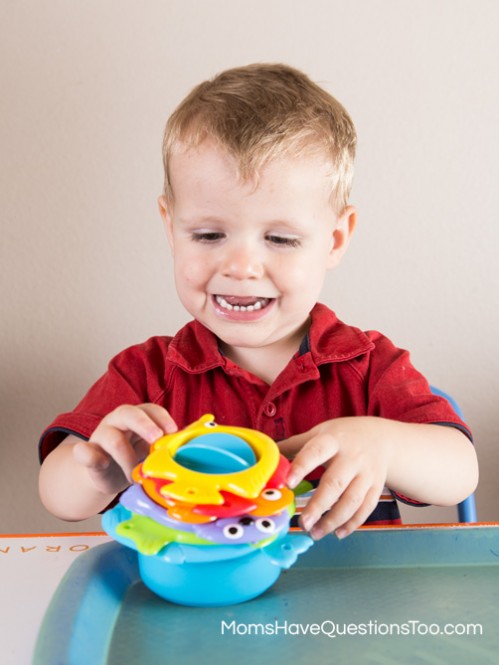 Themed Books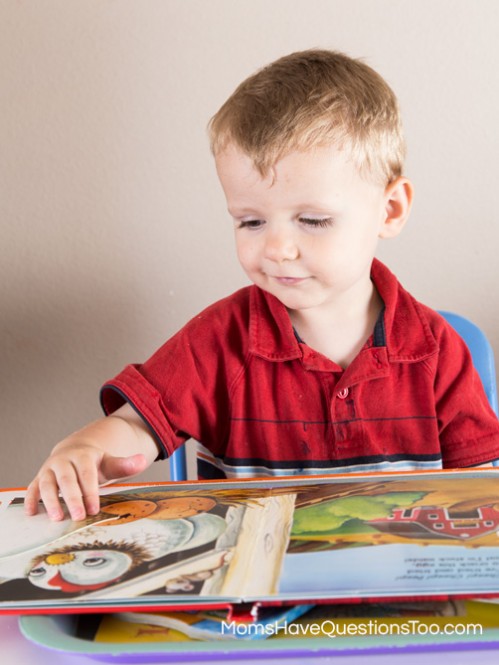 Vertical Surface Coloring
This tray wasn't really done on a tray as much as it was on the wall. I taped a piece of paper to the wall and lightly drew an ocean scene (water, sand, fish, etc.) There were also three crayons (brown, blue, and orange). Smiley Man used the crayons to color the picture of the beach. This was not a favorite this week, but Smiley Man usually does enjoy vertical surface drawing. I think it was just an off week for coloring.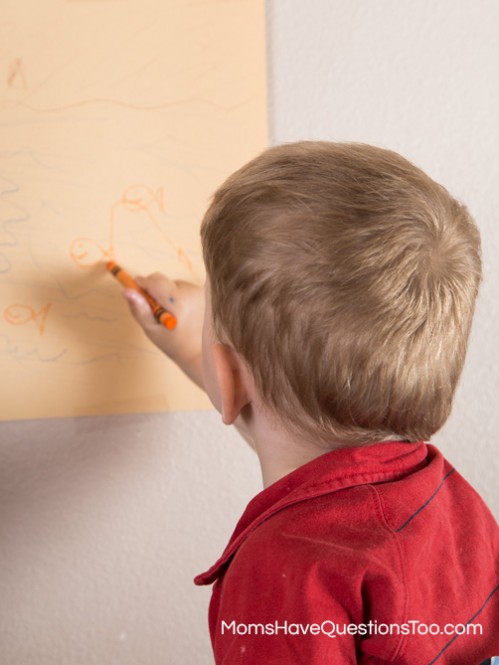 Sponge Whale Painting
I found a pack of sponges from the dollar store that had a whale in it, so I definitely snagged the package to use for a tot tray. This tot tray had blue paper, blue paint, and the whale sponge. I only let Smiley Man work on this tray when I could supervise him so that he didn't get paint everywhere. I started by painting one side of the sponge with blue paint, then I let Smiley Man paint whales onto the paper. He didn't quite understand how to use the sponge at first, but once he got the hang of it, he loved this tray.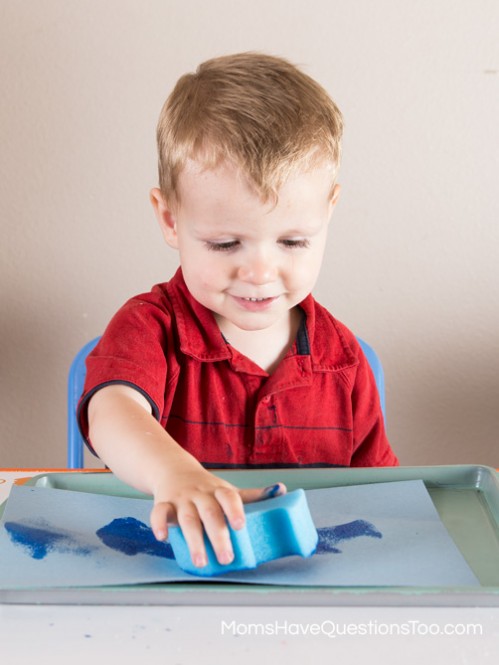 Looking back at all of these trays, this was a really great tot school week. Usually Smiley Man will have one or two trays that he really enjoys and a few that he really doesn't enjoy. This set of trays had several trays that he absolutely loved and probably only one or two that he didn't enjoy that much. I'd say that was a good set of toddler school activities!
[hr top]