What is a kids bag my toddler can use that will keep him busy, but learning?
I am so excited to bring another busy bag idea to you today. If you missed the first post, check out the stickers, crayons, and paper busy bag post to see why I've decided to do a series on busy bags. Now, let's get on to the busy bag.
If you have a toddler, you probably know that toddlers love to put things into something and then to take them out again. I decided to create a busy bag based on that idea. The simple idea is that there are water bottles and Smiley Man can put beads in the water bottle and dump them out again.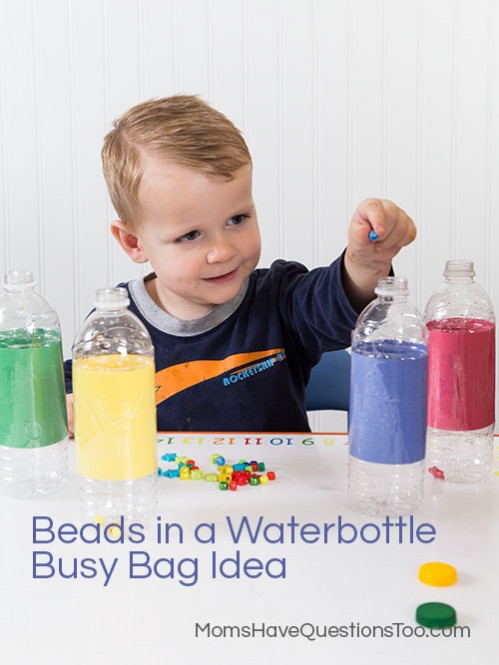 Of course, I'm never satisfied to make something with only one way of playing, so I decided to add some color sorting to the busy bag. I painted the lids of four water bottles (red, green, yellow, and blue) and then covered the outside of the water bottles with the same colors of construction paper.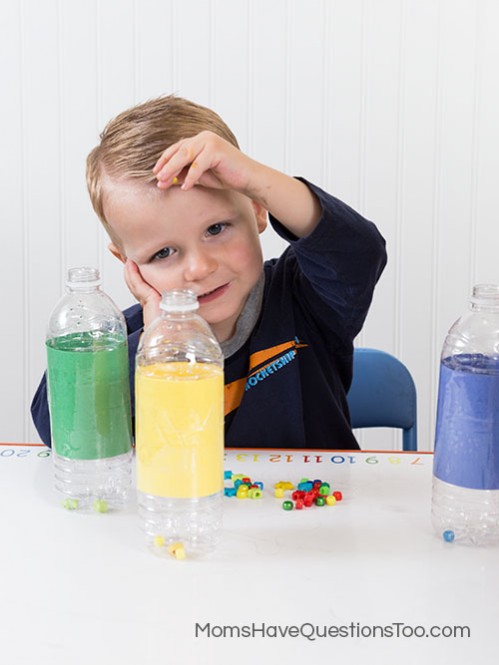 Next, I added a bunch of different beads (all red, green, yellow, or blue) to the busy bag. Now, Smiley Man can play by color sorting the beads. He can also play just by putting the beads into the water bottles and dumping them out again. AND, he can practice taking the lids on and off the water bottle. He can't do this at all right now, so I figured it would be good practice to have these water bottles he can play with and practice any time he wants.
I am so excited about this busy bag and all of the different playing options it provides. I have had Smiley Man play with it a few times just to be sure it works well for him and honestly, I do have a complaint. I used just regular cheap water bottles and I really wish I had used this kind of water bottles. In fact, I'm probably going to get some of those mini water bottles and put them in the bag instead. Right now, the water bottles I used barely fit in the gallon ziplock bag. Plus, they keep falling over when Smiley Man is putting the beads into them because they are so light. So, if you do make this busy bag, don't make my same mistake and just use the mini water bottles from the beginning. ;)
*Want to see more themed activities like this for toddlers or preschoolers? Check out our store page where our toddler and preschool series are compiled into Activity Packs for only $1.99! The Activity Packs are full of lesson plans, printables, and a curriculum guide.