What is a busy bag my toddler can do that will teach him how to button?
Button snakes have been pretty popular for awhile, but I finally got around to making one for Smiley Man. If you religiously follow my blog and remember every single detail of every post I write (not likely I know ;) ), then you know that I planned to make a button snake not one but two times and it didn't happen either time. That's the life of a mom, right. Anyway, I finally got  around to making a button snake and I'm really happy about how it turned out.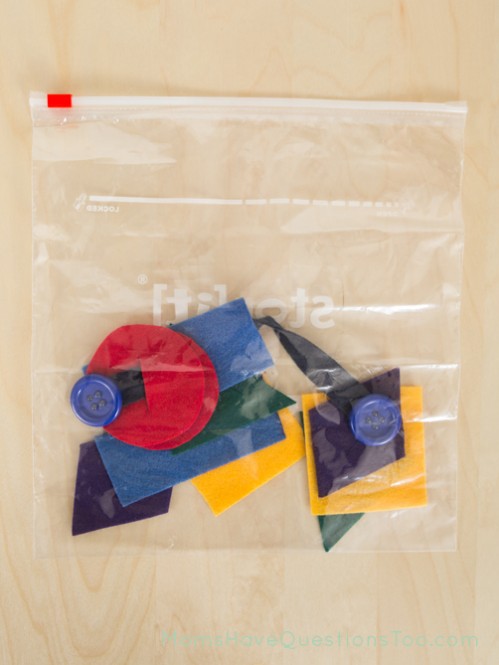 I didn't follow any specific instructions for making this button snake. I just basically made it up as I went and I think it turned out great. I started by making the shapes to button onto the button snake. You can just use circles, which is what most people do, but I wanted this button snake to have as many different ways to play as possible, so I did shapes.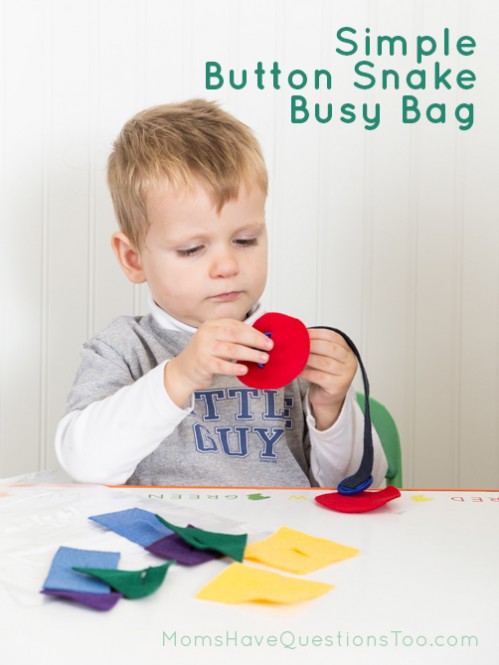 I did 5 shapes and 5 colors of the rainbow (the felt pack I used didn't have any yellow). I cut out two of each shape and in the same color. For example, I cut two red circles, two orange triangles, etc. I figured that way Smiley Man can match the shapes, put them in color order, and just put them on the button snake. See, lots of ways to play. :) Also, I didn't measure the shapes or anything. I made sure they were big enough that they could have a button hole as big as the buttons I bought, but other than that I just guessed on the sizes.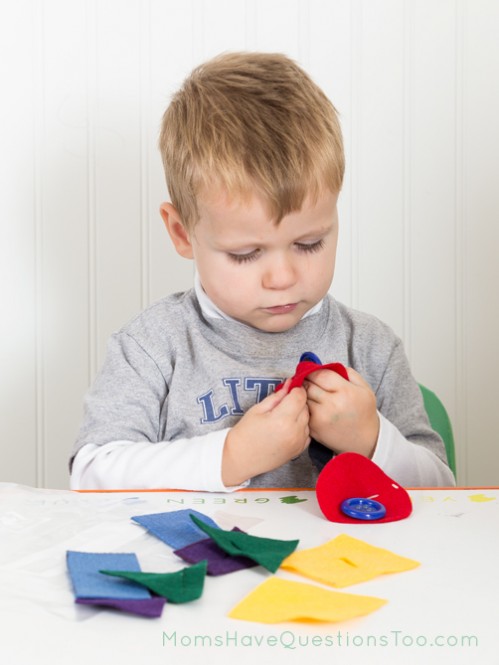 To make the button part of the snake, I cut out thin strip of felt and hot glued a button on each end. I used pretty large buttons and they were just a little bigger than the strip of felt. To be honest, I planned to use ribbon and not felt, but I realized I didn't have any wide ribbon, so I used felt and it worked just fine.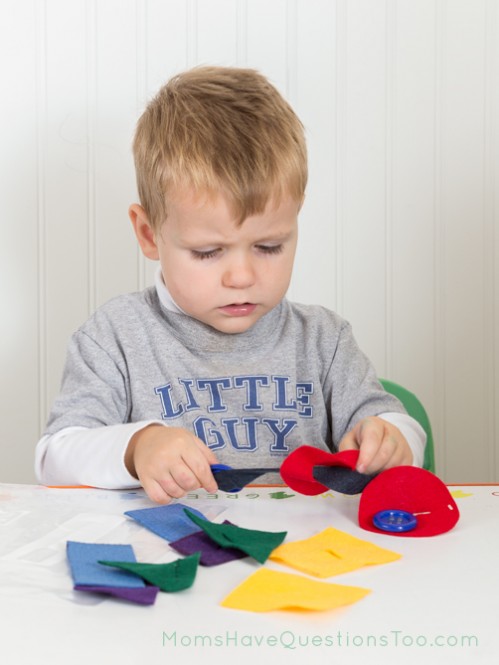 While the hot glue on the felt strip was drying, I cut slits in each shape so that they would fit over the button. Yes, I do have a sewing machine and I know how to sew button holes, but really didn't want to spend the time sewing a bunch of button holes when a slit in the felt would work just as well.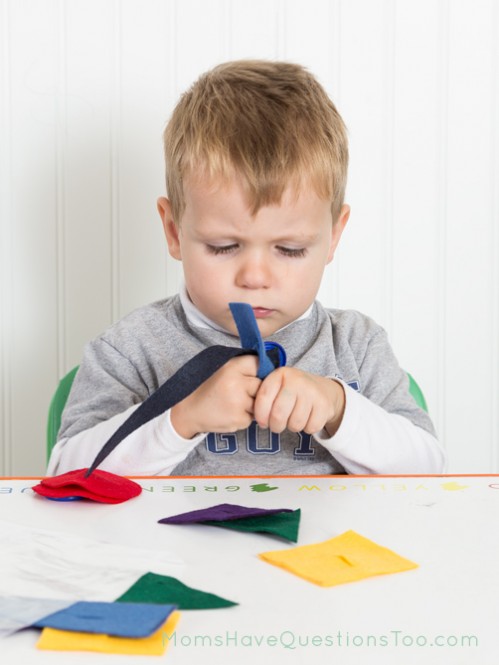 To play, Smiley Man just has "button" the shapes onto the felt strip. This is pretty hard for him still, which just means he needs lots of practice. I'm sure he'll be a pro as buttoning in no time. :) Besides, since I did a few different shapes instead of just circles, there are lots of different ways he can play with this busy bag!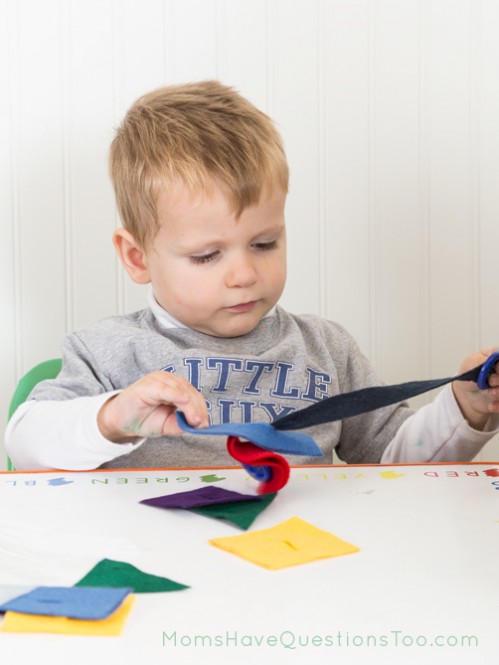 *Want to see more themed activities like this for toddlers or preschoolers? Check out our store page where our toddler and preschool series are compiled into Activity Packs for only $1.99! The Activity Packs are full of lesson plans, printables, and a curriculum guide.
[hr top]
We've found some fun people with great linky parties. You might just see this post linked up on one of these amazing sites!
No Time for Flashcards, Train Up a Child, Teach Beside Me, 1+1+1=1, Living Montessori Now, In Lieu of Preschool, ABC & 123, Sun Scholars, All Our Days, Frogs and Snails and Puppy Dog Tails, Homeschool Creations, 123 Homeschool 4 Me, Teaching Mama.