What are some Christmas learning activities I can do with my toddler?
These Christmas trays have been much loved in my house. They are probably some of the best trays I've ever put together. I did spend a little bit more money on these trays than I usually do. I usually just get a few things from the dollar store and occasionally spend more money on something I know we'll use a lot. This time, though, I bought the supplies from a craft store. I figured if there was ever a good time of year to splurge on nicer tot tray materials, Christmas was the time. :)
One other thing before I show you the trays. I did these Christmas tot trays with Smiley Man a few weeks ago. I also wrote this post a few weeks ago. Why did I do this so far in advance? Well, I'm probably in the hospital right now having my baby! Since I am writing this early, I don't actually know if I'll be in the hospital on this particular day. I also wrote the rest of the posts for this week early because of the baby thing. The rest of the posts for December will be written by Cassidy while I take a little blogging break. Luckily for you, Cassidy is extremely artistic and crafty (and I am not). So, be excited for some Christmas crafts activities that are much more artistic than normal.
Now, on to the Christmas tot trays.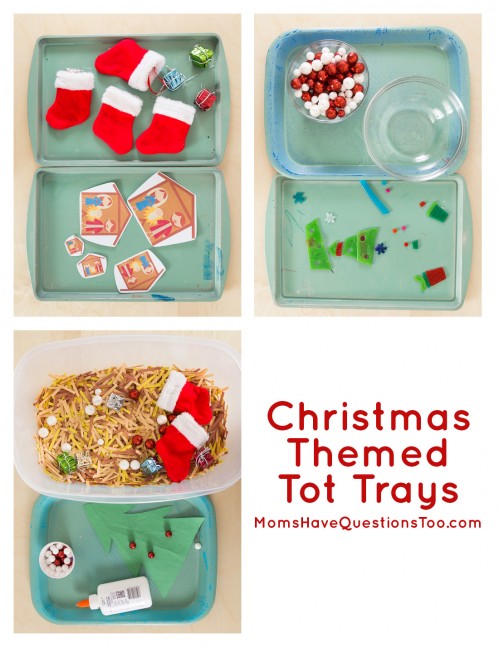 Theme
I found these great present ornaments and some small stockings. To do this tot tray, Smiley Man puts the present into the stocking just like Santa Claus does! He loves this tray. Although, I did have to tell my kids over and over that the present was just a decoration and that there is nothing inside. They still opened one up secretly to see for themselves. ;)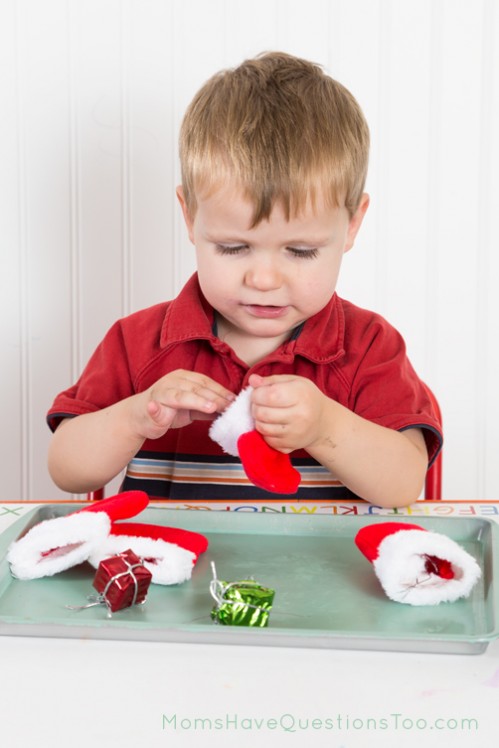 Stickers/Stamps
This tot tray has some super cute gel window clings. Smiley Man liked to rearrange these on the tray and it was great fine motor practice for him. He surprised me by sticking them on the wall one day and he spent probably 20-30 minutes just playing with them on the wall. I didn't even think they would stick to the wall, but Smiley Man's creativity gave him a super fun new way to play.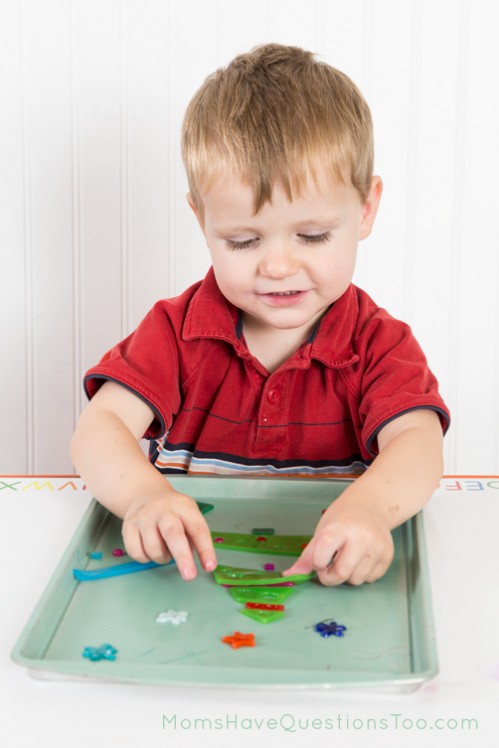 Pouring
This tot tray had two glass bowls filled with some red and white vase fillers. After the pouring Smiley Man did with our Thanksgiving trays, I knew we needed another pouring activity. Smiley Man loved pouring these. They provided a bit more challenge than the sunflower seeds because they are lighter, but Smiley Man loved this tray.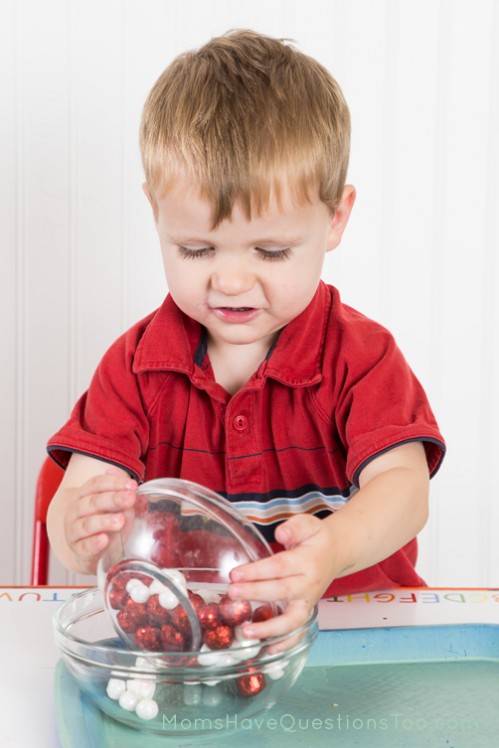 Gluing
I used the same red and white vase fillers for this tot tray. I also put on a glue bottle and a paper Christmas tree. Smiley Man had fun gluing the vase fillers onto the tree to look like ornaments. Little Bear often plays with Smiley's tot trays when he comes home from school. When Little Bear saw this tray, he immediately cut out a paper star and glued it to the tree. :) I guess it's not a Christmas tree unless it has a star on top.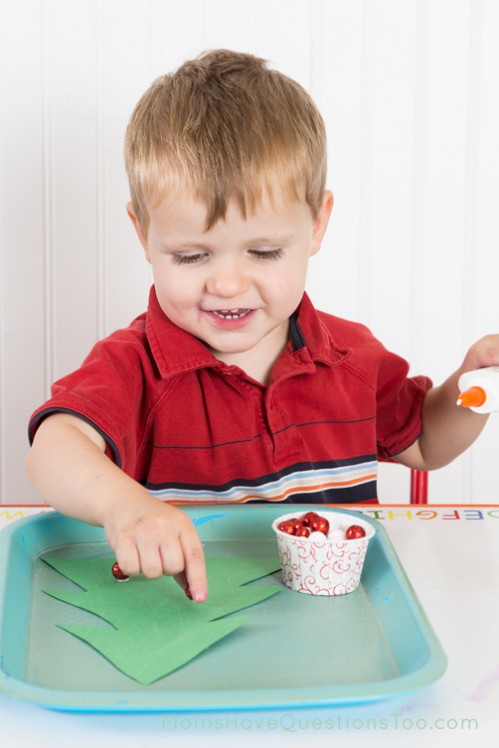 Sensory
I did this "tray" with a sensory bin instead of an actual tray. I shredded some paper and hid some Christmas items in the sensory bin. I just used the extra things that I had from the other trays: extra presents, stockings, and vase fillers. I used tan, yellow, and brown paper because I plan to eventually put nativity pieces into the sensory bin and take out the other Christmas things. Then it will be a nativity sensory bin and Smiley Man can find the nativity animals in the "hay."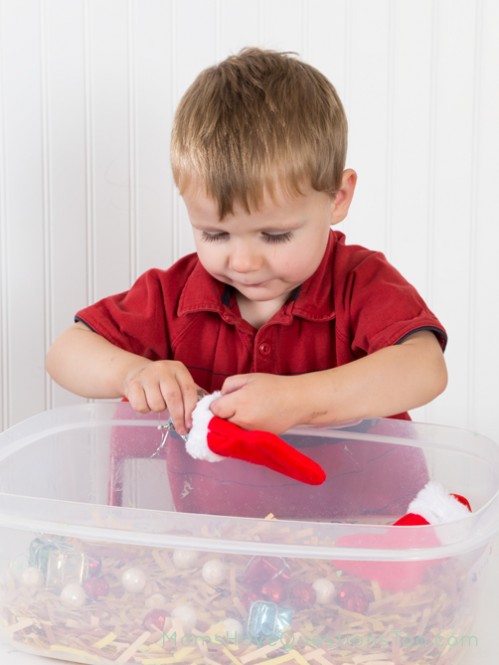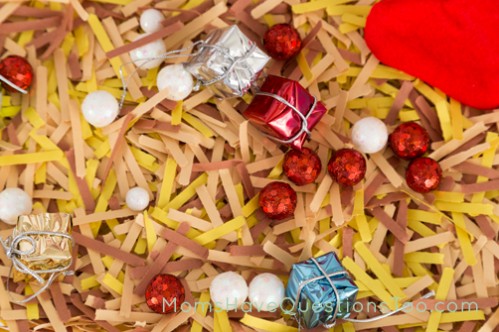 Learning Notebook Printables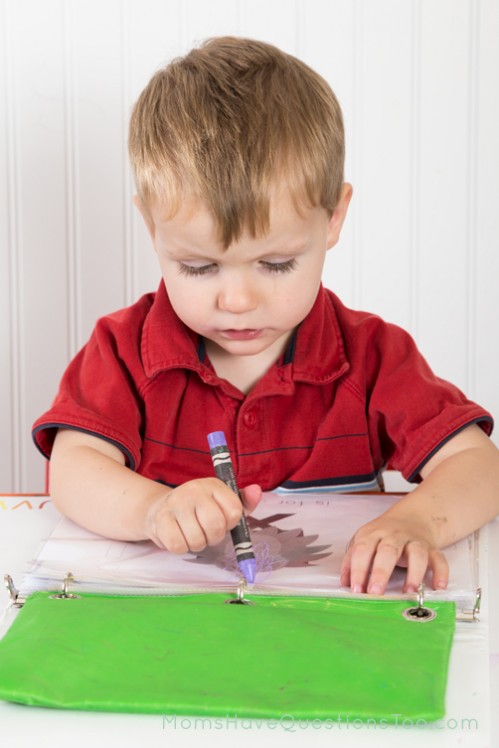 Tray Printables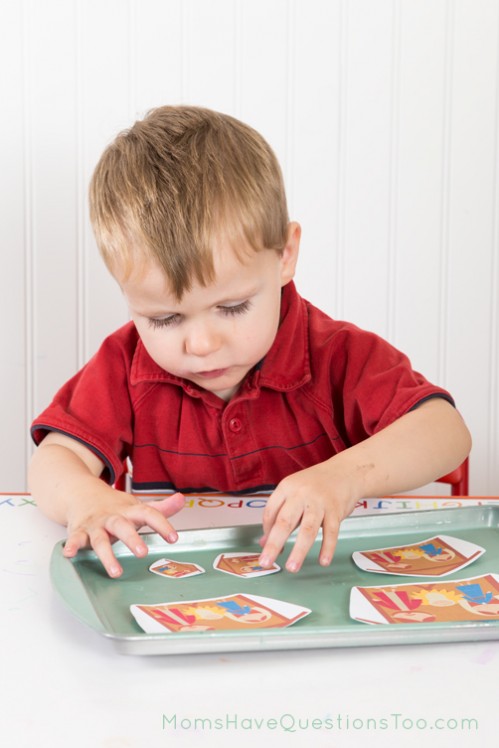 Other Posts you Might Like