What are some shape themed Montessori inspired circle tot school trays that will teach my toddler about shapes?
This week was circle week for our tot trays. This is our second week of doing shapes and so far it has been going well. I don't have anything particularly interesting about this week so I'll just get straight to the trays.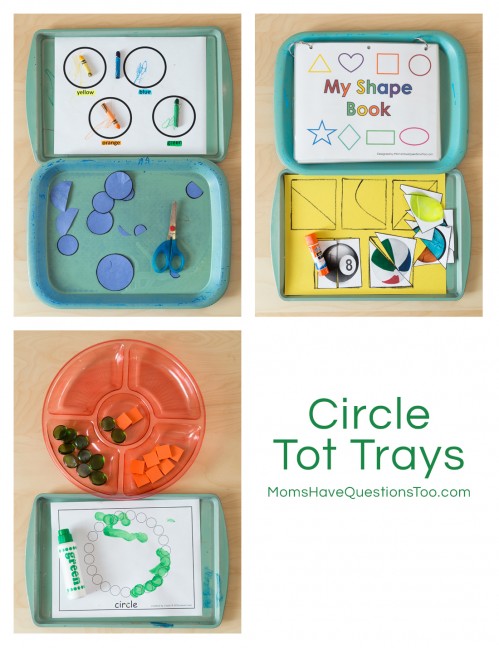 This book is honestly one of Smiley Man's favorite things. Be sure to check out the original post. I tried to focus on just the circle page for the tot trays, but he did occasionally do some of the other pages too because he loves this quiet book so much.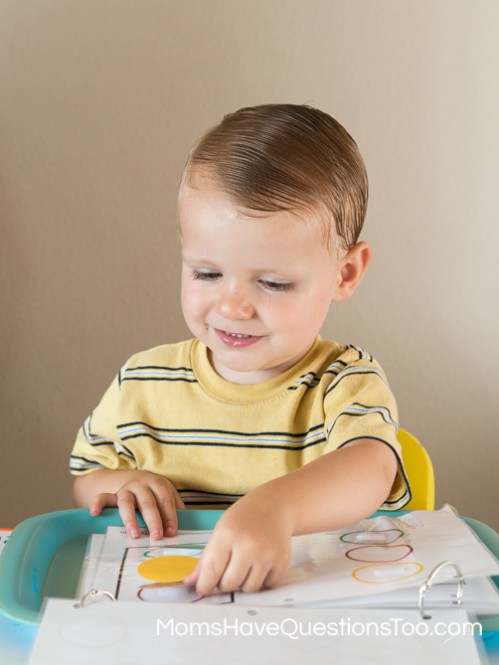 I printed this do-a-dot circle page from 3 Dinosaurs. Be sure to check out my Teach Shapes by Decorating Shapes post to see all of my other fun ways to decorate shapes besides using do-a-dot markers.
Puzzles
I used the ball 2 part puzzles that I made for our ball-themed tot trays for this tray. I cut out all of the puzzles (minus the football because it isn't shaped like a circle), then I traced them onto some construction paper. I put those on the tray along with a glue stick. While doing this tray, I presented one puzzle at a time and told Smiley Man to figure out where the pieces go. This was very difficult for him at first, but once we got the first and second ones figured out, he started to catch on. Plus, using the glue stick is great fine motor practice for him!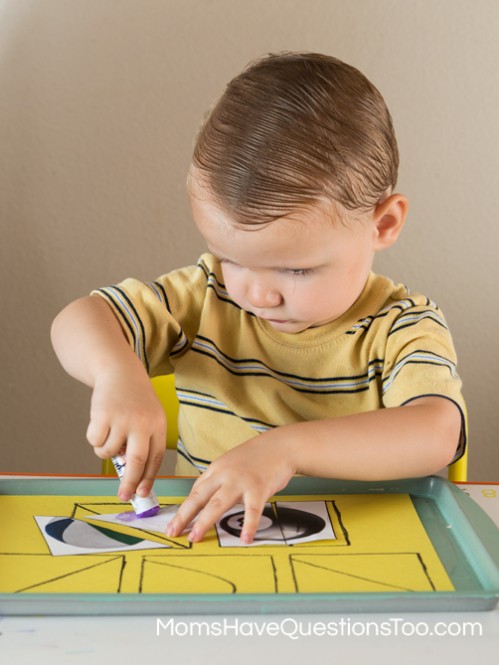 Sorting
I got this appetizer tray from the dollar store and it is perfect for sorting. This tray has several green glass gems and several orange square pattern blocks in the center. Smiley Man is supposed to sort the green glass gems into one opening and the orange pattern blocks into another opening. We did a sorting activity with this tray during our Purple tot trays week, so I didn't think I needed to demonstrate how to use the sorting tray again. I was wrong about that and Smiley Man immediately started putting one item in each empty spot. At least he was working on one-to-one correspondence, right? ;) After he played around a little, I showed him how to sort the materials correctly. He actually really liked sorting once he realized what he was supposed to do.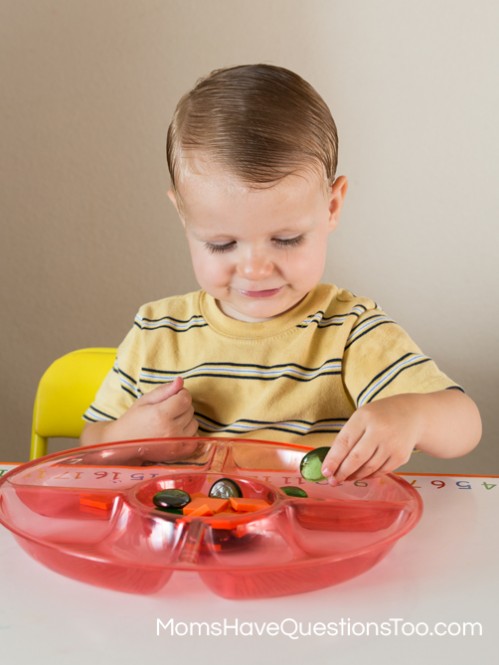 Cutting
This tot tray is perfect for a toddler that is just beginning to use scissors. I made this printable that has a bunch of circles of different sizes. I printed it on construction paper to make it more colorful, then I cut out the circles and put them on the tray with some scissors. The idea is to cut the circles in half. At first, I helped Smiley Man hold the circles, but by the end of the week he was holding the paper and the scissors all by himself! I was so proud. :) He didn't quite cut the circles in half by himself, but he is gaining those beginner scissor skills.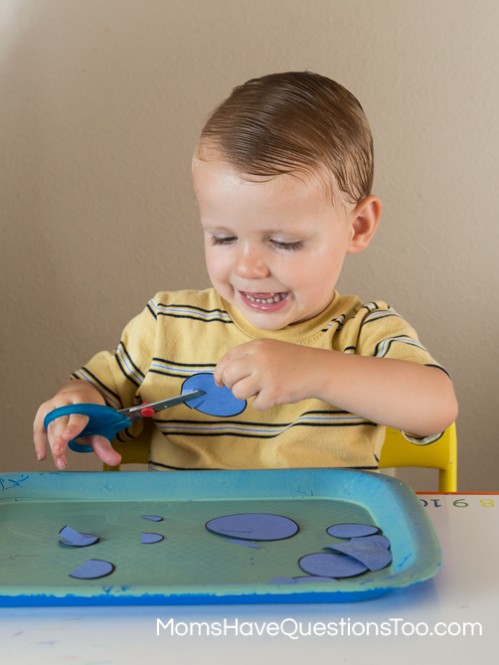 Coloring
I made this coloring circles printable and put it on the tray with some crayons. My color printer is currently out of yellow ink and I am still waiting for the new ink to arrive, so I just used markers to color the color words. I also broke all of the crayons in half so they are smaller. If you have a young toddler and want to teach him good pencil grip, breaking crayons in half is a great way to do this. I don't know what it is about having a smaller crayon, but it forces your child to grip it in a different way than if it was a full-length crayon. Anyway, Smiley Man just used the crayons to color the circles the right color.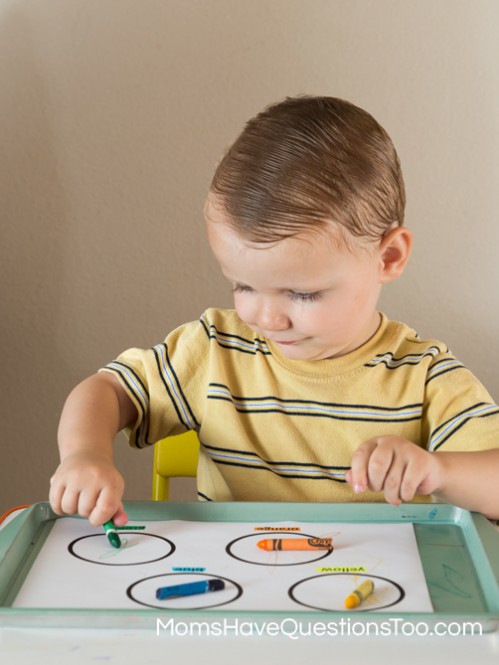 It seemed like the tot trays this week had a lot of printables and not a lot of hands-on stuff. Smiley Man still enjoyed his circle tot school trays a lot, but next week I really want to have more materials that are 3D. He also enjoyed his circle learning notebook printables, but I forgot to get pictures of these again. I'll blame it on pregnancy brain. ;)
[hr top]