Smiley Man is just getting to the age now where I feel like I need to start teaching him a few things. He is almost 2 and isn't old enough to learn letters or numbers. However, he is the perfect age to start learning colors. Of course, just holding up color cards and naming them is not only incredibly boring, but also pretty ineffective. So I came up with this fun color game for toddlers that Smiley Man can play.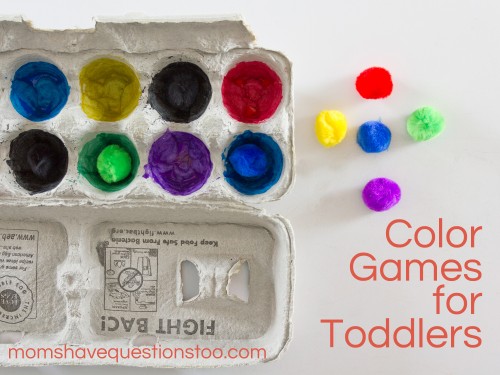 I started with an empty egg carton. I got some washable paint and painted the inside of each hole with a different color. Actually I used 6 colors, so there are two holes of each color.
Next, I got 12 pompoms that corresponded with each color. I used red, yellow, green, blue, purple, and black. I used black instead of orange for two reasons. 1- I didn't have any orange paint left, 2- I didn't have any orange pompoms. I had black paint and black pompoms so I used those.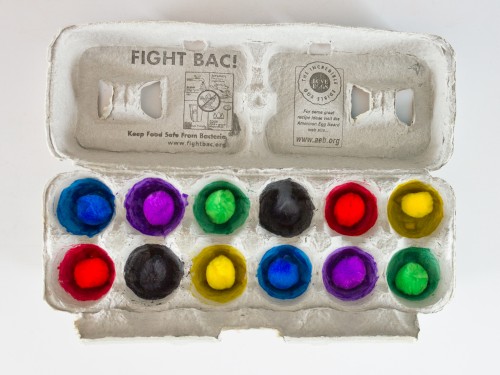 So how can you use this awesome color game for toddlers? I play this with Smiley Man two different ways.
Name the Color:
All the pompoms are in the egg carton and in the correct holes. Smiley picks up one pompom and I name the color. When Smiley Man gets older, I will expect him to say the color. As he picks out the pompoms one by one, he puts them into a pile.
Color Match:
All the pompoms go in a pile (or are already in a pile if you just played Name the Color). Smiley picks them out one by one and puts them in the hole with the same color. He gets a high five if he does it right!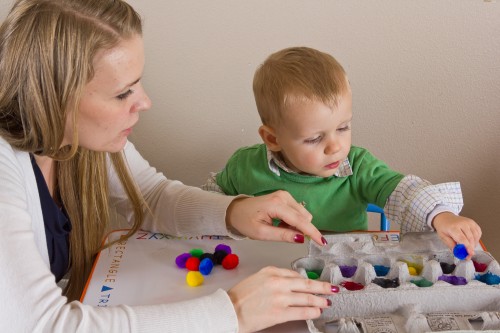 The thing that I love the absolute most about this game is that all the pieces fit inside the egg carton and that the egg carton can close. It is pretty easy to keep all the pieces together, too because there are only 12 pompoms. This color game for toddlers is compact, easy to put together, and is extremely inexpensive.
Once Easter comes around, we'll be getting some Easter eggs and Smiley Man can play these same games, but with Easter eggs rather than pompoms. I'm also excited about getting the Easter eggs because we'll probably get some eggs that are pastel. This means the colors won't be the same hue like the paint and the pompoms are. This will teach Smiley Man that there are several shades of each color. So far, Smiley loves this color game. Stay tuned for even more color games for toddlers.
Take a look at our other color games too!