If you haven't seen them already, this is part three of our Color Games for Toddlers Series. Normally they will be posted on Thursdays but with the holiday this week today's post is a day off.
Paint chips seem to be inspiration for everything these days. I have seen them used for cutting practice, paint chip coasters, paint chip calendar, paint chip baby mobile, paint chip art and paint chip matchbook notebooks. Today I am going to show you how to use them for a color game for toddlers.
I started with the paint chips that have 4 colors on them. Choose 7-10 different paint chips, all with different colors. I chose red, orange, yellow, green, blue, purple, and brown.
You only need to have two squares for each color. I chose the bottom two squares for each color. Cut out the two squares for each color and put them aside. Don't forget to recycle the extra squares using any of the ideas above. I'll probably have Little Bear use them for cutting practice, and then maybe I'll make a calendar with them.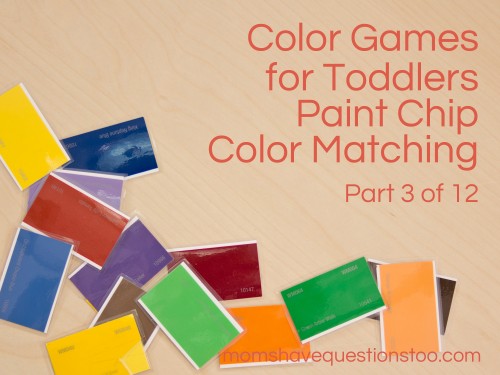 Next, I laminated the squares that I was going to use. I have a Scotch laminator that I bought for $30. I bought lamination packets from Sam's Club (200 sheets for $20), but you can also buy Scotch lamination sheets (100 sheets for $15) which is still a pretty great deal. Of course, laminating is purely optional, but with two messy boys, it sure is nice to have have my activities laminated.
Now you will need to find an object to stick half of the squares to. I used a shoe box lid because we had one lying around, but really, any sturdy surface will do. Choose which squares you want on the sturdy surface (the lighter shades or the darker shades). I chose to put the lighter shades onto the shoe box lid. I glued them on using a hot glue gun.
Once that is complete, you can add some Velcro to the top of the squares that are on your sturdy surface, and onto the back of the other squares. I opted not to do this because I don't currently have any Velcro on hand. I think I may go back and add some though because it is hard for Smiley Man to make a match when using something as slippery as laminated paint chips. You could also add magnets instead of Velcro, but if you do, be sure to supervise your child while they are playing this game. Magnets are very dangerous if swallowed.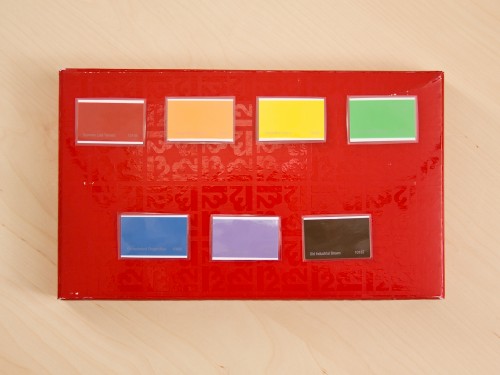 To play the game, set the shoe box lid covered with paint chip squares in front of your child (or on their lap). Point to each color and name it. If your child is learning the color names or knows the color names, have him say the names with you.
Next, pick up one loose square at a time. Name it (or have your child name it), then have them place it on top of the same color square that is on the shoe box lid. You may or may not decide to talk about how the colors are not exactly the same shade, but they are still the same color.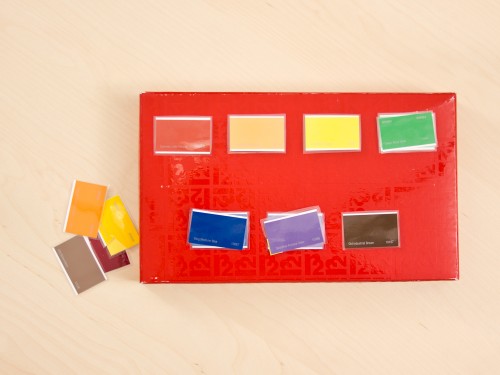 To store this game, put all the loose squares into a ziplock bag or an envelope and staple it to the back of the shoe box lid.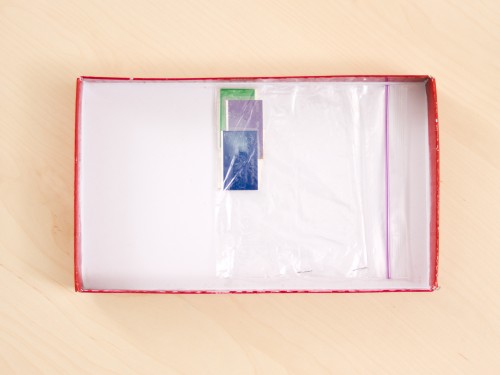 Be sure to take a look at all of my ideas for color games for toddlers!