What is a fast, easy, and cheap dinner I can make for my family?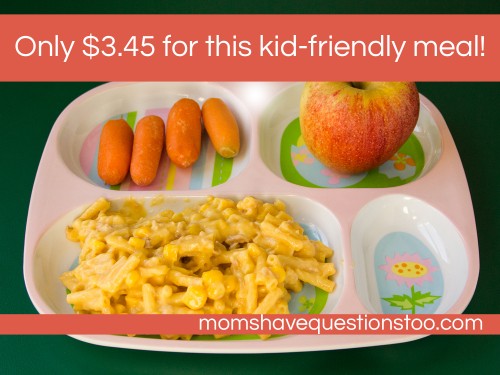 Today I have a super easy dinner recipe for you. As an added bonus, it only costs $3.45 to make. Yes, you read that right, only $3.45 for DINNER! Woohoo. Now, it isn't the healthiest recipe in the world and you probably should add some vegetables as a side dish to make it more nutritious, but when you just need something fast, easy, and cheap, this is a dinner you should turn too. In fact, this dinner is so easy, you won't know what to do with your extra time. Here are some ideas: take a nap take a shower, paint your nails, play tag with your kiddos, get dressed, put on some make up, twirl around in circles etc. etc. etc. The possibilities are endless. If you can make macaroni and cheese and open a few cans, then you can make this dinner!!!
Step one: Make a box of macaroni and cheese according to package directions.
Step two: Add a can of cream of chicken soup, a can of tuna, and some frozen corn or peas. We used a can of corn because that's what we had. ;)
Step three: Oh wait, there is no step three because you are already done. Easy Shmeasy.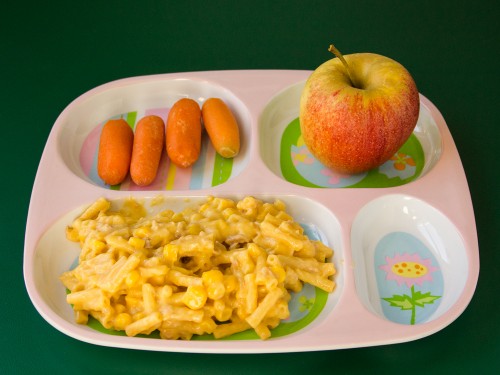 I made sure to use up my free time well when I made this dinner. Look at my pretty fingernails.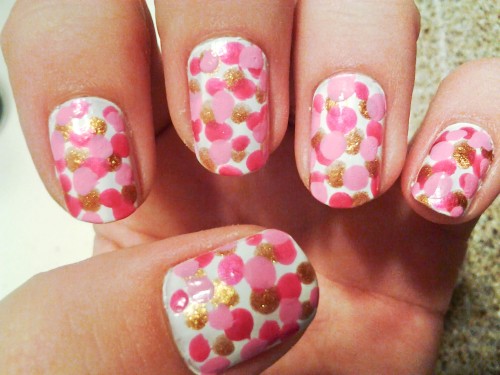 Thank you Pinterest for fingernail inspiration. I have to say, I was a little worried that this would turn out tasting a lot like macaroni and cheese. While this was a childhood favorite of mine, my palate has since become more sophisticated. Meaning, I now hate boxed macaroni and cheese. I was happily surprised by this meal, however. It turned out delicious and didn't taste at all like boxed macaroni and cheese. Not only did my kiddos love it, but I did, too!
Creamy Macaroni and Cheese, $3.45
1 box macaroni and cheese and ingredients needed to make it ($1.50)
1 can undiluted cream of chicken soup ($ .75)
1 can drained tuna ($ .60)
1 C frozen vegetables or 1 can vegetables drained ($ .60)
Directions: Make the box of macaroni and cheese according to package directions. Add the soup, tuna, and vegetables to the macaroni and cheese and cook on stove until heated through. Serve and enjoy.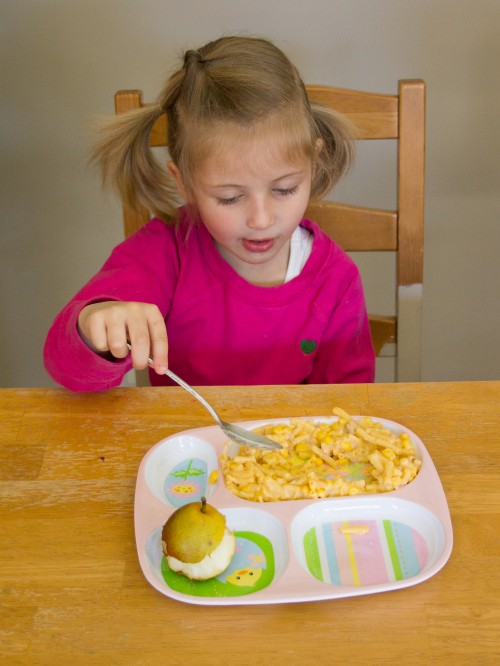 In case you can't serve this without cringing, here are some tips to make it healthier: Use homemade macaroni and cheese rather than the boxed variety. Use homemade cream of chicken soup rather than the canned variety. Use twice as many vegetables.
Good luck with this dinner! Bon appétit.