What are some ways that I can create my own notebook or journal?
Yesterday I talked about The Happiness Advantage by Shawn Achor and mentioned that I'd be giving you some ideas for creating your own journal. If you haven't already you can look at using this handy little sheet I created called Thinking Positive as a way to get started quickly. Or, jump right in and create a journal using one of these ideas! My sister, mom and I really enjoy making books using the Coptic stitch. We learned locally from a gal named Karliegh Jae Haywood of Badger and Chirp. Her blog has some tutorials and she has an awesome Etsy shop with tools for bookbinding as well as books she's made. Take a look! We've made quite a few books using the Coptic stitch and they have been used for various things. But, there are a lot of other great ideas out there too!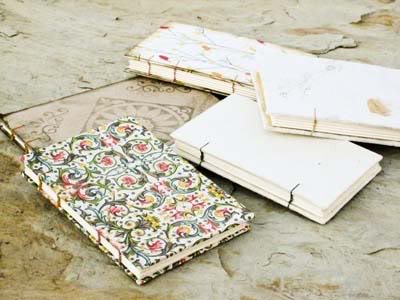 Make Your Own Journal
Spruce Up a Journal You Already Have!
With so many options for crafty people as well as Pinterest… I'm sure you can find a bunch more ideas or come up with your own! We would love to see what you come up with whether you make your own or just buy something. Hopefully this cute new journal will motivate you to keep writing things you are grateful for even once the Thanksgiving season is over!