Man, I have really gotten the crafting bug this October. I am usually not into crafts, but I have really been enjoying all of the crafts that I've done with my kiddos so far. If you have missed any crafts, be sure to check out the Halloween Crafts page.
This year Little Bear is obsessed with bats. He wants to be a bat for Halloween and he is constantly wanted to make some kind of bat. He really enjoyed it when we made a bat finger puppet and he has been playing with it plenty, but that just wasn't enough. So, I decided to come up with another bat craft that would help satisfy his bat loving.
Flying Bats Craft
Toilet Paper (or paper towel) Tube
White Crayon
I started by making a toilet paper tube bat template. I cut out the template and traced each piece onto black construction paper 8-10 times (16-20 for the ears ;) ).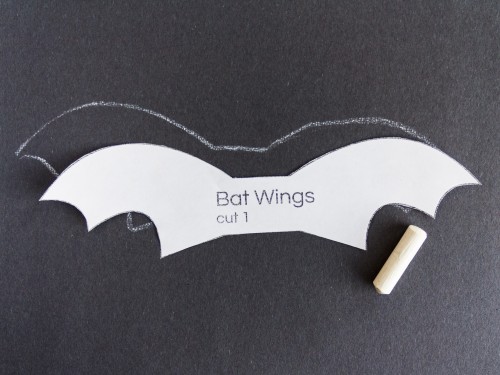 Next, I cut out all of those pieces and separated them into little piles. You can, of course, have your preschooler cut these pieces himself. I did the cutting this time mostly because I knew we wouldn't have a lot of time to complete the actual craft, but next time I will have him cut the pieces.
I also got several empty toilet paper tubes and cut them in half (so we could have twice as many bats, of course). I always have a nice stockpile of these because I never throw them away. When we get to the end of a toilet paper roll, the tube gets hidden in my craft box. That way I always have toilet paper tubes on hand when I want to do a craft with them.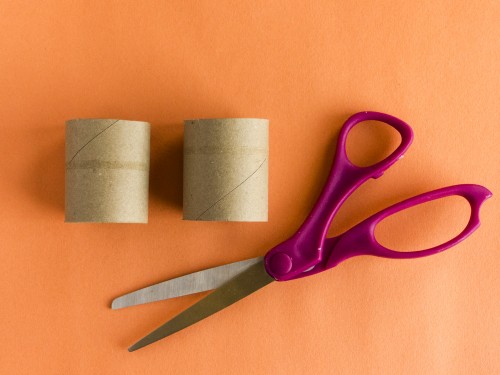 At this point Little Bear joined me and I told him that we would be making some flying bats to hang from our ceiling. His was ecstatic. He started by gluing the bat body around the toilet paper roll. Little Bear used a glue stick for this, but you can whatever glue you normally use.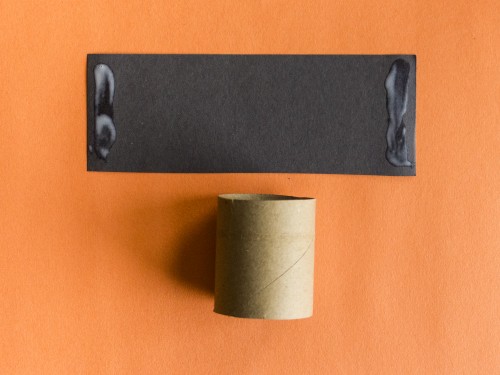 Next, Little Bear put glue in the middle of the bat wings and he pressed it against the back of the bat body.
He then, put a little bit of glue on the end of each bat ear and pressed the end of it on the inside of the toilet paper tube.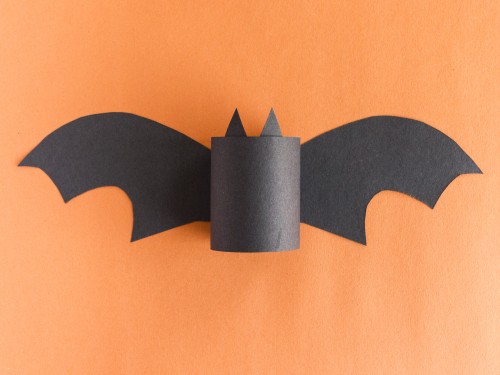 Finally, he used a white crayon and drew a face on the front of the flying bat. Smiley Man and I drew a few faces of our own. You could also used googly eyes rather than a white crayon on your flying bat.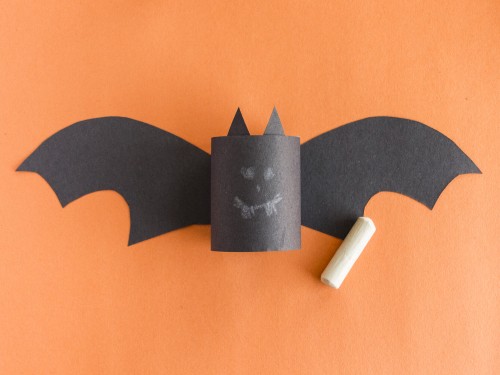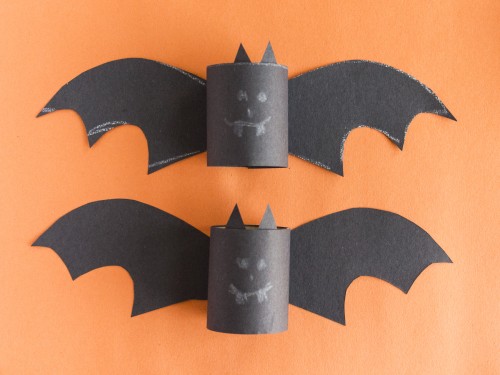 We finished by hanging the flying bats from our ceiling using thumb tacks. Little Bear LOVES these bats and he has started naming all of them.
I'm not sure what we'll do when it's time to take them down, but they could maybe be considered Thanksgiving décor. No? Hmmmm, I guess I'll just have to tell Little Bear that the Pilgrims used to dress up as bats to show their thanks*.
*Don't worry, I'm not going to actually do this. :)