What activities can my toddler do during General Conference? How can I keep my preschooler busy during General Conference?
Below are some activities that are meant to keep your toddler or preschool aged child busy and quiet during General Conference. If you would like to see more General Conference activities, go to the Toddler General Conference Activities page or the Preschool General Conference Activities page. Or, if you want, check out more information about LDS General Conference. Enjoy the activities!
Toddler General Conference Activities – Popsicle sticks in a milk jug
Popsicle sticks in a milk jug, the name pretty much says it all. Get some popsicle sticks and an empty milk jug and give them to your toddler. Your toddler will have fun putting the popsicle sticks into the milk jug and dumping them back out again. Smiley Man loves the sound that the popsicle sticks make when they hit the bottom of the milk jug (don't worry, it's not too loud so it shouldn't be too bothersome during a General Conference talk). He also loves dumping those popsicle sticks out again. And he just does it over and over and over and over again. Toddlers love repetition.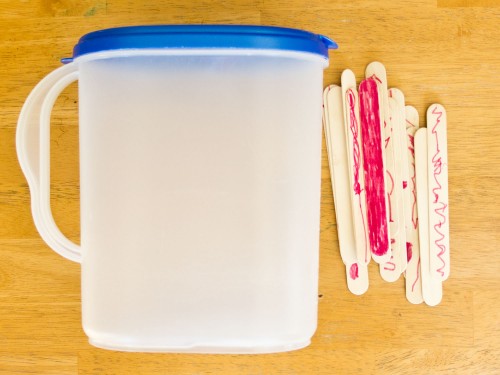 I painted the popsicle sticks lots of different colors mostly because I felt that just giving my toddler popsicle sticks and a milk jug was too easy. As if there is such a thing. ;) He does like having the colored popsicle sticks, but I'm sure he would love it just as much if the popsicle sticks were plain. You could also use a water bottle or juice bottle in place of the milk jug, but as I mentioned in another post, we go through a lot of milk around here so that's what I used. (In these photos, the girls colored the popsicle sticks with markers before the activity.)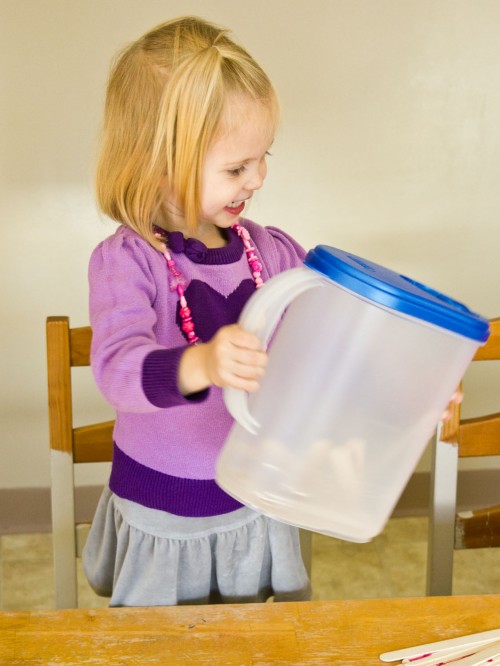 Preschool General Conference Activities – Magnet Page
I made some Apostle Magnet Pages for Little Bear to do during General Conference. There is a different page for each of the 15 prophets and apostles. However, I will only be using half of them for this activity. The other half I will be using as do-a-dot pages which I will explain in a future post.
So, how can your preschooler use these magnet pages? You will need several small magnets that are circular and colorful. I made mine using craft pom poms and stick on magnet strips. I simply cut the magnet strips into small squares that would fit on the pom poms and then I hot glued one magnet square to one pom pom. I made about 60, but you will only need about 30 per page. Since Little Bear will only be doing one page at a time, 30 magnets total should be plenty.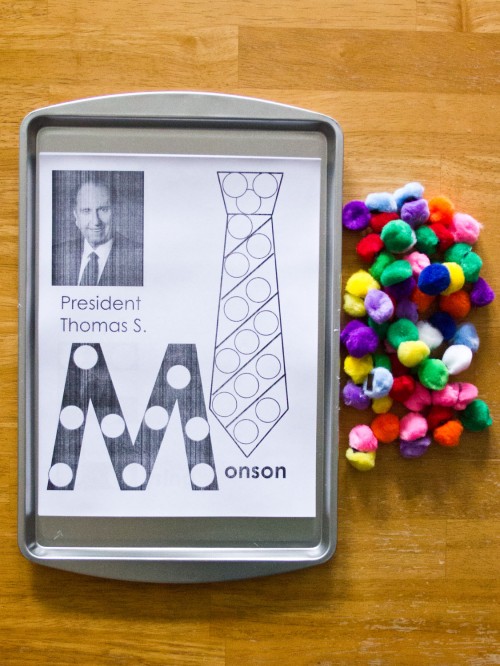 To complete the activity page, put the activity page on a cookie sheet and have your preschooler use the magnets to complete the first letter of the apostle's name. Once they have done that, let them use the rest of the magnets to decorate the apostle's tie. When they have finished with one apostle, have them move all of the magnets to the side of the cookie sheet and start over with another apostle. You could also use colored circle stickers for this activity or even markers and crayons to color in the circles. Little Bear doesn't really like coloring, but he loves using magnets so that is what he'll be using. Again, we are only using 7 of the magnet pages for this activity. We will be doing something different with the other 8 pages so look ahead for the do-a-dot activity.