Below are two General Conference activities. For more activities, visit my Toddler General Conference activities page, my Preschool General Conference activities page, or the General Conference Linky party. Enjoy!
For Toddlers: Vertical Surface Drawing
For Preschoolers: Magnetic Letter Match
*Get all of our General Conference printables in one easy download here.*
Toddler General Conference Activity – Vertical Surface Drawing
I have this vertical surface drawing idea on my toddler and preschool General Conference ideas list because it works great for both toddlers and preschoolers. Draw a picture on the matte side (not the glossy side) of a poster board. Hang the poster board up on the wall at your toddlers eye level and give your toddler some crayons to color the picture.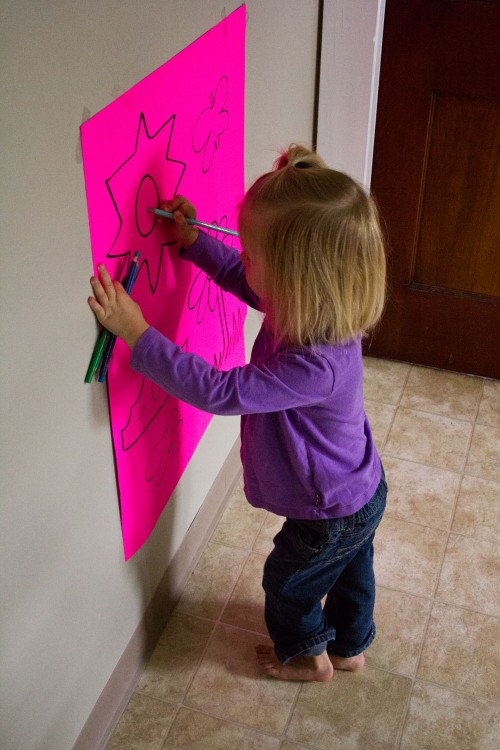 Kids love this activity because they get to draw on the wall, sort of. Just take my advice and make sure that the picture you draw is an inch or two from the edge of the poster board. You don't want your sweet toddler drawing on the wall because he or she was trying to fill in the lines.
*Special thanks to Cassidy's niece for being the model in this picture.
Preschool General Conference Activities – Magnetic Letter Match
This is a pretty common activity so I don't think it needs much explanation. Print off the Magnetic Letter Match pages that I made. For more durability, laminate them. Put the papers one page at a time on a cookie sheet. Use a magnetic alphabet to cover the letters on the page. There are no repeated letters per page, so your child should be able to complete the entire page before clearing off the letters. This is a great way to practice letter recognition. I tried to keep the words related to church so if you have a second to explain what each of the words means, it will make the activity that much more meaningful to your preschooler.