What is an General Conference bingo activity my preschooler can do during General Conference to help them pay attention?
It's that time of year again! General Conference! We will be taking a break from our regular posts this upcoming week to highlight a few new General Conference activities for toddlers and preschoolers. If you haven't seen our post with over 25 General Conference Activities for Toddlers and Preschoolers, be sure to check it out! There are a lot of great activities there. The timing of this is perfect because Kirstylee is busy moving in to her new house! She asked if I would take over the writing for this week to give her more time to get settled in. After that, it will be back to business as usual!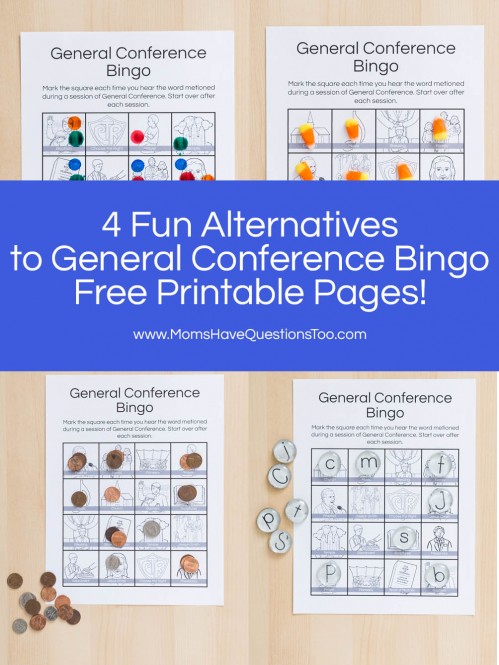 *Get all of our General Conference printables in one easy download here.*
I remember watching General Conference as a child and one of my favorite activities to help me stay alert was bingo. Every year we used something different to mark off the spaces. I created a few General Conference Bingo pages that you are welcome to print off and use with your kids! These are probably better suited for preschool children (or older) but toddlers may want to join in the fun too! Here are a couple ideas for ways to play:
Dot Markers
When your child hears a word mentioned, have them use a dot marker in that square. If they hear the word again, they can use a different color and add another dot to the square. See how many dots you can get in each square while trying to get a typical bingo or blackout!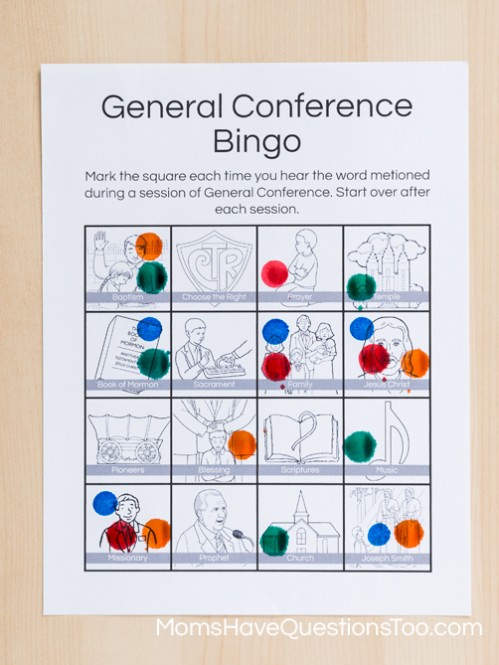 (PS. The dot markers in this photo were from the Dollar Store. Notice how the quality is not as good as name brand Do-A-Dot Markers. Read our review here.)
Money
Maybe this idea is too much bribery, but one year I remember my dad getting out his big jar of coins for us to use on our General Conference bingo pages. Anytime we heard the word mentioned we'd put a penny on that space. When we got five pennies in one space we got to trade it out for a nickle. When we got 10 we traded it for a dime, and so on. At the end of the session we also got a quarter for each bingo. We got to keep all of the money we "earned" while watching conference and get a treat for family night the following Monday. Using money as a marker will also help your kids understand the relationship between each of the coins used too!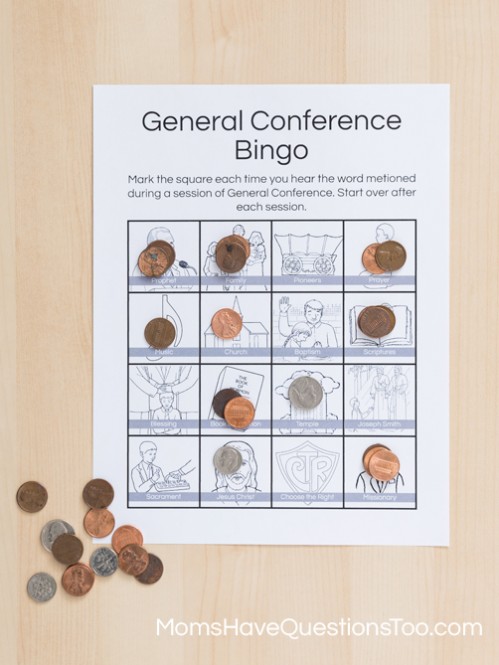 Reverse Bingo with a Treat
The idea here is to place some sort of small treat (such as a Froot Loops, Skittles, M&Ms, etc) on each square before the session of conference begins. Then, as your child hears a word, they get to remove the candy and eat it.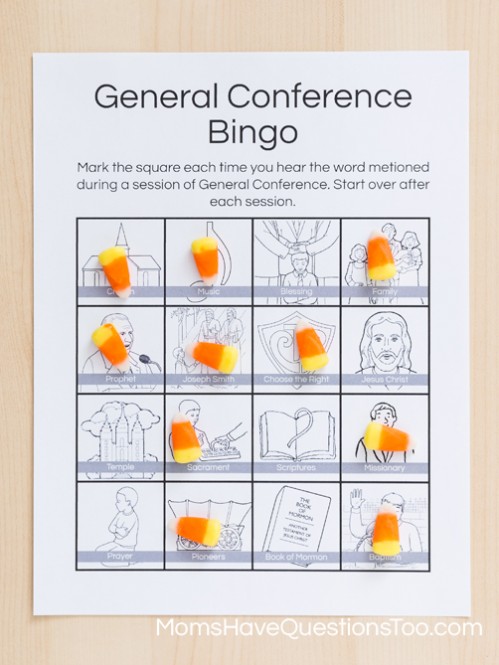 Flat Marble Letters
This game will involve a little more thinking, but can still be really fun! Get out your flat marble alphabet. Tell your child that when they hear a word, find the first letter of that word in the marble alphabet and use that to mark the space. Since the words are written on the page already this shouldn't involve much input from you and will help them practice their letters!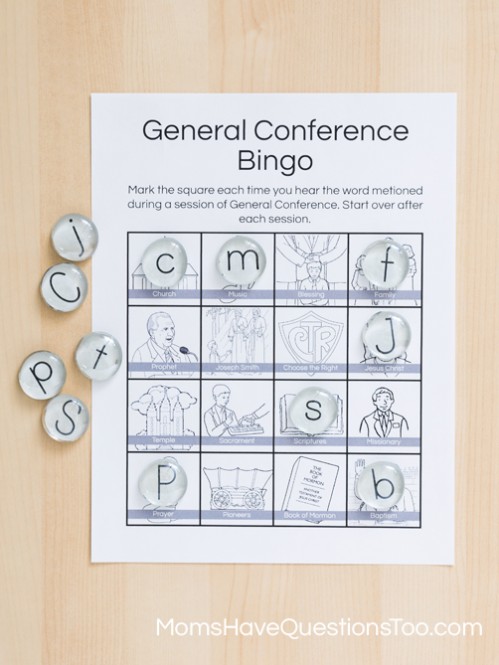 Regular General Conference Bingo
You can also use these sheets to play bingo the normal way. This generally involves less bribery :). To make it a little more exciting, try using something fun to mark of the space such as buttons, cereal, flat marbles, game pieces, colored pieces of paper, stickers, pom poms, foam shapes, pattern block pieces, etc. You could even have them just color each square with markers, crayons or colored pencils as they listen.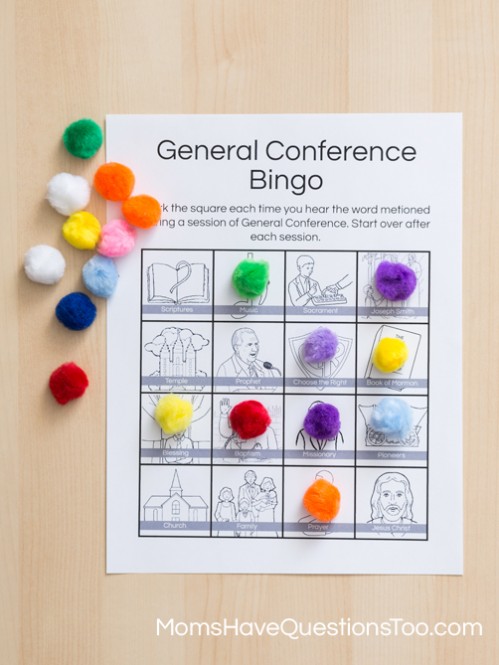 Have fun using these bingo sheets to help your preschooler stay busy and focused during General Conference!