What are some ideas for green tot trays?
It is green week for tot school which means green tot trays! It's weird to think that we only have one more color week after this. Doing one set of trays a week (as opposed to a set of trays for two weeks) sure goes by a lot quicker. These Montessori inspired green tot trays are so fun for Smiley Man, plus he learns so much. Green week for toddler school was definitely a success.
Green Tot Trays
Smiley Man is 27 months old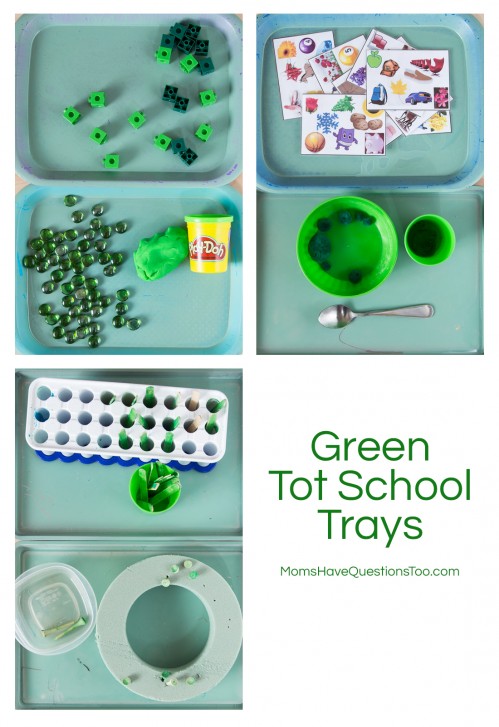 Special Green Tray: Green Math Cubes
We've had these awesome math cubes (another set of great math cubes) for several months now and honestly, we haven't used them that much. :( Shame on me, I know. Anyway, Smiley Man loved playing with the green ones on this tray, so I definitely anticipate using these math cubes a lot more in the future.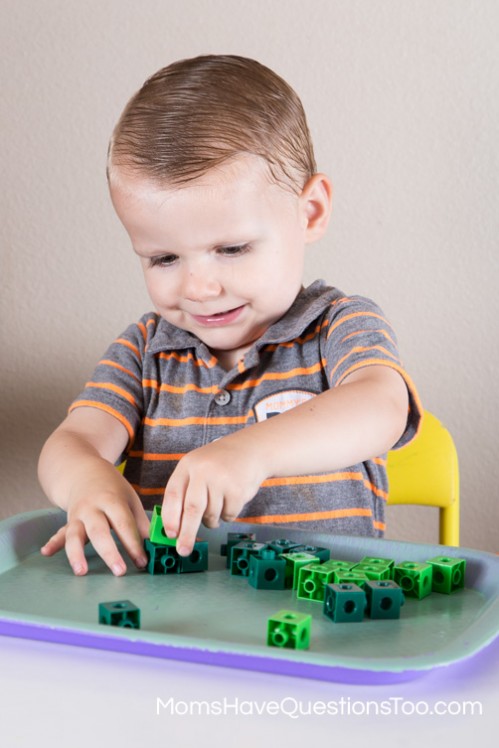 Color Game: I Spy Color Cards
Smiley Man loves these cards! Check out the original post to see how we play with these I Spy Color Cards.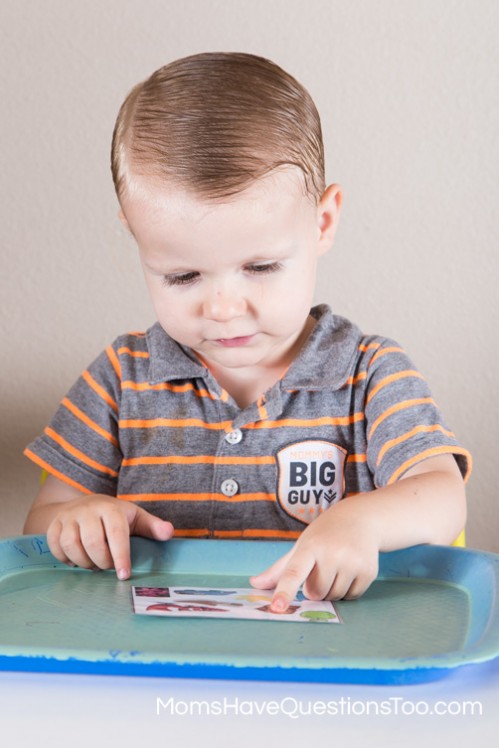 Transferring
This tot tray has a bunch of green popsicle sticks (that I painted with do-a-dot markers) in a green cup. It also has this really cool water bottle ice cube tray (we've used this to make bathtub crayons and for another fun transferring activity). Smiley Man takes the popsicle sticks from the cup and puts them into the ice cube tray. I have to remind him that there should only be one popsicle stick in each opening. This is great one-to-one correspondence practice!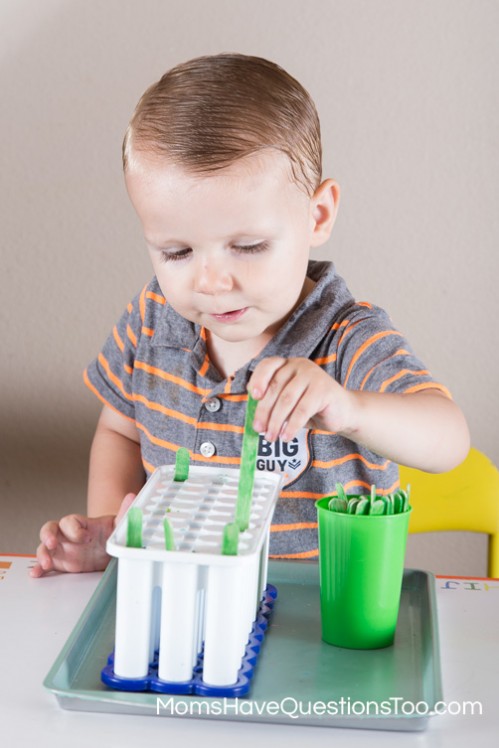 Fine Motor
I have done several tot trays like this for Smiley Man since we started tot trays in January and it continues to be one of his favorite activities. Smiley Man pushes the green golf tees into the green flower foam. I painted the golf tees with do-a-dot markers, but it didn't stay very well. I think the golf tees had a layer of varnish on them or something. Regardless, Smiley Man loved this tot tray. I have found golf tees to be a wonderful Montessori material for toddlers.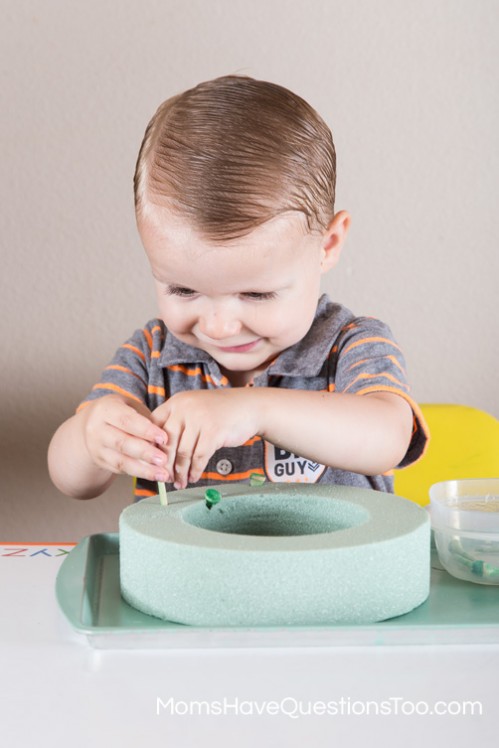 Sensory
This tray has green glass gems and playdough. I have used playdough several times already for these color trays, but Smiley Man just loves it so much right now and it is a great sensory material for toddlers. I added the green glass gems for Smiley Man to explore with and I was surprised at how creative he got.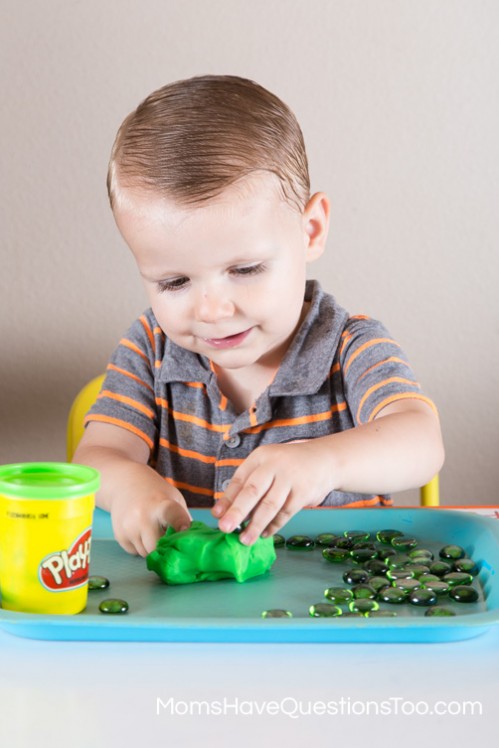 Spooning
Spooning is a common Montessori activity. I love it because it teaches my toddler how to use a spoon. Smiley Man has much better control of a spoon than Little Bear did at this age and I attribute it to our spooning tot trays. This tray has a green bowl, a green cup, some green pompoms, and a spoon. I used a regular kitchen spoon because that is the one I want Smiley Man to learn how to use. :) He had to spoon the pompoms from the bowl into the cup. I love these tot school activities that translate so well to real life.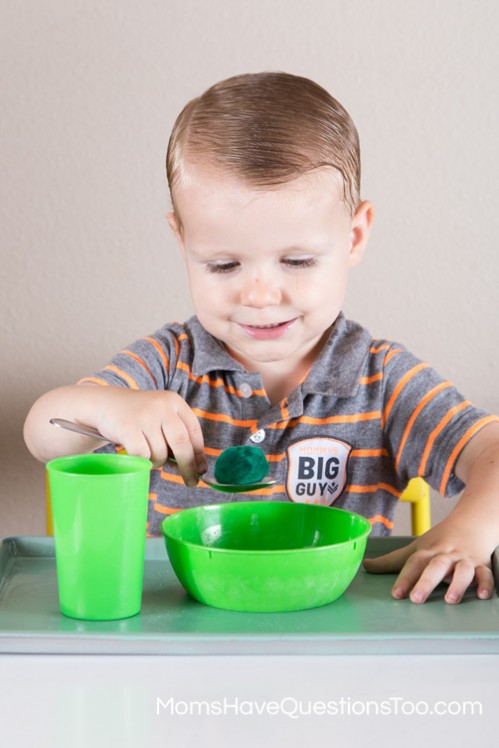 We also had a fun time with the green learning notebook pages. His favorite page this time was definitely the traffic light page. I'll be using that page again when we get to our red tot trays. Toddler school has been going well and I really loved putting together these green tot trays for Smiley Man. I am constantly impressed by how much he is learning.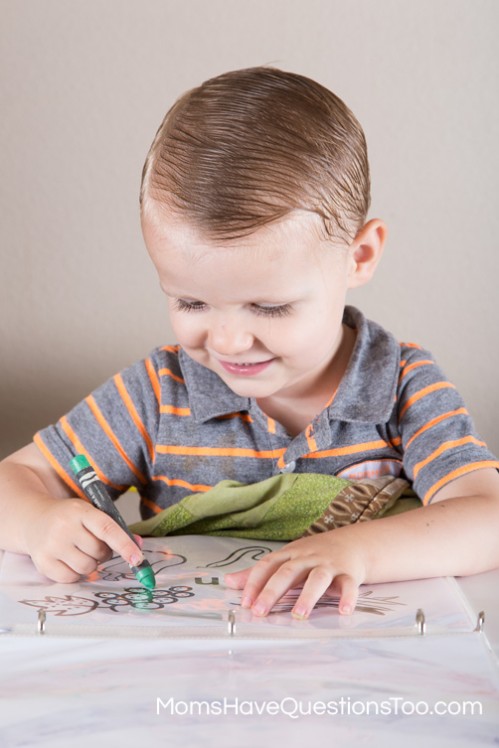 [hr top]