It seems like there is a huge Montessori movement right now and honestly, it's for a good reason. Plenty of Montessori materials and ideas are extremely helpful for young children. A very popular material is a set of sandpaper Montessori letters. Sandpaper letters are great because they give a tactile experience to learning the letters.
My only problem with Montessori letters is the expense. They are awesome and I wish I had $35 to spend just on sandpaper letters, but I don't. So, naturally, I looked around for an alternative because learning the letters is hugely important to a child's success in school. I found a great idea to make letters with puffy paint.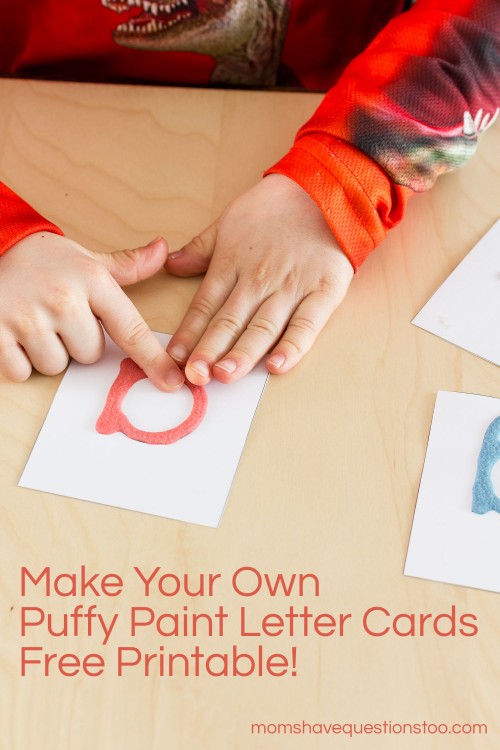 This idea appealed to me greatly because the recipe for puffy paint only includes flour, salt, water, and food coloring. Woohoo! You can't get cheaper than that. Check out the puffy paint letter tutorial from Train Up a Child Learn as We Go for more specific instructions.
As much as I loved this idea, I did change it up a tiny bit. First off, I do not have an artist's hand. My handwriting is not terrible, but creating beautiful letters by hand the first time is definitely not something I trusted myself to do. I'm also a little OCD so the letters did indeed have to be beautifully perfect. Little Bear is just learning the letters after all. I want the example letters to be perfect. Luckily, I found a simple solution to this problem. I made a simple printable template for puffy paint letter cards. I printed the template on cardstock and then just squeezed the paint over the letters until they were completely covered. Now my letters were all the same size and formed perfectly straight.
I went back and forth trying to decide if I wanted my vowels a different color or not. The vowels are a different color in the tutorial, but I haven't introduced the concept of vowels to Little Bear yet. I ultimately decided that now is as good a time as any to teach the concept of vowels and I made the vowels red and consonants blue.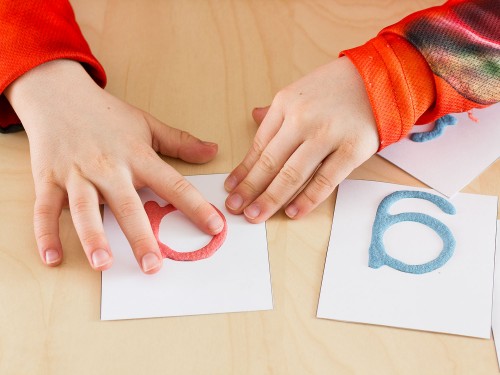 Once the puffy paint letters were all dry, I cut out the squares and they were ready to use. This was a very simple process to get an alternative for sandpaper Montessori letters. I actually made this set of letters a few months ago and honestly, they really do help with learning the letters. Little Bear loves the feel of the letters and enjoys going over each one multiple times. I love that he is learning the letters and doesn't even realize it. ;)
These puffy paint letter cards have held up very well to frequent use. Little Bear is learning the letters with ease. He has been able to recognize them for years now, but his letter formation is getting much better. Check for a post coming up for more ways to practice letter formation.