What are some fun pumpkin tot trays I can do for tot school?
October has come and it brings a slight change to out tot tray schedule. Previously I was doing 6 tot trays that were out for one week at a time. They all had a shape or color theme and there were also printables for a learning notebook to go along with them. If you are interested in seeing those trays, check them out here.
I was planning to do 4 more weeks of shape trays, but honestly, I just got sick of them. :) Smiley Man was enjoying them and learning, but with Fall here, I just really wanted to do some themed trays. So, for the rest of the year our tot tray schedule is going to change a bit. Here is our new schedule that I have planned.
Themed Tot School, 2 weeks per theme
5 Montessori-inspired tot trays, out for two weeks
5 printables in a learning notebook, same printables for two weeks
5 printables on a tray that require more than just coloring (dot markers, cutting practice, sorting, etc.), same printables for two weeks
Smiley Man liked having new trays each week, but I was getting a little tired having to change them so often. Plus, I think he could have benefited from having the same theme for another week. So, I have gone back to a two week schedule and we'll see how it works. Now, on to our Pumpkin themed tot trays and Learning Notebook pages.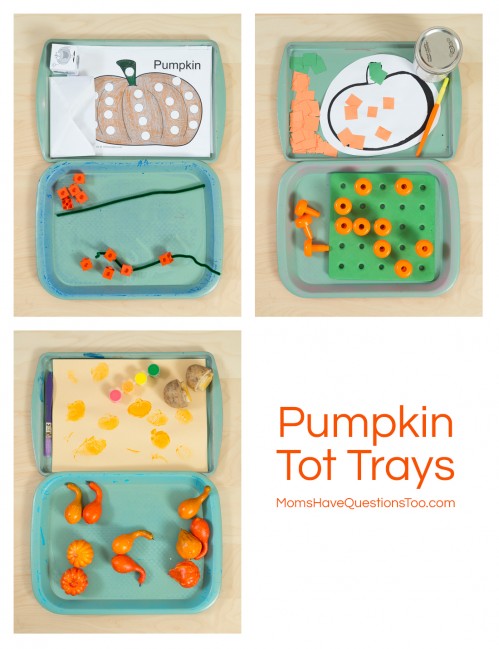 Pumpkin Art
This tray has a blank pumpkin outline, small orange and green construction paper squares to cover the pumpkin, and homemade mod podge and a paintbrush. Smiley Man uses the mod podge and paintbrush to glue the squares onto the pumpkin outline. Check out this Paper Art Craft post with more instructions on this project.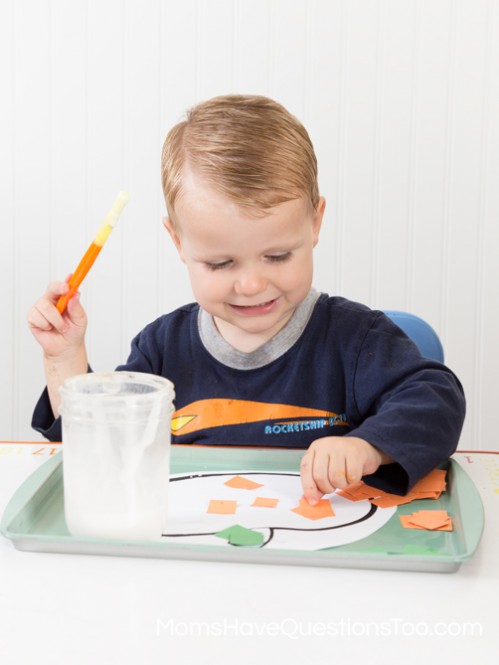 Small Spaces
I felt rather creative coming up with this tray. It's simply a pegboard and some pegs (which Smiley Man loves), but to make it pumpkin themed I put a green pegboard with orange pegs. I talked a lot about pumpkin patches and how the pegs looked like pumpkins in a pumpkin patch. At first I just let Smiley Man play with the pegs and pegboard, but then I put all of the pegs in the pegboard and let Smiley "pick" the pumpkins. He loves pegs and pegboards (his favorite thing is to build towers with the pegs), so he really enjoyed this tray. Plus, he got lots of great fine motor practice.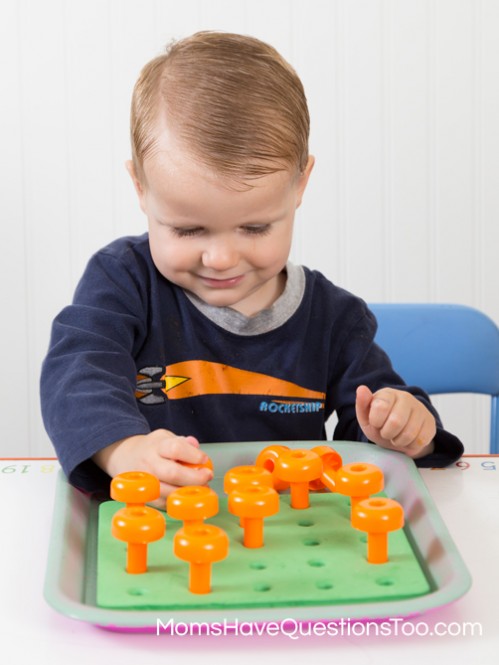 Beading
This tray had small orange math cubes and some green pipe cleaners. Smiley Man has been getting really good at beading beads onto pipe cleaners, so I wanted to give him something that was a bit more challenging. These math cubes have tiny holes that the pipe cleaner just barely fits through and honestly the beading was a bit too challenging for Smiley Man. He really liked the colors though and how the cubes looked like pumpkins on a vine. For some reason, Smiley Man still really liked this tray, he just needed my help with the beading. I'm always surprised at how willing he is to learn even when it is hard. :)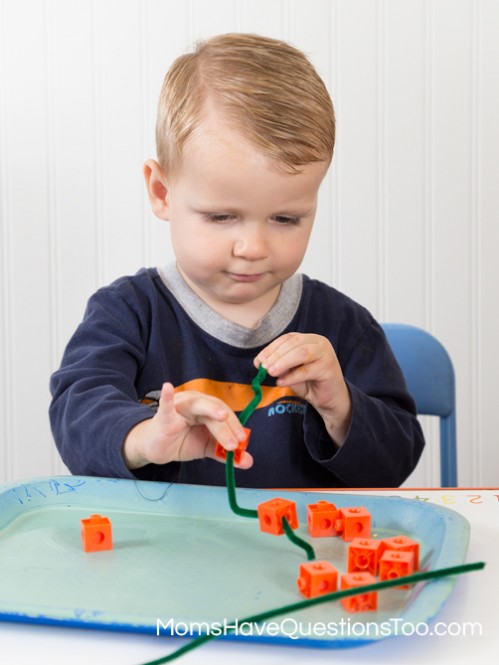 Matching
I found a cool set of Styrofoam pumpkins and squash from the dollar store. I bought two packages of them (one set of orange pumpkins and squash and one set of red pumpkins and squash). The idea was that Smiley Man would have to choose one orange pumpkin (or squash) and then find the matching red one. He really liked playing with these and he did pretty well with the matching. In retrospect, I should have gotten one orange set and one green or yellow set. The red was pretty close to the orange and some of the pieces were already the same, so it made it hard for Smiley Man to get a red and an orange in every match. Still, he did pretty well and I think he is really getting the concept of matching, so I guess it was a good tray after all.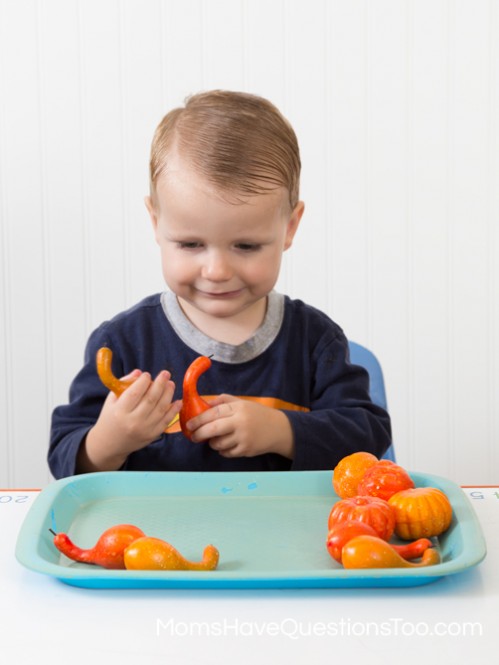 Stamps
This tot tray had potato stamps with pumpkins carved into them. If you don't know how to make a potato stamp, just cut a potato in half and carve whatever shape you want into the potato. To do this tray, I painted some orange paint on the potato stamp and then Smiley Man used the potato stamp on some construction paper. He absolutely loved this tray and it was definitely his favorite.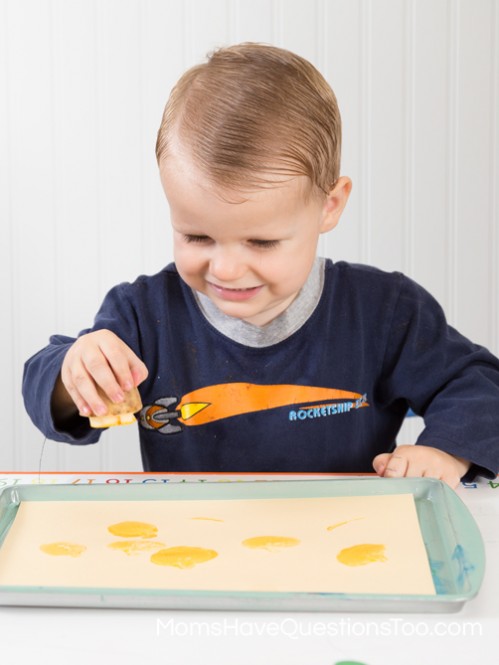 I got almost all of the printables for these pumpkin tot trays from a Pumpkin Printables Pack from 1+1+1=1 and the Pumpkin Printables Part 2 from 1+1+1=1. I also got one page from the 3 Dinosaurs Fall Pack.
Printables Tray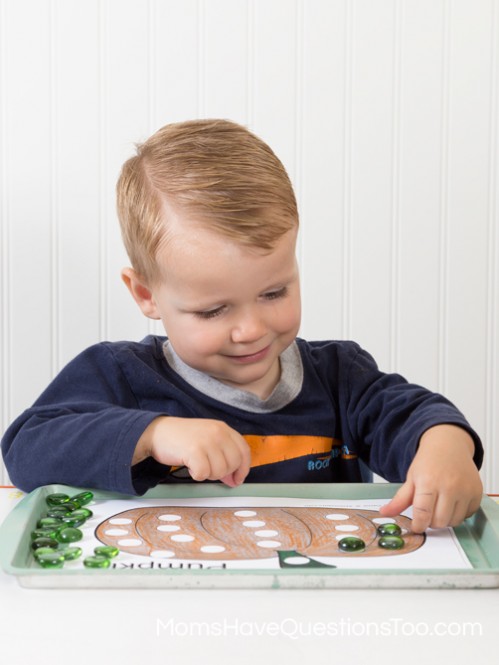 Learning Notebook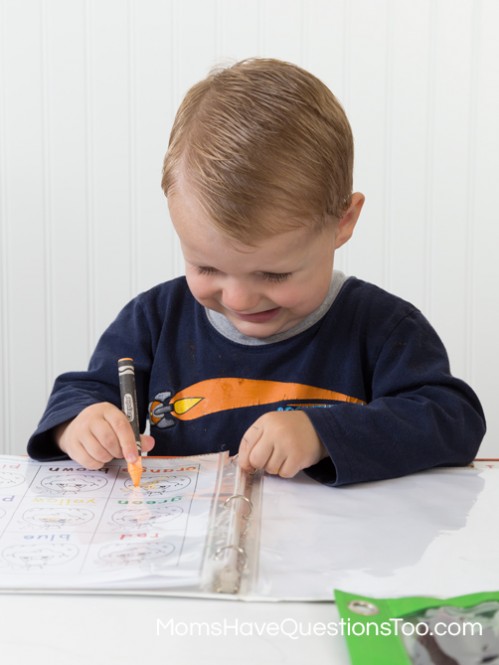 Here are some other Pumpkin themed activities we'll be doing during these two weeks.
Don't forget to check out our Halloween Crafts post for over 25 Halloween crafts!
[hr top]