What rectangle tot trays can I set up to teach my child about rectangles?
This will be the last set of shape tot trays that I do with Smiley Man. Starting in October, I am going to start doing themed trays again and I will have them out for 2 weeks instead of one. I'll explain all of those changes in October. For now, I'll show you the fun rectangle tot trays we did this week.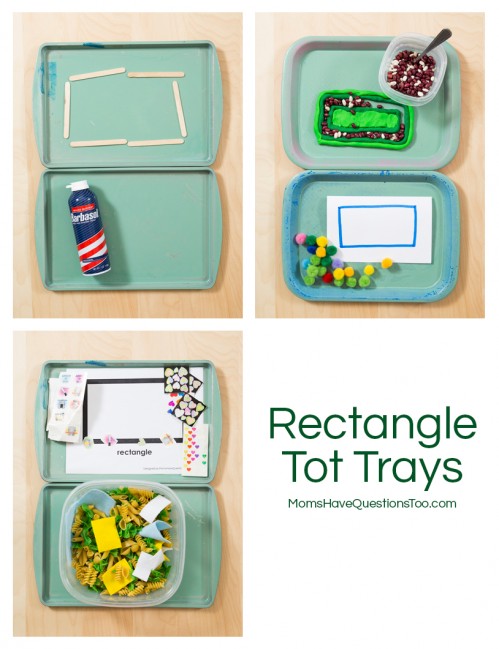 Shape Game for Rectangles: Popsicle Stick Shapes
I just put 6 popsicle sticks on this tray and encouraged Smiley Man to use them to make a rectangle. He had a hard time doing this on his own and I eventually printed out the rectangle page from my popsicle stick shapes post. I should have done that at the beginning, but I guess I just wasn't thinking that day. ;)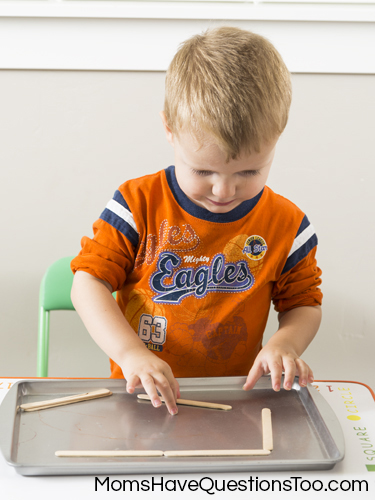 Decorate a Rectangle: Stickers
Get the printable and more information about this tray from my Teach Shapes by Decorating Shapes post.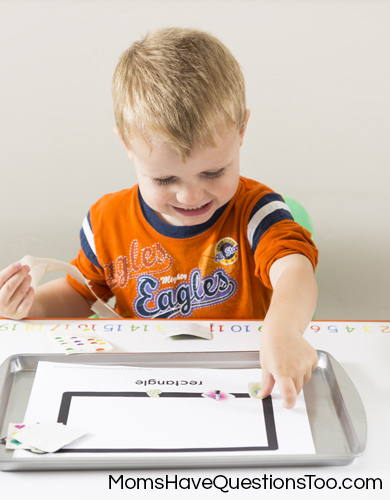 Transferring
This tray has a rectangle outline that I drew on plain paper. It also has a bunch of pompoms. The idea was for Smiley Man to transfer the pompoms onto the outline to make a rectangle. Smiley Man didn't particularly enjoy this tray, but he did do it when I encouraged him. Little Bear often does some of Smiley's tot trays and Little Bear actually loved this tray. He used a pair of small tongs instead of his fingers to transfer the pompoms, but he really liked covering the outline.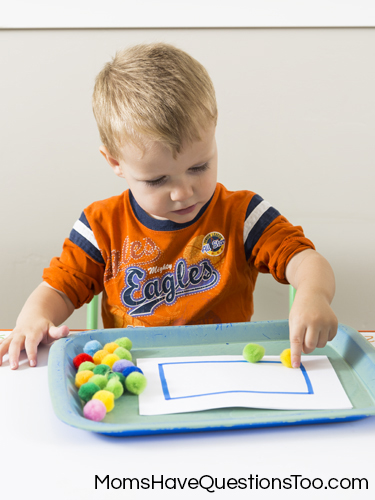 Pasta Sensory Bin
This tot tray has a container filled with pasta. We have used this same pasta for several sensory bins so it has gotten a lot of use. Hidden in the pasta were different colors and sizes of felt rectangles. At first Smiley Man just wanted to play with the pasta, but eventually he realized there was something hiding inside. We had fun talking about the different colors of rectangles and the different sizes. This tray ended up being a hit, but Smiley Man did spend a lot of his time just playing with the pasta.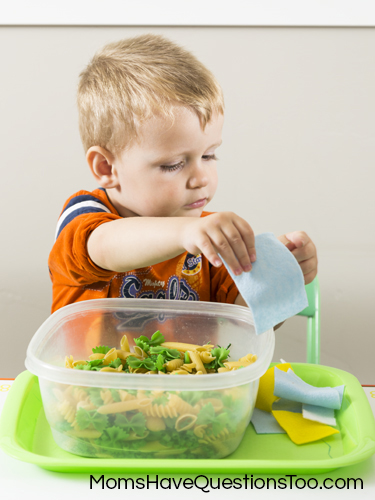 Sensory
This tray had some shaving cream on it. The idea was for Smiley to make rectangles with his finger in the shaving cream. Smiley Man wanted to do this activity the most, but since I have mild panic attacks whenever something this messy is involved, we only did it a few times. Still, he really enjoyed it and got pretty good at making rectangles by the end of the week.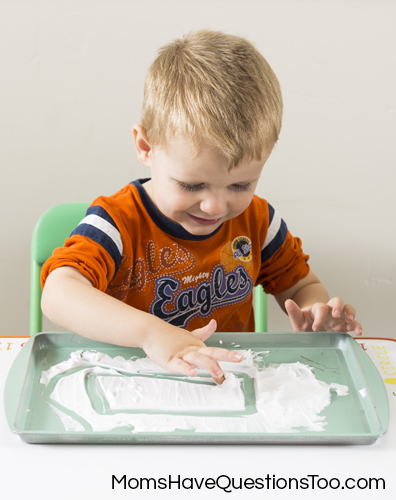 Spooning
This tot tray was the perfect example of an idea that seemed really great in my mind, but didn't work so well in real life. The idea was to make a "mote" with playdough and have it in the shape of a rectangle. Then, Smiley Man was supposed to spoon beans into the empty space in the mote. Overall, I think the main problem was that I didn't use enough playdough. I also should have made the rectangle a lot bigger and the empty space in between the rectangles a lot bigger. Smiley Man spooned the beans correctly when I was right there with him and showing him what to do, but otherwise he just played with the playdough and beans. I guess this ended up being more of a sensory tray, then a spooning tray, but at least he still learned something.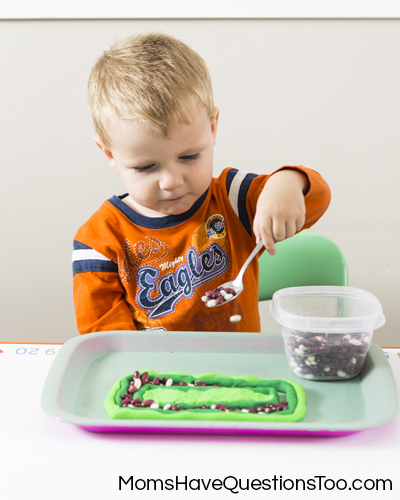 These toddler school trays are really getting fun for me to put together and Smiley Man loves doing them. He doesn't always do the trays as I intend, but always learns something. I am really surprised by how much he is learning. I've been curious lately, how many of you do tot trays with your kids? Do your kids like them and do they learn from them? I'd love to hear about your adventures.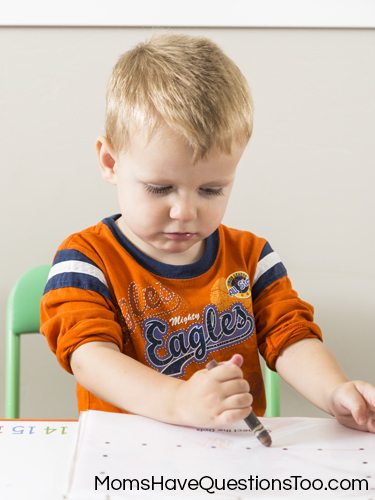 [hr top]