I have been working on shapes with Smiley Man for several weeks now and he really having fun. For this week, I really wanted to have an activity that could fit in a busy bag. If you don't know what a busy bag is, check out this great post on hosting a busy bag exchange. Or just search busy bags on Pinterest and you are sure to find a wealth of information.
I don't use busy bags a ton with my kids, but I do use them. Unfortunately, Smiley Man has been getting a little bored of the busy bags that I currently have for him, so I wanted to make a new one. Since we are already learning about shapes, I figured it would be perfect to have a shape themed busy bag. I found some great ideas like this felt shape matching game, these hot glue crayon rubbing designs (4th one down), or this clothespin and popsicle stick shape matching game (9th one down)
In the end I decided to go with something simple that I knew Smiley Man would love. I just made some shape lacing cards. Making these cards is very simple. First, print off the shapes using this printable that I made. Next, laminate the shapes. Usually I say laminating is optional, but I have tried lots of different options (using contact paper, using packing tape, gluing the picture to cardboard or a cereal box) and honestly, nothing works as well as lamination. If laminating is absolutely not an option, I would glue the picture to a thin piece of cardboard (like a cereal box), then cover both sides with packing tape.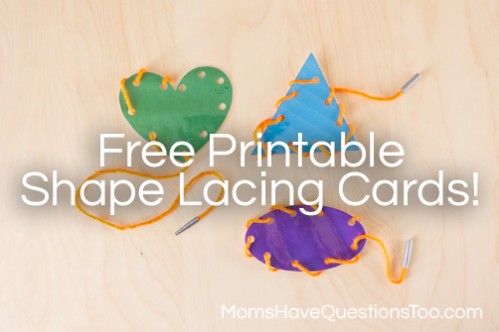 Once the shape is laminated hold punch holes in the edges about one inch apart. Now, add a shoelace or yarn with tape on the end. I always use yarn and tape because I like to save money, but you can usually find a big pack of shoelaces at the dollar store and shoelaces do work better. You can tie one end of the yarn or shoelace to the lacing card if you want, but that is optional. I usually tie one end to the lacing card because my kids are still young and I don't like the yarn getting lost.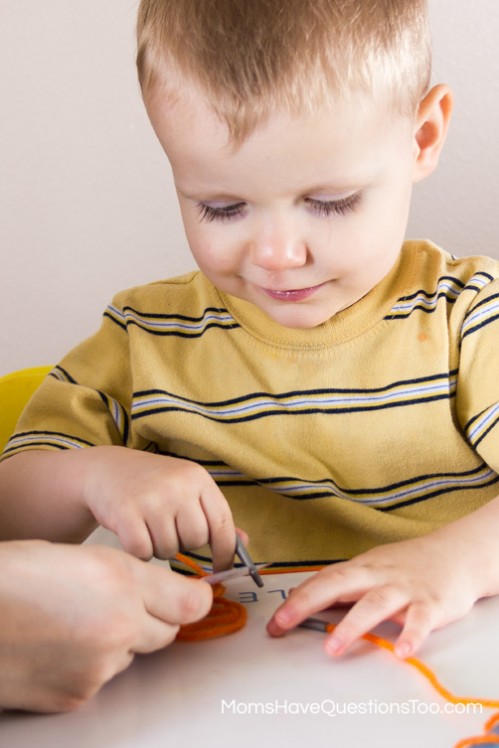 Now, show your toddler (or preschooler) how to thread the end of the shoelace or yarn through each hole. Smiley Man requires a lot of help with lacing cards, but for some reason he still absolutely loves them. I usually try to cover most of the holes except the one he needs to put the yarn through. He also has a really hard time switching hands when it is time to pull the yarn through the other side, but I just show him how each time and he gets it. Someday he'll be able to do it alone. ;)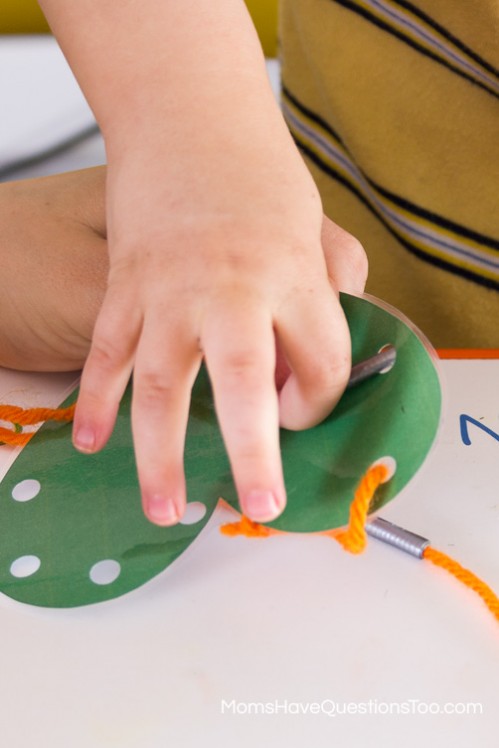 This is a great way to teach shapes because Smiley Man really explores the edges of each shape while using the lacing card. Plus, these lacing cards fit perfectly in a gallon size ziplock bag which is what I use for busy bags.
*Want to see more themed activities like this for toddlers or preschoolers? Check out our store page where our toddler and preschool series are compiled into Activity Packs for only $1.99! The Activity Packs are full of lesson plans, printables, and a curriculum guide.