How do I teach my child shapes?
I am pleased to announce another activity pack for sale now in our store! This is a shape activity pack and it's chock full of great shape activities for toddlers and preschoolers. If you've been wondering how to teach shapes to your toddler or preschooler, then look no further than this shape activity pack!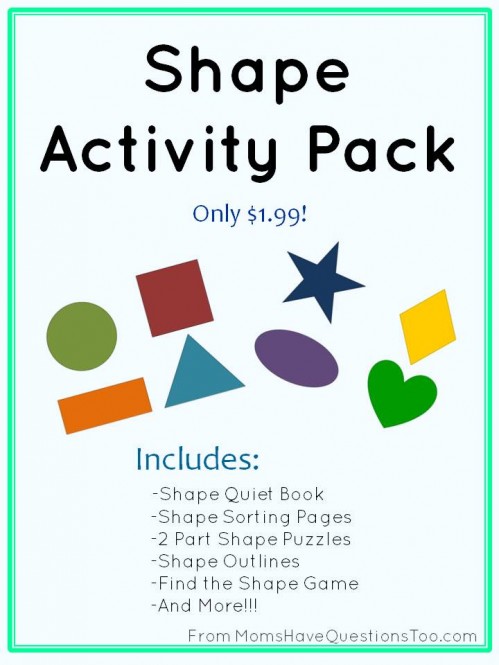 Some of the activities and printables for this activity pack come from the blog. If you'll only be using one or two of the printables, feel free to print them for free. Otherwise, you can purchase the activity pack for only $1.99 and have easy access to all of the activities in a curriculum format. Plus, there are 2 bonus printables found exclusively in the Shape Activity Pack!
Activities and Printables Included
Shape Sensory Bins
Decorating Shapes (printable included)
Popsicle Stick Shapes (printable included)
Shape Quiet Book (printable included-This is still one of Smiley Man's favorite books!)
Find the Shape (printable included)
5 Games for Shape Cards (printable included)
Two Part Shape Puzzles (printable included)
Shape Sorting Cut and Paste (printable included)
Shape Lacing Cards (printable included)
Shapes Cutting Practice
Shape Pizzas
Shape Patterns (exclusive printable!)
Shape Tracing and Drawing (exclusive printable!)
The activity pack is a digital download. So, you will need a printer (I have this one), a laminator (I have this one), and laminating sheets. Laminating is optional, but I totally recommend it. It definitely makes things more durable for a toddler or preschooler. See my Scotch Thermal Laminator Review if you're in the market for a laminator.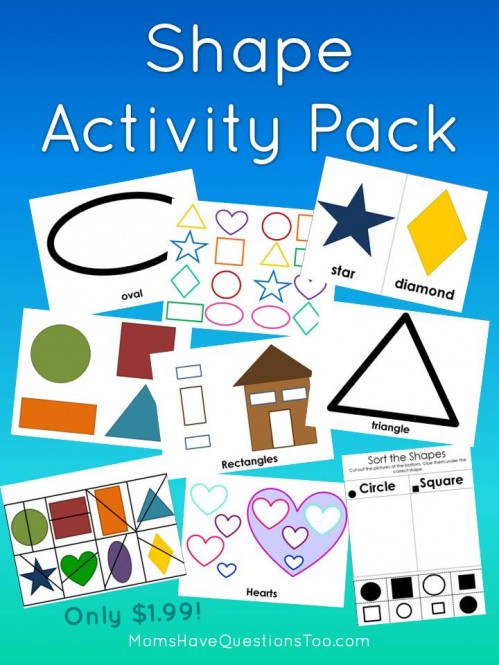 We also have a great activity pack to teach colors and one for pattern blocks. These activity packs have lesson plans with preparation ideas, instructions, and variations for each activity. They are great if you want to teach your  child, but don't need an entire curriculum. They are also great if you just want to teach something specific like colors or shapes. Buy Now and enjoy these shape activities for toddlers!
Other Posts You Might Like