What are some Montessori inspired square tot trays that will teach my toddler shapes?
After our very short break from tot trays, we have started up again with some square tot trays. I plan to do a different shape every week for 6 weeks. This week is all about squares and Smiley Man loved all of the toddler school activities on his square tot trays.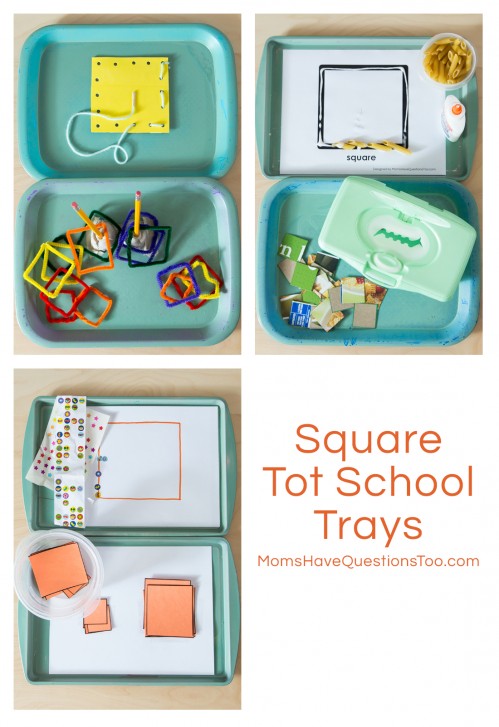 Shape Activity from Moms Have Questions Too
Square lacing card. Okay, this lacing card is not from the printable from the original post because I lost that lacing card. :( Let's just say, I was lucky to get this lacing card done in time for tot school this week. ;)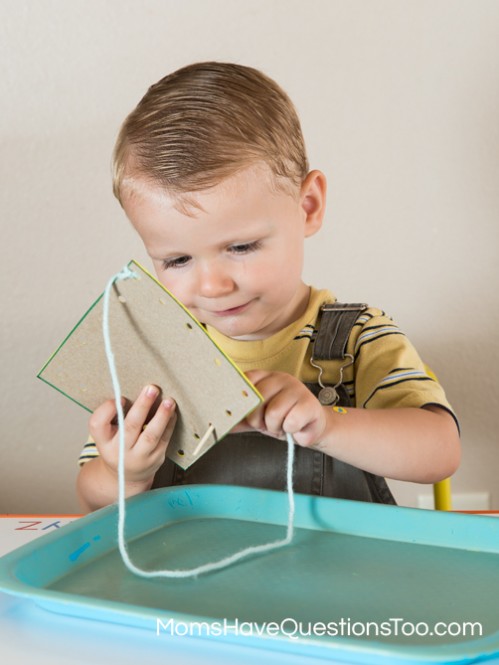 Decorating Shape Craft from Moms Have Questions Too
Beading
Bend pipe cleaners into various sizes of squares. I just made these by eyeballing the squares and not all of them are perfect. Bead pipe cleaner squares onto pencils stuck in an egg carton. This is a super simple beading activity that is perfect for very young toddlers. It was fun for Smiley Man, but he could have handled much more advanced beading. He did get lots of experience touching and feeling squares, though, which is the point of these trays.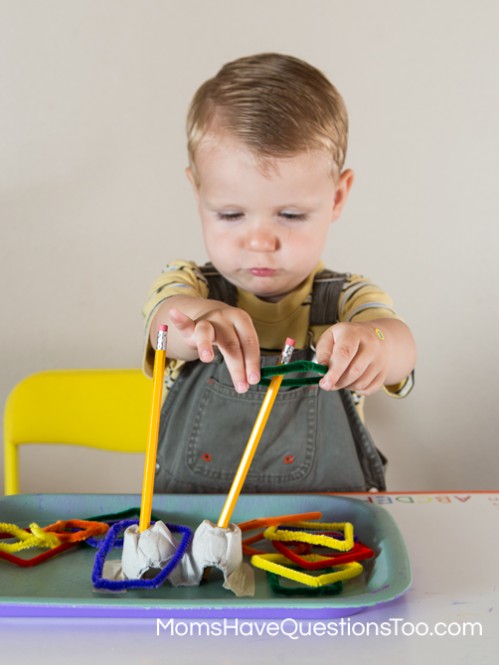 Matching
This tot tray has a white piece of paper with a large orange square and a small orange square taped to it. It also has several large orange paper squares and small orange paper squares loose on the tray. Smiley Man matches the loose squares to the squares that are taped onto the paper. Smiley Man is pretty good at this game, but what really surprised me is that Little Bear loves this game. I think I might turn it into a file folder game after square week is over.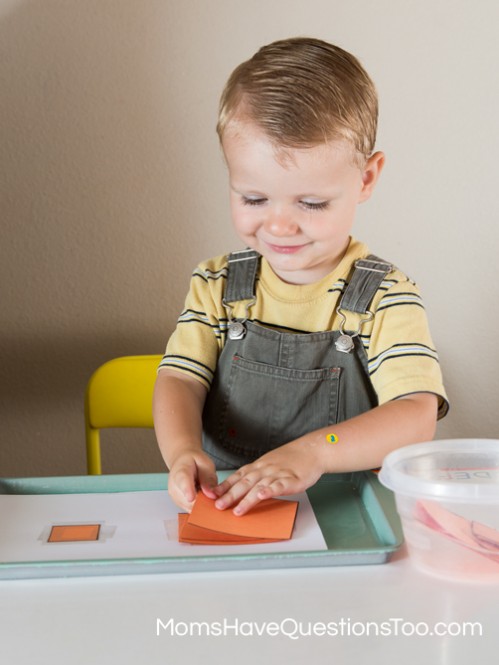 Stickers/Stamping
Smiley Man LOVES stickers so this was definitely one of his favorite trays. I just drew a simple square outline on a piece of paper. Smiley Man used the stickers on the tray to cover the outline. He was better at this than I expected, but a lot of the stickers ended up on his hands and arm rather than the paper. He still got some great fine motor practice though, so I would still call this tot tray a success.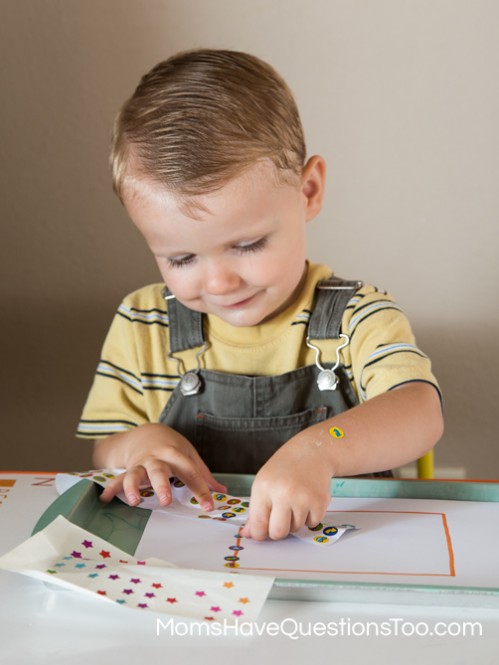 Small Spaces
Smiley Man loves putting things into a wipes container and then taking them out again. (See our beach tot trays and space tot trays for other examples of this). This tray had cardboard squares for him to put into the wipes container. I don't know what I was thinking at the time, but I made about 40 small squares for this tot tray. I probably could have just made 10-15, but I guess my pregnancy brain forgot to tell me this while I was making the squares. Having so many squares was actually good for Smiley Man because he spent more time holding and touching squares. He did start putting in multiple squares at once, which was actually great fine motor practice for him.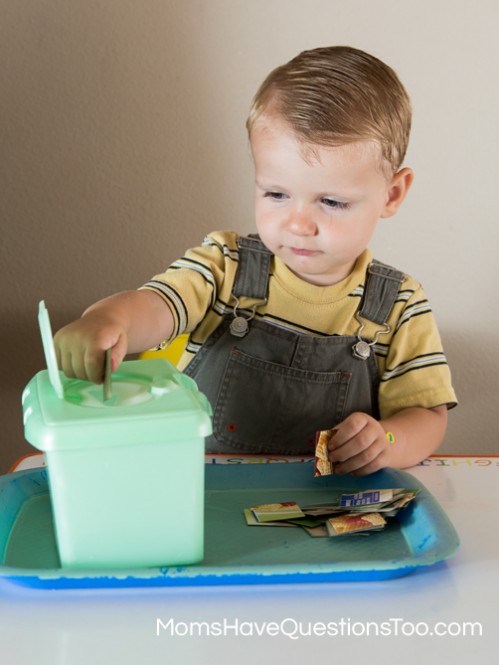 This was a really fun set of square tot trays. They weren't super challenging for Smiley Man, but he did get to look at lots of squares. I think the concept of a shape is really starting to make sense to his mind. I can't wait to see how much he knows by the end of our 6 weeks of shape trays.
[hr top]