I am just starting to teach shapes to my toddler which means I need lots of activities that both my preschooler and toddler enjoy. I already did several shape sensory bins with Smiley Man, but he still isn't ready for shape identification or sorting activities. So, naturally, I did a shape exploration activity. Actually, this activity is really a craft and both Smiley Man and Little Bear loved it.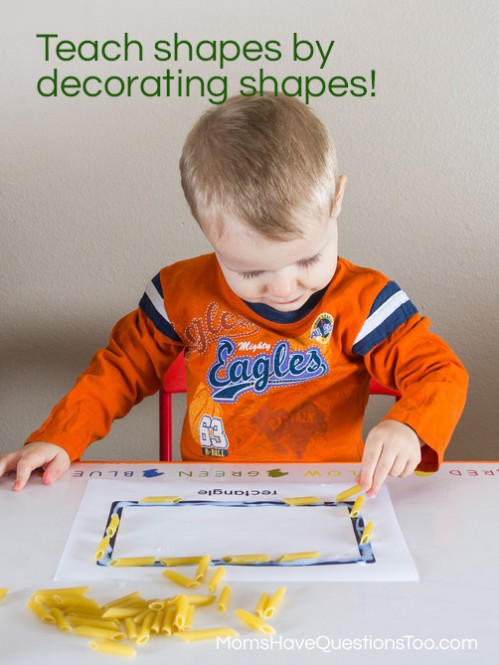 I started by creating and printing some shape pages. We did one shape at a time. First, I helped Smiley Man cover the shape with glue. He liked this part a lot more than I expected him to. Next, we found a fun supply and covered the shape with it. I had some cookie sprinkles in my cupboard that are long expired and I knew my boys would love using them to cover shapes. Smiley Man loved the colorful sprinkles and he didn't try to eat them as quickly as I expected. Little Bear on the other hand … well, let's just say he had a colorful mess on his face later in the day. :) While Smiley Man was covering the shape, I made sure to say the name of the shape lots of times. I also pointed out the different attributes of the shape (Look at the curve on this circle, it curves all the way around. This triangle has three sides and three points. This rectangle looks like a square that got smooshed, it's a smooshed square.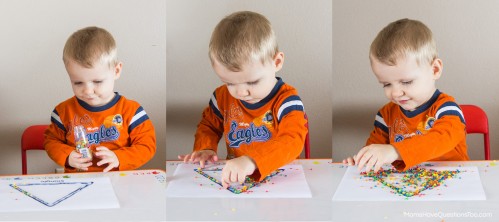 After we did a few shapes, I decided to find some Shape dot marker pages and make some shapes with those. I found these great dot marker pages from 3 Dinosaurs. I let Smiley Man use the dot markers to complete the shape page. Next, we used another dot marker page, but this time Smiley put stickers in the circles instead of dotting the circles.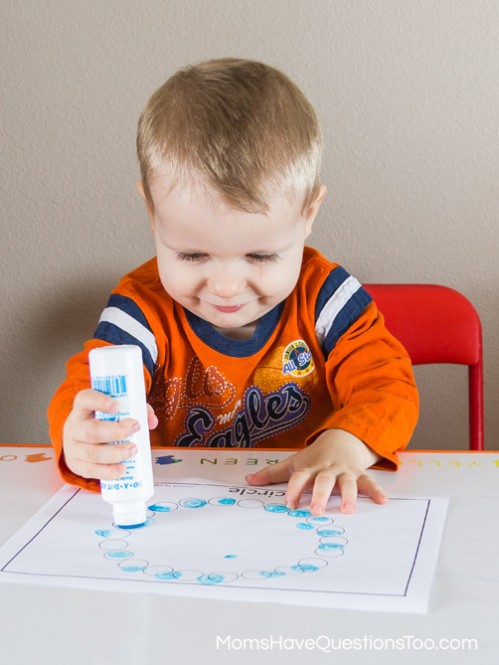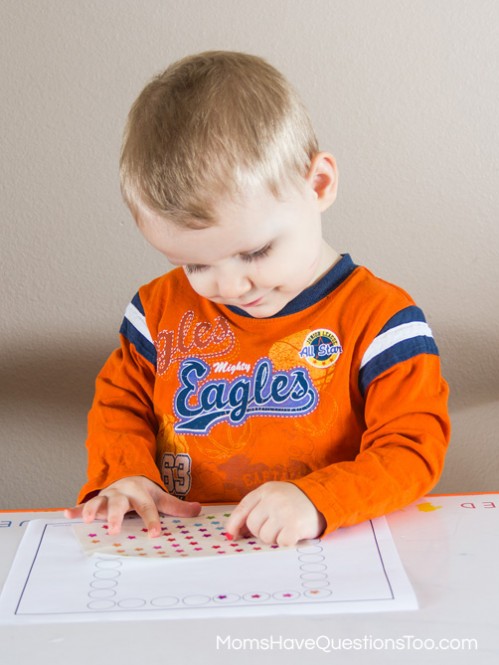 These were the perfect shape activities for my children. Little Bear know his shapes well, but he had fun doing the crafts. Smiley Man was learning the shapes as we did the activity and he had a blast doing it. Don't forget to point out the attributes of each shape if you do this activity with your child. That is the most important part. :)
One last side note: I highly recommend Do-a-Dot brand dot markers. I first bought some dot markers from Walmart and I was pretty disappointed (go here to read my review). I got some Do-a-Dot markers for Little Bear last Christmas and so far we love them. I'll be writing a full review about them soon, but if you are looking to buy some dot markers, I definitely suggest Do-a-Dot brand.
*Want to see more themed activities like this for toddlers or preschoolers? Check out our store page where our toddler and preschool series are compiled into Activity Packs for only $1.99! The Activity Packs are full of lesson plans, printables, and a curriculum guide.