What are some tot trays I can do with my toddler that have a Thanksgiving theme?
I made this set of Thanksgiving trays mostly with dinner and food in mind. I figured that everybody eats different things on Thanksgiving, but eating is a constant. I really had fun putting these trays together and Smiley Man really enjoyed them. I love it when Smiley Man loves every single one of his trays. This week was one of those weeks.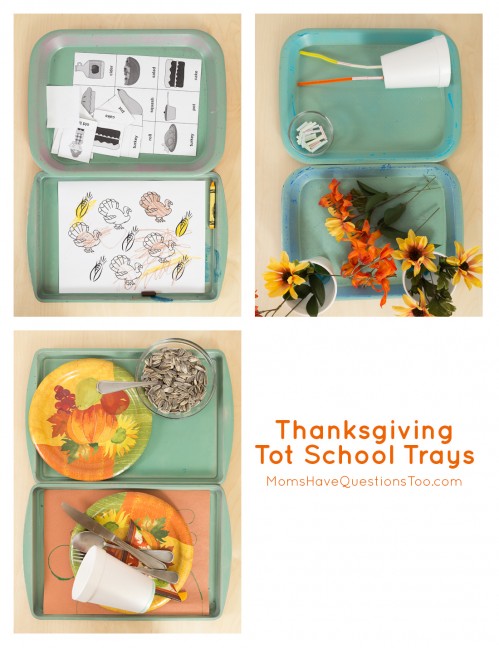 Set the Table
I was really excited about this tot tray and luckily Smiley Man has really enjoyed it. I got a paper plate, Thanksgiving napkin, Styrofoam cup, and spoon, fork, and knife and traced them in the correct place on a large piece of brown construction paper. To do this tray, Smiley Man is supposed to put the pieces from the tray onto their outlines and "set the table." I'm one of those weirdos who can't stand it when my spoon or fork is on the wrong side of the plate, so I figure it's never too early to teach my kids how to correctly set the table. Plus, this was a great matching activity. Smiley Man sometimes has difficulty with this tray, but the more he does it, the better he gets.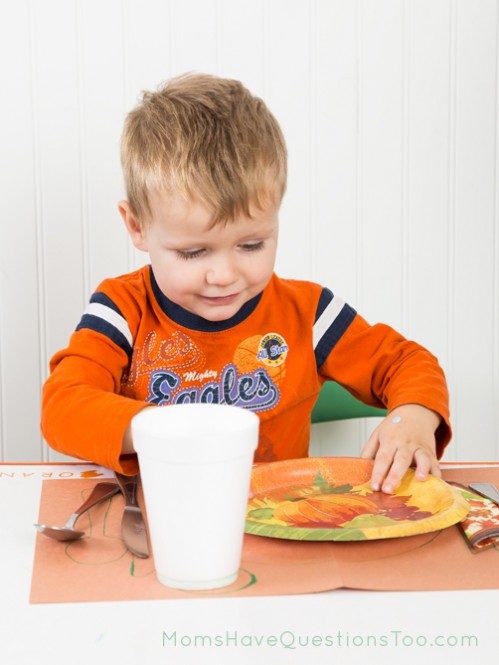 Beading
To make this tot tray, I put two pipe cleaners into the bottom of a Styrofoam cup and put some cut straw pieces into a small glass bowl. The idea is for Smiley Man to put the straw pieces onto the pipe cleaners so it looks like a straw is coming out of a cup.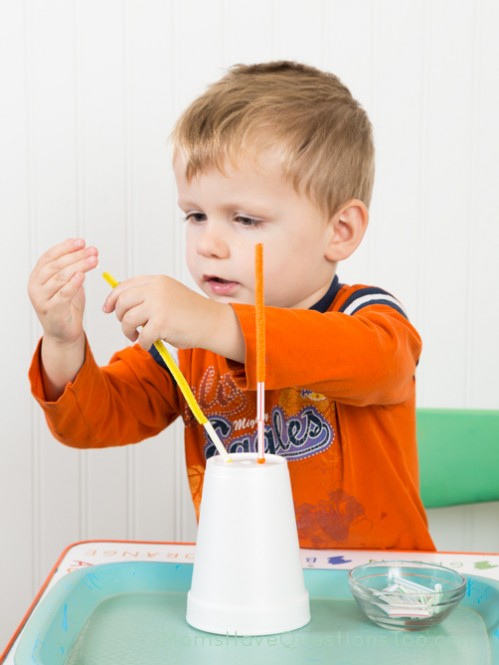 Sorting
This tray has several orange and yellow fake flowers that I got from the dollar store. It also has two Styrofoam cups. Smiley Man was supposed to sort the orange flowers into one cup and the yellow flowers into another. This was surprisingly his favorite tray of them all. He was really good at the sorting and wanted to do it over and over. I realized as soon as I got home from shopping that this tray would have been way more attractive if I used small clear glass vases from the dollar store rather than the Styrofoam cups. I would have gotten the vases if I had thought of it sooner, but the cups did work fine.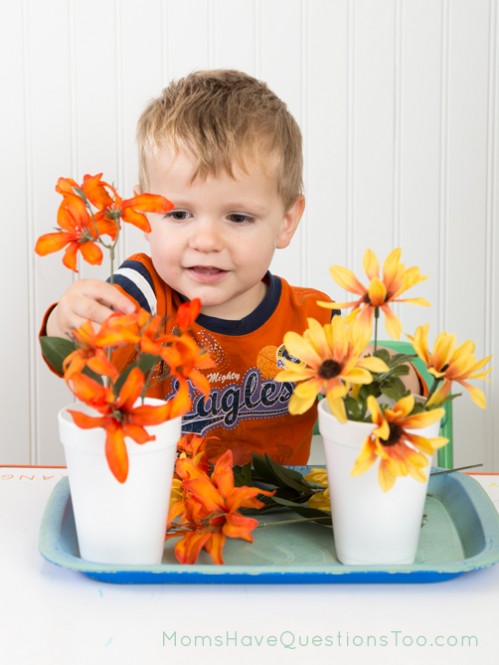 Coloring
I made this super simple printable that has turkeys and corn on it. This tray also has a brown crayon and a yellow crayon. Smiley Man was supposed to color the turkeys brown and the corn yellow. He did a pretty good job with this tray, but his coloring was not always completely accurate.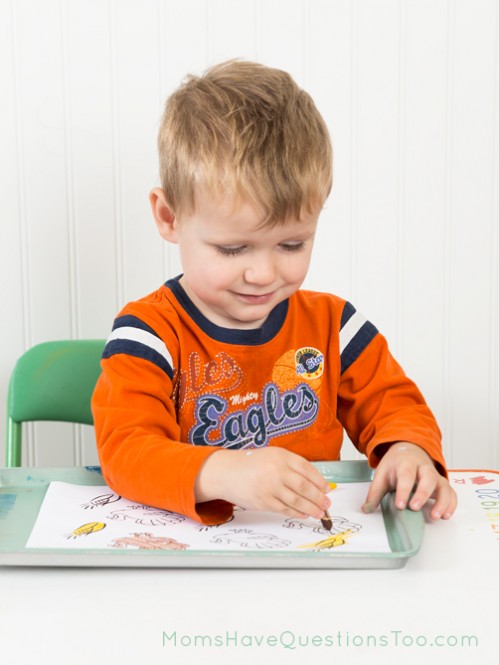 Spooning
This tot tray was another of Smiley Man's favorites. The idea was to teach him how to serve himself food by spooning it from a bowl to a plate. I used sunflower seeds because they seemed like a Fall-ish item. Smiley Man loved spooning the seeds onto the plate and then pouring them back into the bowl when he was done. By the end of the week he decided it was better to pour the seeds onto the plate instead of spooning them. :) It was still a lot of great practical life so I didn't mind.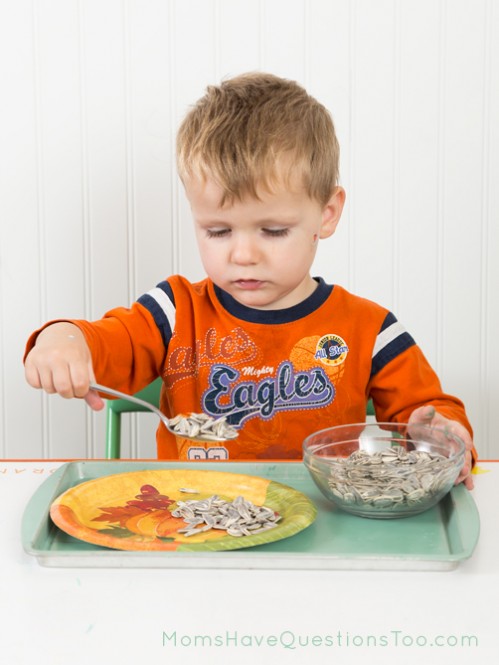 Here is a list of the printables that we used for Smiley Man's learning notebook and tray with printables and the links to them.
Learning Notebook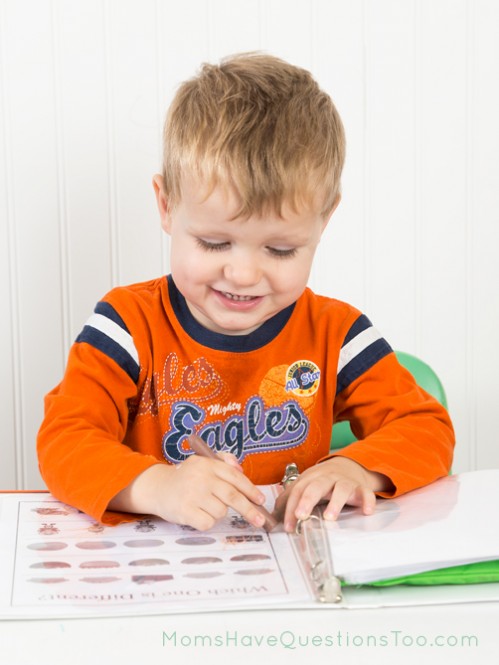 Tray Printables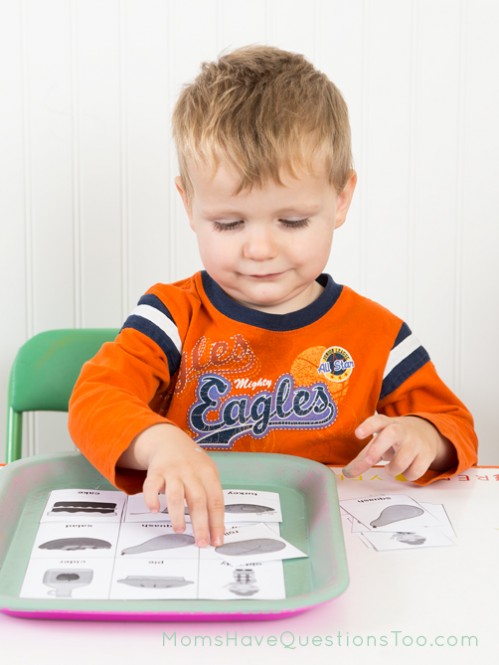 Other Toddler Posts you Might Like