This post is dedicated to a wonderful toddler who sometimes gets a little bratty. Gasp, a bratty toddler, who could imagine? :) The toddler is not Smiley Man. I don't think he has hit his terrible twos quite yet. The toddler is the daughter of a very good friend of mine. She is a major cutie, such a good big sister, and occasionally breaks some rules.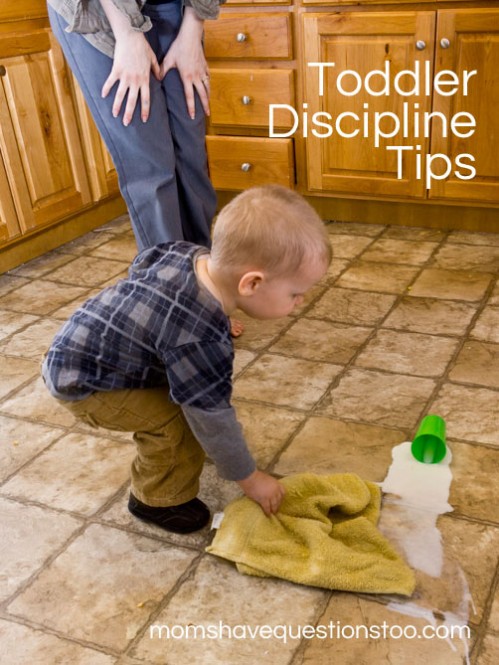 As many of my readers know, I majored in Elementary Education and I also teach preschool. I am very familiar with toddler discipline and normal toddler behavior. I know that correct discipline techniques can make the world of difference in your child. He or she will be well behaved and happier in general. That being said, I am in no way perfect. Just because I know the right parenting techniques for toddler behavior problems, doesn't mean I always use them. I make mistakes, especially when I am frustrated or angry. Don't try to be a perfect parent, just try each day to be a better one.
Toddler Discipline Tips
Structure
Toddlers thrive on structure and a regular routine. To some people, this means making a daily schedule and never going more than 15 minutes off schedule. To some people, this means doing a certain thing on certain days of the week (Monday go to the park, Tuesday go to the Library, Wednesday go to a friend's, etc.)  If you like a tight schedule, then make one and keep it. If you like a loose schedule that is flexible, then make one and keep it. If you like a schedule that is somewhere in between, then make one and keep it. Whatever structure you have, just be sure to stick with it. Also, some toddlers may need more structure than others. When Little Bear was a toddler, he did much better with an exact schedule. Smiley Man doesn't need a schedule as exact as Little Bear, so I have adjusted accordingly. Pay attention to the needs of your child. Here is a calendar I use with Little Bear. You are welcome to download and print it out for your toddler or preschooler!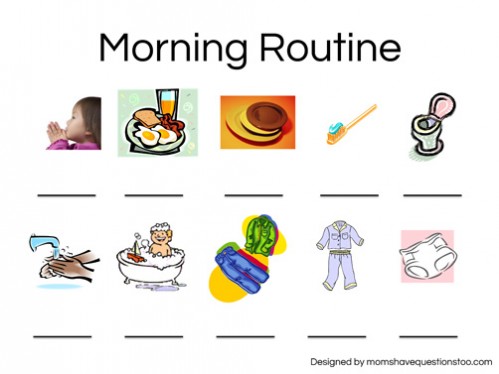 Set Clear Boundaries
One of a toddler's very favorite things to do is test boundaries. If you think their brain is not developed enough to test a boundary you have set or to be sneaky and ignore the boundary, then you are wrong. Toddlers are geniuses in that way. When Little Bear was 16 months old, he asked me for water because he knew I would move away from the cupboard that he wanted to get into. By the way, I was standing in front of this cupboard specifically so he could not get into it. Kids are very mischievous. When you set a boundary (ex. "please keep these toys in the living room"). They WILL test it. If you set a boundary, know that it will be tested and that you will need to follow through with a consequence.
Time Out
Time outs have always been pretty controversial, especially in the last few years. If you don't want to use time outs, don't use them. Follow your parental instincts. That being said, time outs are one of my preferred consequence for toddlers, but only if they are done right. Personally, I think the "terrible twos" is such a difficult stage because your child is old enough to break rules, but not old enough to understand logic.
If your child is playing with a knife, you absolutely must take the knife away. You cannot let your child play with the knife until he has cut himself. However, you can't really explain to your child the consequence of playing with a knife either. You can say "danger," but he is too young to know what a cut is. Using time outs correctly can help your child understand that a certain behavior or a certain object is off limits.
How to correctly use Time Outs

When your child breaks a rule, get down on his level (be eye to eye with your toddler) and tell him what he did wrong.
Put your toddler in time out. I encourage having a specified time out spot. This can be a rug or a stool or even a specific corner in your house.
Do not make your child face the wall, or yell at your child, or try to make your child feel guilty in any way. Simply, tell your child what he did wrong and calmly explain that he must go to time out.
If your child resists, it is okay to pick him up put him in time out. Just don't hurt him in any way.
 If your child leaves time out before he is supposed to, simply pick him up and say, "You are in time out because ____" and put him back in time out. You may have to repeat that process 4-5 times, but eventually he will stop leaving time out.
Have your child sit in time out one minute for each year he has lived. For example, if your toddler is 2 years old, he should be in time out for 2 minutes. If your child is 3, he should be in time out for 3 minutes. I do 1 ½ minutes once my child is 18 months, but you can still do 1 minute if you prefer.
When time out is over, go to your child and again tell him what he did wrong. Stay calm! Have your child say sorry and then give lots of hugs.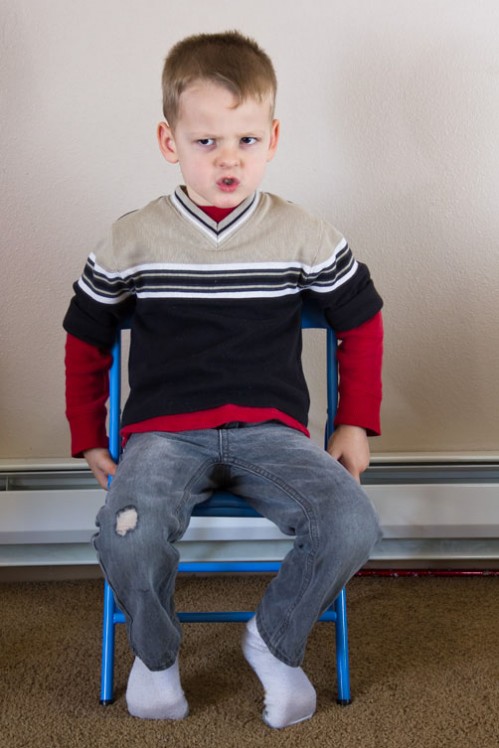 Natural Consequences
Natural consequences are my other preferred method of discipline for toddlers. Natural consequences are consequences that would naturally come about because of your toddler's incorrect behavior. For example, if your child spills his milk on purpose, he gets no more milk. If your toddler rips his favorite book, he must throw the book in the garbage. If your child dumps cheerios all over the floor, he must help clean up the cheerios. Natural consequences are a great way to teach your child about certain behaviors. My kids have always known, if they spill something, they must clean it up. I suggest using natural consequences as often as possible and using time outs for all other consequences.
Sometimes it is NOT okay to use a natural consequence. For example, if your child keeps running out into the street, do NOT let them continue until they get hit by a car. Or, if your child is playing by a fire, do NOT let them get too close and get burned to learn that the fire is hot. Obviously, natural consequences do not work every time. Also, sometimes it is hard to think of a natural consequence. If it is too dangerous for a natural consequence or you cannot think of a natural consequence. I suggest using a time out.
Check back tomorrow for part 2 of Toddler Discipline with four more ideas!