What preschool learning themes can I teach with the letter F?
You know, I like to start these posts with some interesting thing about my life, kids, or about the theme. But today, I got nothing. Sometimes life is just normal, which is great, unless you're trying to write a blog post about something interesting. :) Oh well, at least this week was fun with lots of learning, even if it was just plain normal. Go here to purchase the Toddler Curriculum. All printables, tot tray ideas, book list, etc. are included in the curriculum.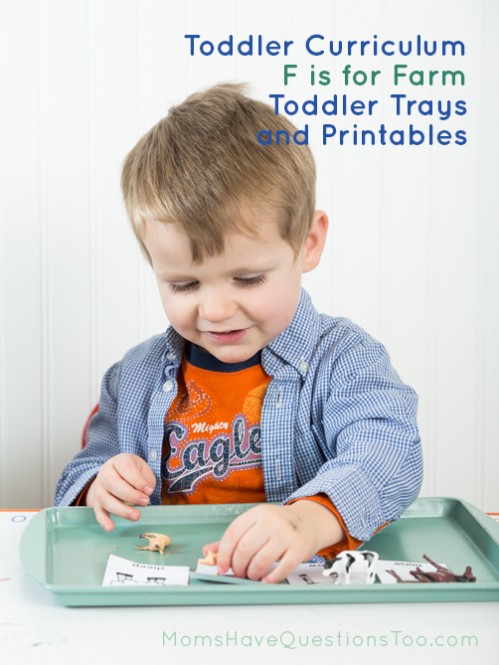 (Smiley Man is almost 3, read here about appropriate ages for this curriculum)
Make the Letter
To practice the letter F, I wrote several letters on a whiteboard along with a few Fs. Smiley Man had to erase all of the letter Fs. This was really hard for him, which surprised me because he is getting much better at identifying letters. Or maybe he was just having a hard time with the erasing part. ;)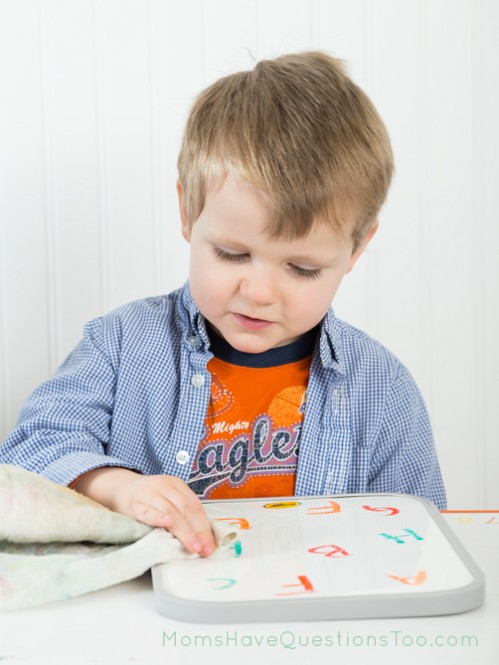 Learning Notebook
Smiley Man loves coloring so this page where he colored the big objects yellow and the small objects green was fun for him. He is getting much better at coloring one object at a time instead of the entire page.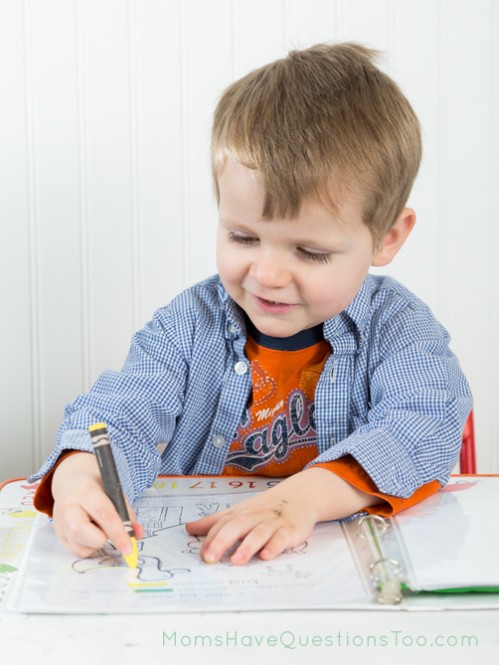 Tot Trays
Theme: Stick feathers into playdough to make a rooster. Or glue feathers onto a rooster picture.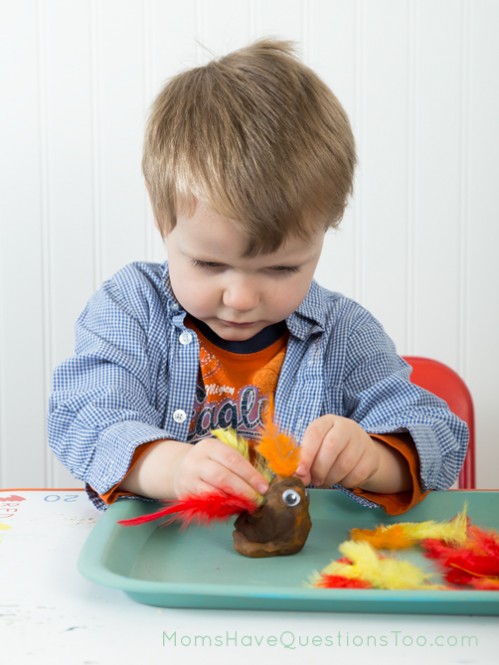 Beading: Draw a barn on an empty toilet paper tube. Cut the tube into 4 "beads." Put "beads" onto skewer stuck in playdough to make the barn.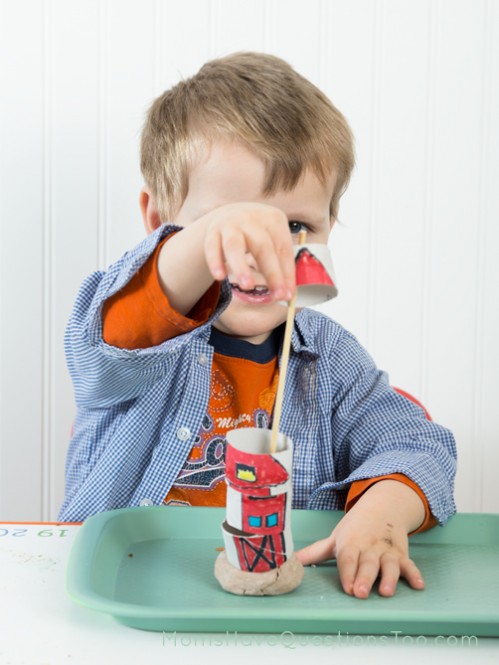 Sorting: Sort toy farm animals from plastic bugs using tongs.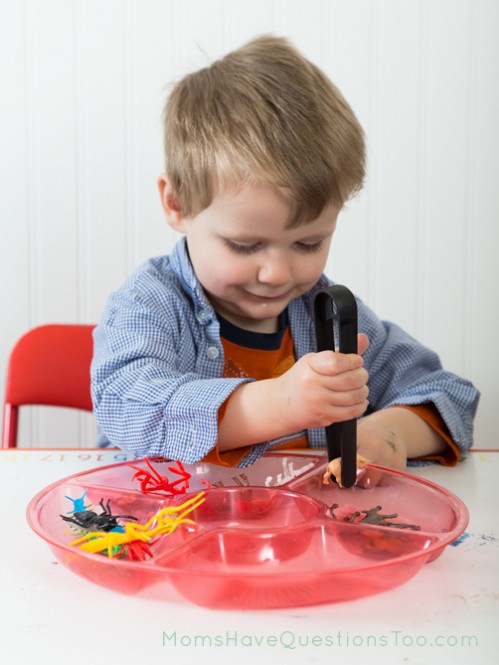 Coloring: Trace hand twice and color one hand pink and the other white with black spots. Add heads on the thumbs and add tails and googly eyes to make a pig and cow.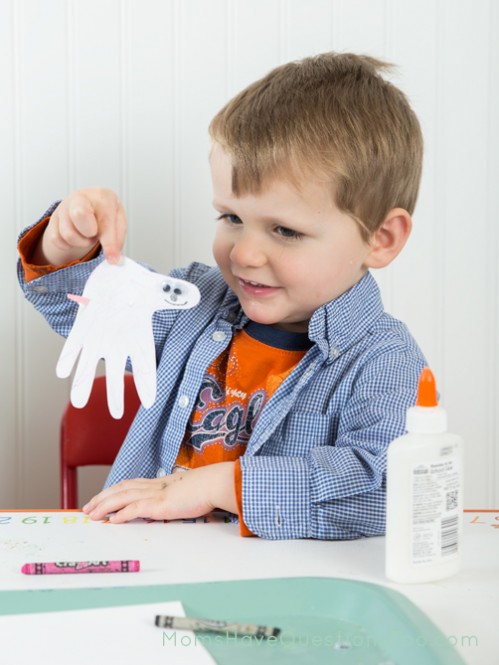 Spooning: Tape animal pictures to cups. Have pompoms in a bowl. Roll a die and use a melon baller to give each animal the right number of "food" (pompoms).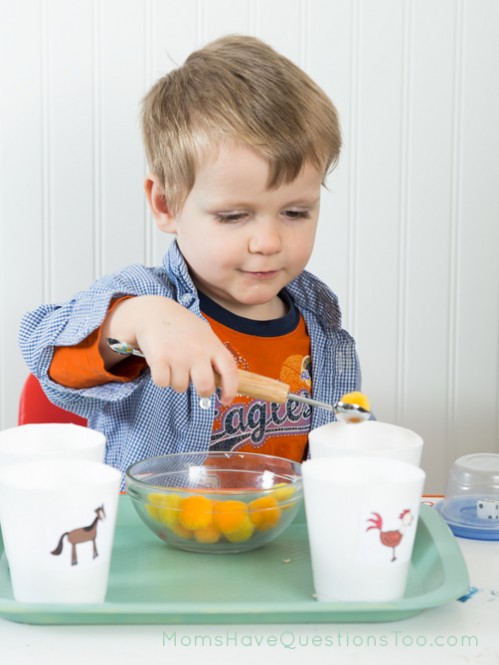 Supplies Used: feathers, playdough, skewers, plastic farm animals, googly eyes, pompoms, dice, melon baller, trays
Tray Printables
The tray printables are the printables that I put on our 6th tot tray. Smiley Man enjoyed this number line page where he had to glue the animals onto the right numbers. I cut the animals out before we started so Smiley would just have to glue.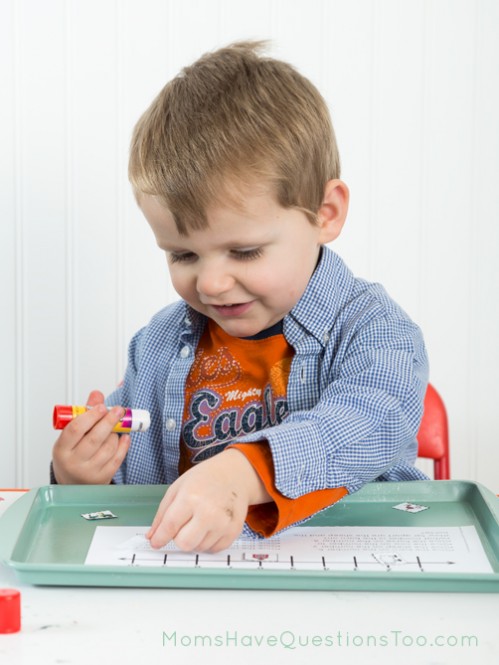 We also used our plastic farm animals to match to some of the Montessori 3 Part Cards included in the Toddler Curriculum.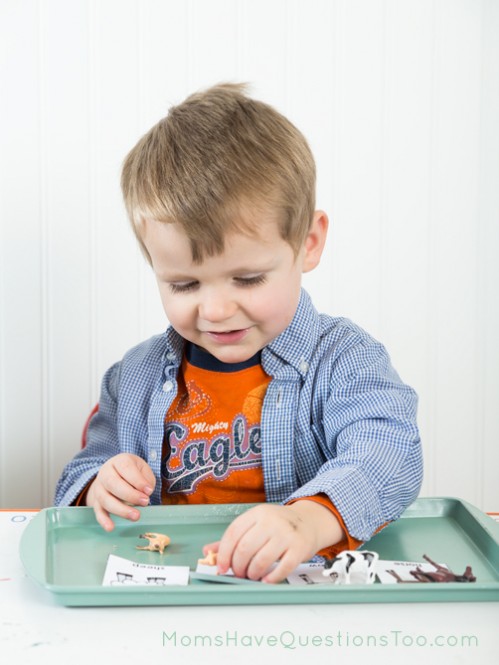 Letter Activities
We did several letter activities for the letter F, but Smiley Man's favorite was definitely this F collage where he covered the F with feathers. I think he just liked feeling the feathers on his fingers.
Books
Smiley Man loved reading Rooster Can't Cock-a-doodle-doo. I'm not sure he really understood why it was funny, but he loved saying cock-a-doodle-doo over and over. I'll be honest, it's pretty cute. :)
Letter F Craft
This craft is a classic, yet it seems to entertain every kid who does it. Smiley was no exception. This cotton ball sheep craft was super fun for him. It went great with our preschool learning theme of farms.
Sensory Bin
We used uncooked oatmeal for the base of this F sensory bin. It was probably Smiley Man's favorite base so far. I honestly didn't think anything could beat the aquarium gravel we used last week, but Smiley Man really loved this oatmeal. The one downside was that he was a little more interested in the oatmeal than he was in the Fs. Oh well. ;) Go here to read more about out ABC Sensory Bins.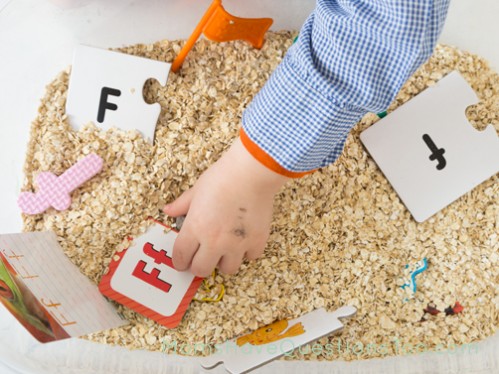 Other Posts You Might Like:
[hr top]

We've found some fun people with great linky parties. You might just see this post linked up on one of these amazing sites!
No Time for Flashcards, Train Up a Child, Teach Beside Me, 1+1+1=1, Living Montessori Now, In Lieu of Preschool, ABC & 123, Sun Scholars, All Our Days, Frogs and Snails and Puppy Dog Tails, Homeschool Creations, 123 Homeschool 4 Me, Teaching Mama.