How can toddler school help my child learn letters?
What a great week to learn about the letter k and the kitchen. Finally my toddler can make lunch for me. Haha! If only, right? Smiley Man did really enjoy his trays and letter work for this unit. I enjoyed all of the fine motor, letter learning, and matching skills that he practiced.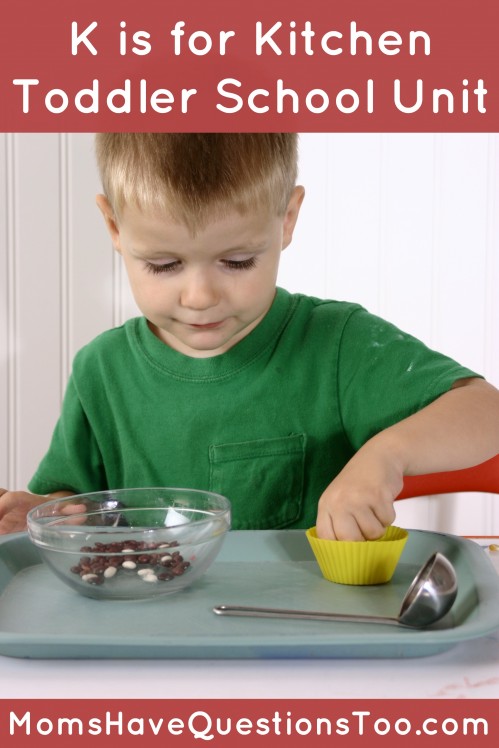 I wasn't sure if Smiley Man would like this unit because I felt like my ideas were just normal ideas instead of great ideas. I should know by now that normal ideas are almost always great ideas. [tweet this]
Smiley Man really loved this unit. His favorite was the tray with the "soup." He loved pretending to drink it. :)
Make the Letter
Smiley used glitter glue to cover this thin letter K. He loves glitter glue, so this was super fun for him. I was impressed by his concentration. He is getting pretty good at tracing these thin letters.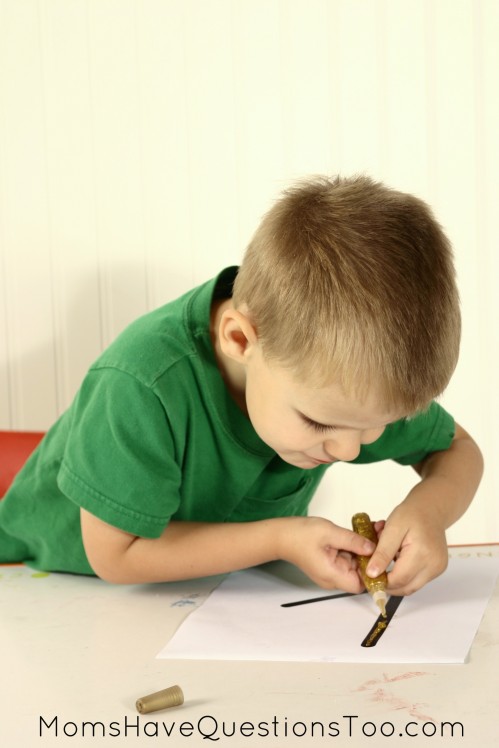 Learning Notebook
This printable has a bunch of letters and the point is to find the Ks and color them. I showed Smiley Man how to do this, but when he "colored" the letter Ks, he traced them instead. I didn't complain since that took even more fine motor skills than usual. ;)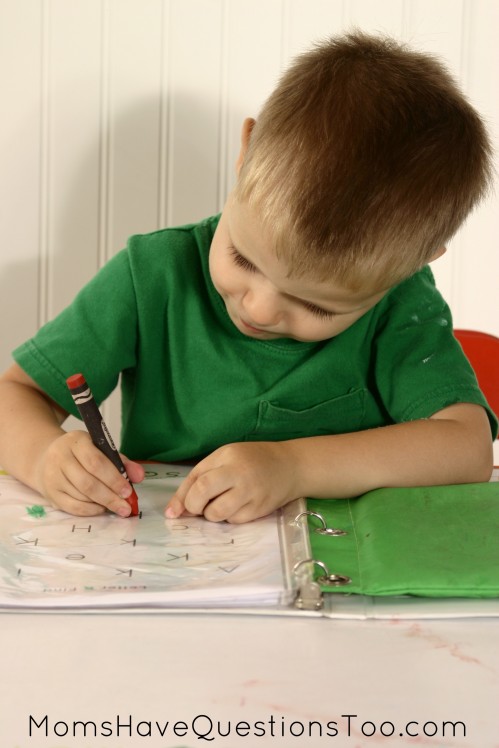 Toddler School K is for Kitchen Trays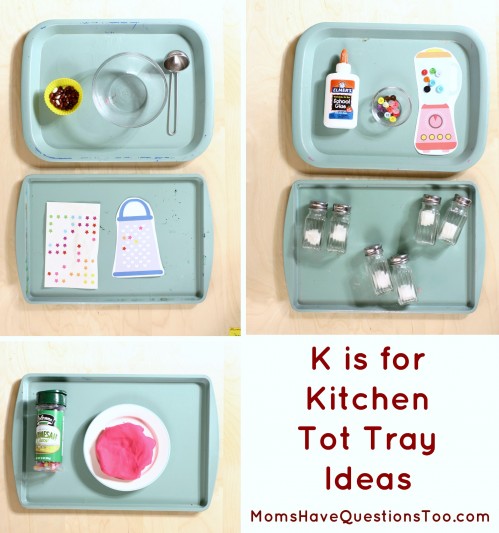 Theme:
Have dried beans on the tray. Transfer using fingers into a bowl for "soup." Stir the soup with a spoon or ladle.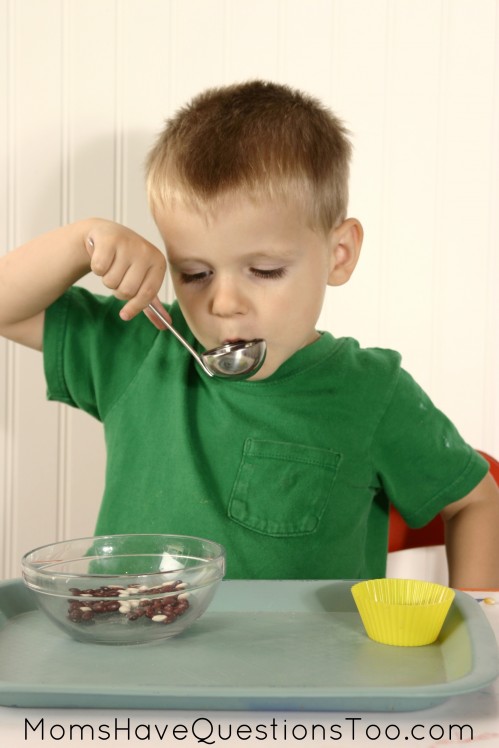 Stickers/Stamps:
Cover all of the holes on the cheese grater with stickers (printable in Toddler Curriculum).
Pouring:
Put beads in a parmesan cheese container. Have a playdough "cake" on the tray. Pour "sprinkles" (beads) onto the "cake."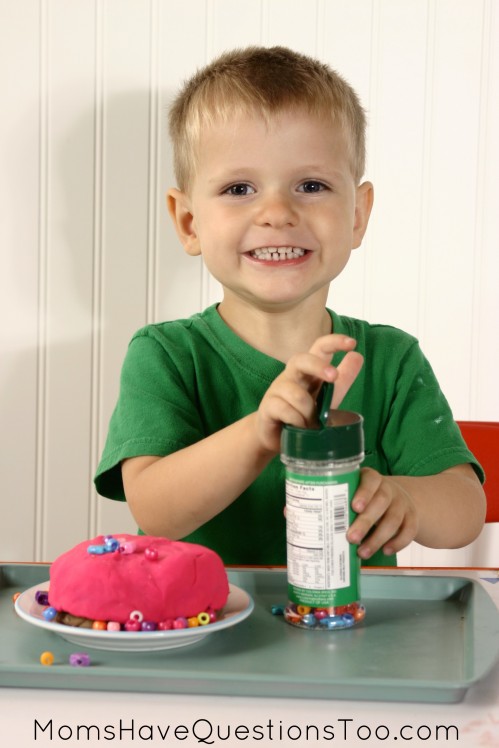 Gluing:
Glue buttons on the picture of the blender to look like fruit in a "smoothie." (printable in Toddler Curriculum)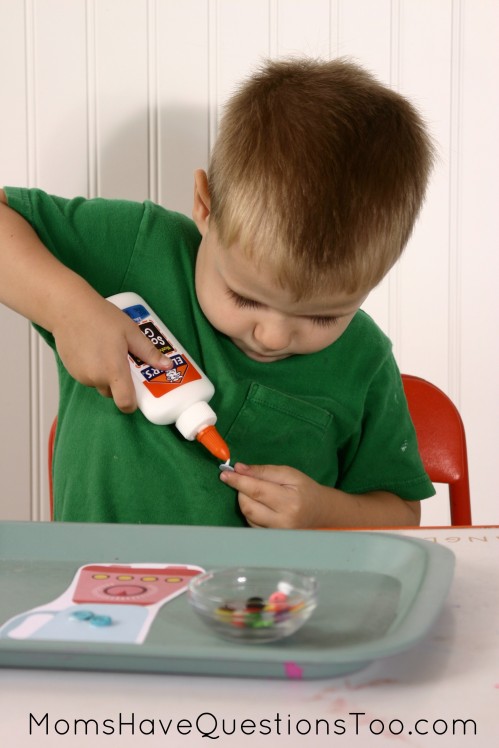 Sensory:
Have smell matching busy bag on tray. Use kitchen spice to match instead of essential oils (cinnamon, cumin, Italian seasoning).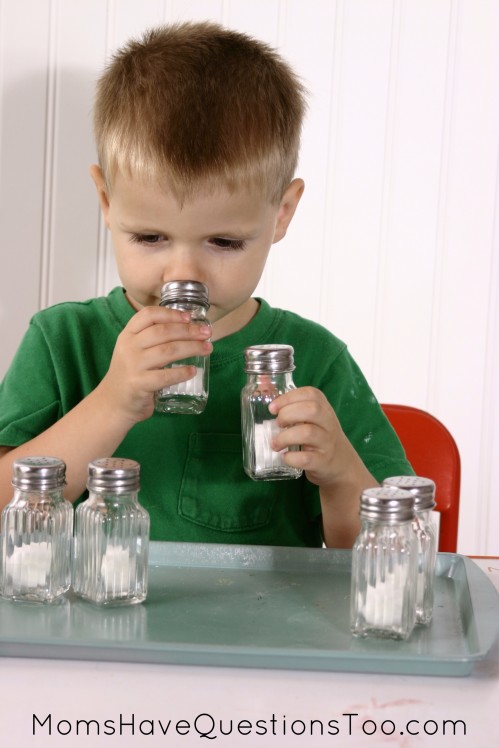 Supplies Used for Tot Trays:
Glass bowls, ladle, stickers, beads, buttons, salt and pepper shakers (I got mine from the Dollar Tree), printables from Toddler Curriculum
Tray Printables:
We do 3 Part Cards with every toddler school unit. See how to use them here. I always laminate them because it makes them last so much longer! We often go back and review old cards and it's nice that they're all still in good condition.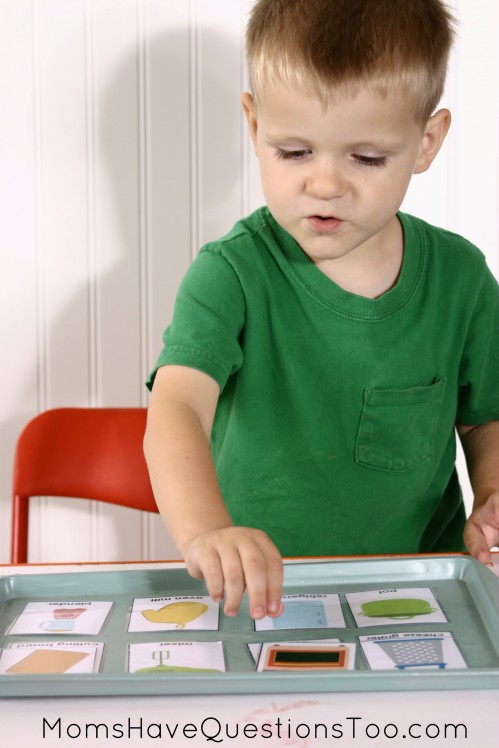 Letter Activities
Smiley Man is really getting better at these letter pattern block templates! He still has a hard time rotating the blue diamonds, but he is getting the hang of rotating the other shapes.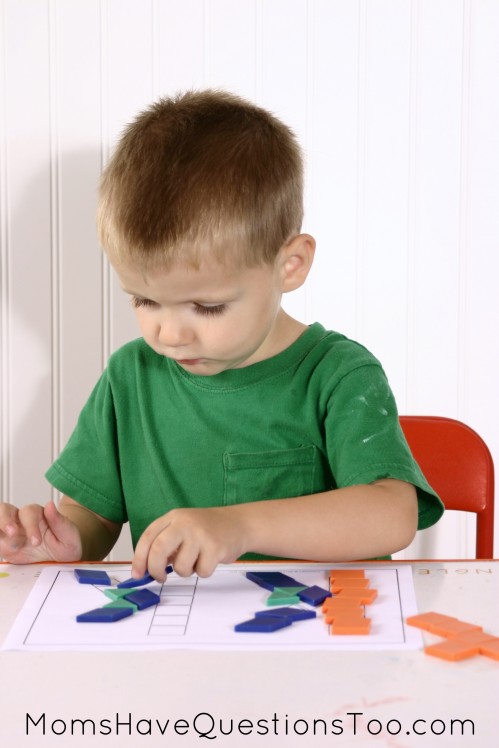 Books
I loved reading If You Give a Mouse a Cookie with Smiley Man. It's such a classic and went perfectly with our kitchen unit.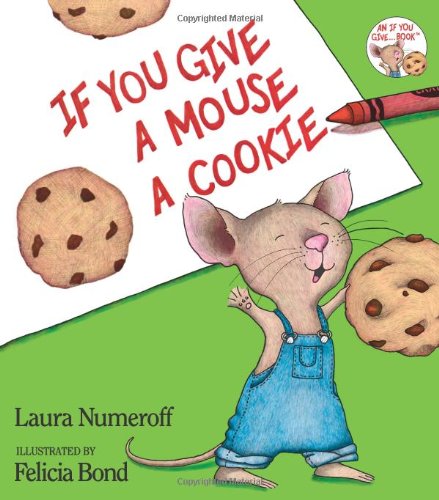 Letter K Craft
The craft for the letter K is to decorate sugar cookies. But, of course, this unit just happened to come up the month that our family is doing a sugar "cleanse." By cleanse, I just mean we aren't having any dessert this month. Mostly because my husband and I are hardcore addicted to sugar and we're trying to overcome that. So, we didn't decorate sugar cookies. But, we did play a ton with the playdough cake, so I guess that counts. ;)
Sensory Bin
I put dry popcorn in the sensory bin along with the letter Ks and K items. I added a ladle and ice cream scoop, too, because I thought Smiley Man would like to use them with the popcorn. I was right! He played with this sensory bin forever because of the added scoops. Learn about ABC Sensory Bins and how to use them.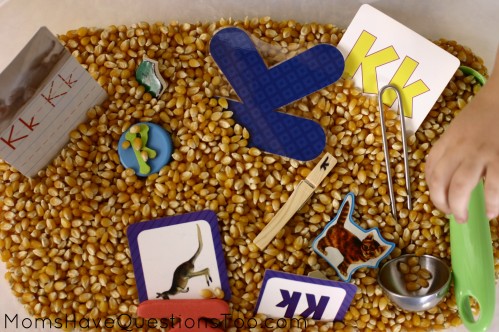 *All printables and ideas are included in the Toddler Curriculum. Read more about it here.
Other Posts you Might Like