Well, Smiley Man has officially stopped taking a morning nap. I do preschool in the morning and I have discovered pretty quickly that Smiley Man doesn't sit quietly to the side and play happily while I am teaching preschool. I didn't think he would, but I didn't have a plan for him either. After a few days of preschool and Smiley Man not going together, I realized something I should have already known. Smiley wants to be in on the action. He wants his own work.
Once I realized that, it was easy to come up with a solution. I will have tot school for Smiley Man. I put together the first set of tot trays to use with Smiley Man and they have a winter theme. I have never done tot school before because when Little Bear was a toddler, he was still the only child and I did a lot of one-on-one stuff with him. So, I'm not sure how all of this will work, but feel free to watch my journey.
So far, here is my plan: I will have 12 tot trays on low bookshelves (so Smiley Man can reach them on his own). I will show Smiley Man how to use each tray, but he will only be allowed to use them during school time. I will have these 12 tot trays out for two weeks. I might decide that 12 is too many or not enough, or I might decide to have them out for only one week or maybe for three instead. Since this is my first time doing this, I will have to learn a few things as I go.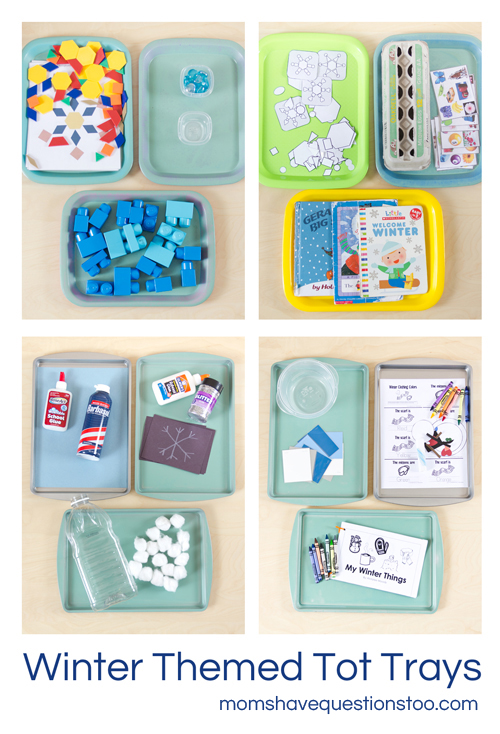 Here are all of the trays for this week:
Pattern Block Snowflakes
Snowflake Glitter Craft
Color Matching with Paint Chips
Transfer Blue Flat Marbles
Snowflakes fall on the ground
Color Games 1 and 2
Tot Book
Winter Printables
Featured Toy – something
Themed Books – something
Felt Snowflake Kit
Shaving Cream and Glue Snowman
Pattern Block Snowflakes
Smiley uses pattern blocks to cover the snowflake pattern blocks templates. Or he'll just plays with the pattern blocks. :)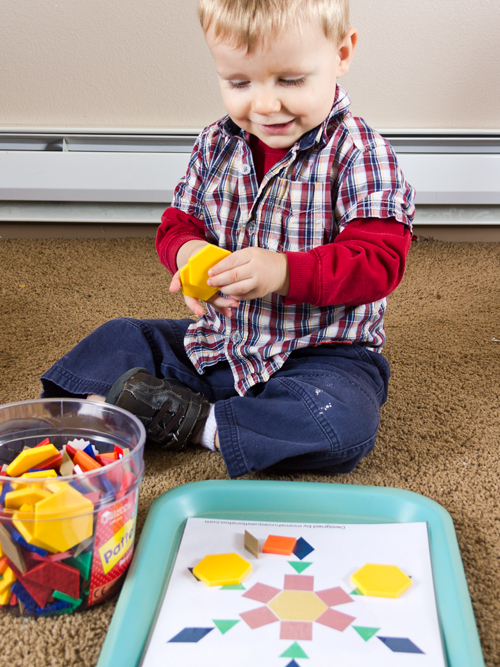 Snowflake Glitter Craft
Smiley will use a glue bottle to make a snowflake design. He can glue over the lines I drew, but I doubt that he will. When the glue is just the way he wants, I will help him sprinkle glitter over the glue.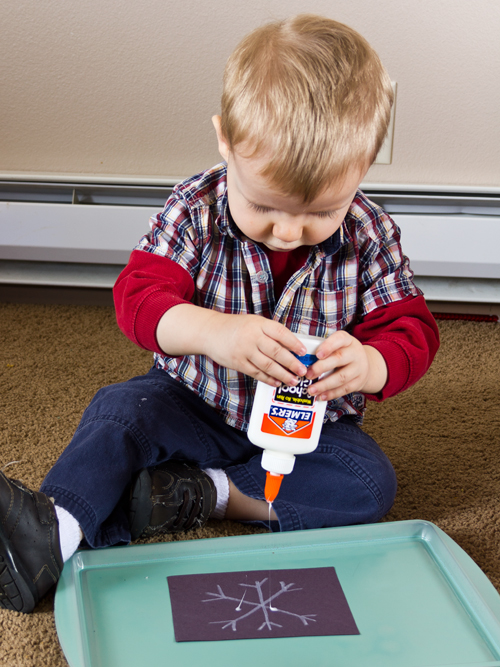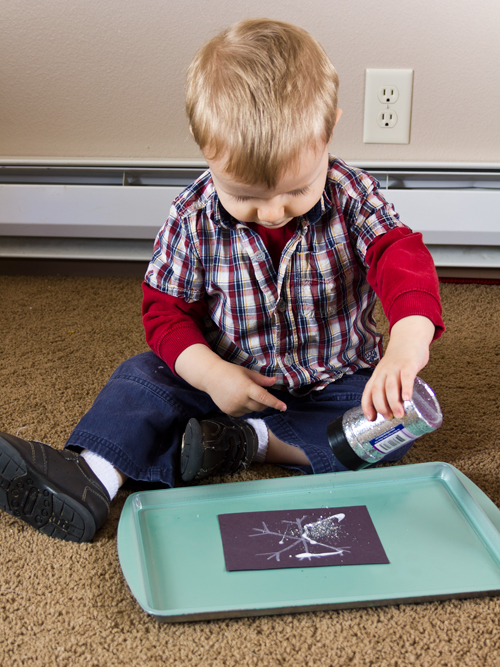 Color Matching with Paint Chips
There will be four different colors of paint chips (white, dark gray, dark blue, light blue). There will be two paint chips of each color. Smiley Man will pick up a paint chip, find the matching paint chip, then put the match into the bowl.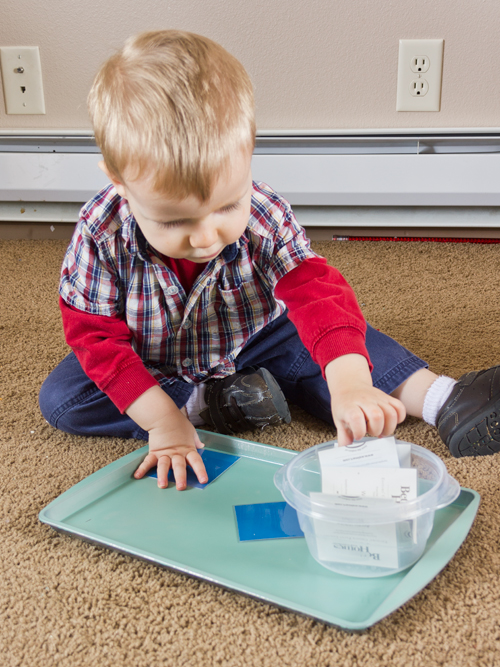 Transfer Blue Flat Marbles
There are two bowls on the tray. One bowl is filled with blue flat marbles. Smiley Man will use his fingers to transfer the blue flat marbles from one bowl to the other bowl.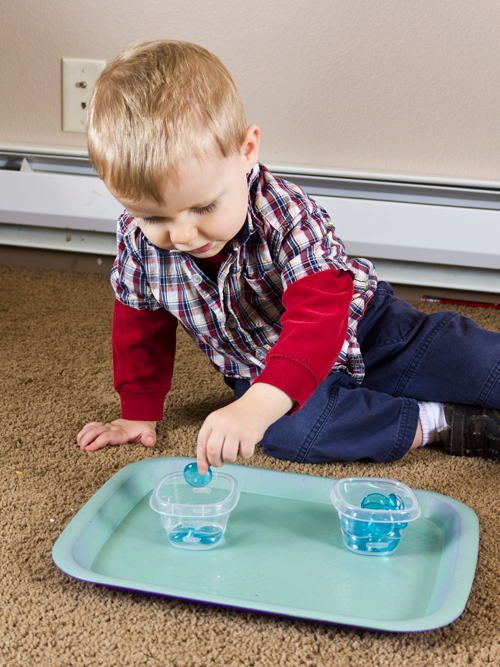 Snowflakes fall on the ground
Put cotton balls into a juice bottle. You can put brown construction paper around the bottom of the juice bottle so that it looks like the ground. Smiley will drop the cotton ball "snowflakes" into the juice bottle "ground."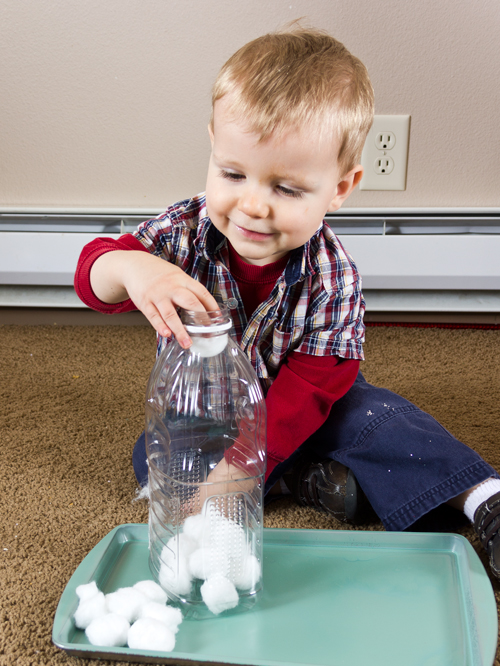 I've done separate posts on these color games as part of the Color Games for Toddlers series. Click the links to see more about them! Color Games 1, Color Games 2
Tot Book
I made this simple Winter tot school book. It has simple phrases and uses sight words. I do not in any way expect Smiley Man to learn how to read by looking at this book. This book is intended to help him gain a love of reading. I will read this to him throughout the week and point out the words as I read them. Smiley Man can also color the pictures with crayons if he desires.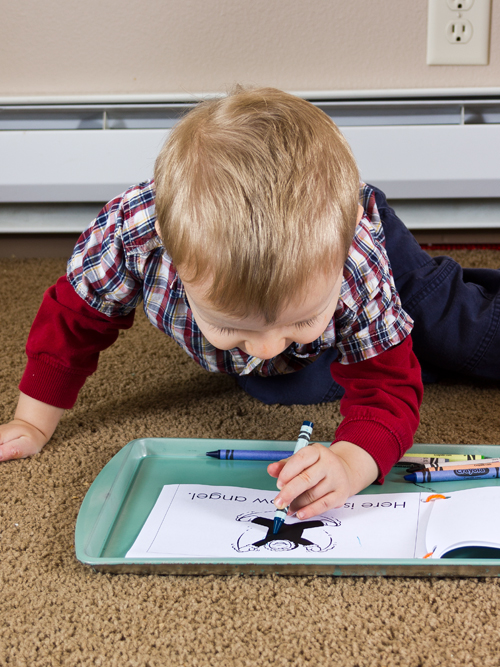 Winter Printables
Build a Snowman (Snowman Preschool Pack part 2, page 6) Smiley will not use dice, he will just put the snowman together.  Color Winter clothes (Winter Fun pack – coloring winter clothes). Smiley will color the pictures with the correct color of crayon.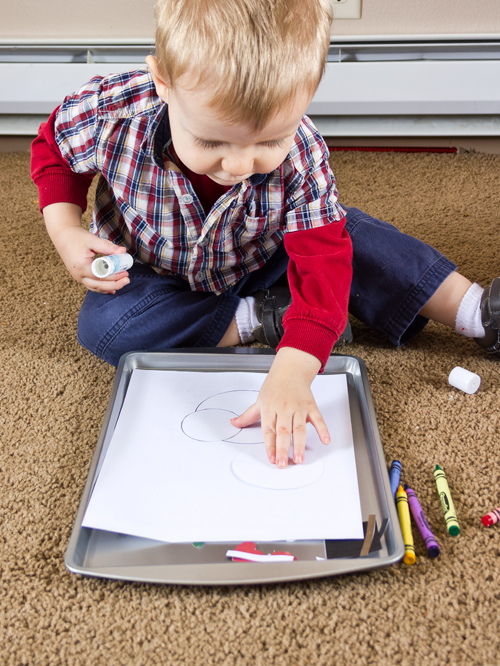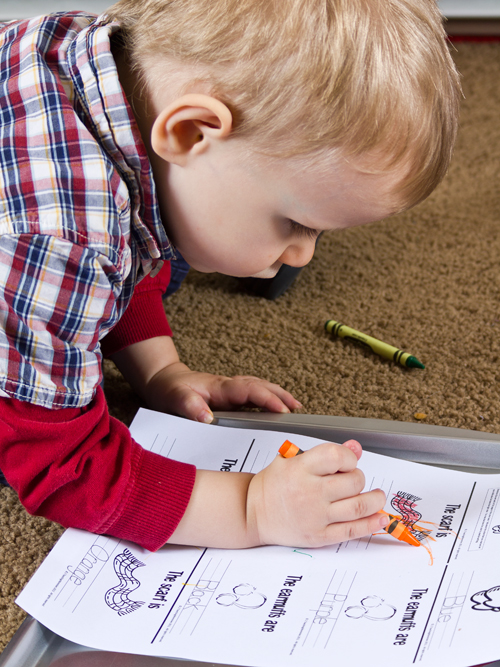 Featured Toy
Mega Bloks (these are normally in the play area. I will simply have them on a tot tray to make them extra special. We'll see how that works ;) ).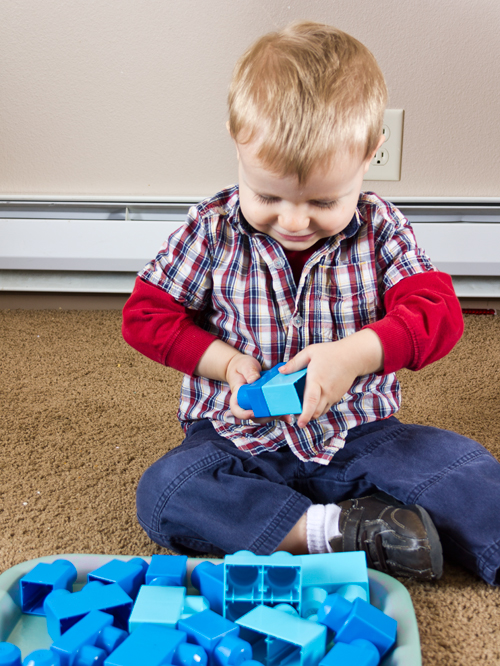 Themed Books
Welcome Winter, Geraldine's Big Snow, The Big Snowball, Winter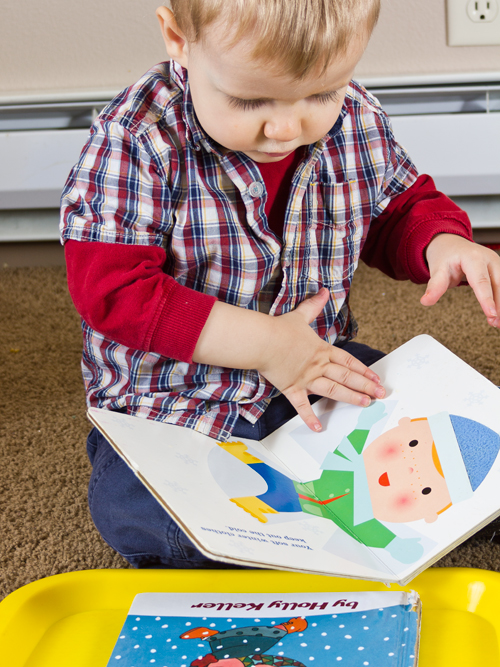 Felt Snowflake Kit
I used this felt snowflake kit and cut the pieces from white paper. Smiley Man will use the pieces to make his own snowflakes, or will just play with the pieces of paper.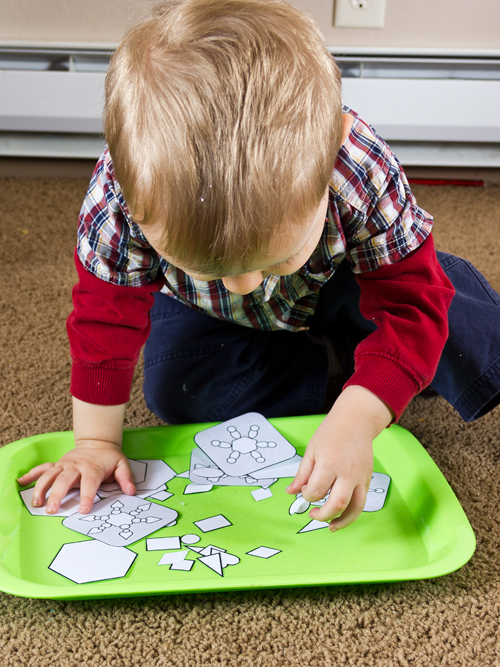 Shaving Cream and Glue Snowman
I found these instructions to make a puffy paint snowman. I will have the paint already made and Smiley Man will do the painting.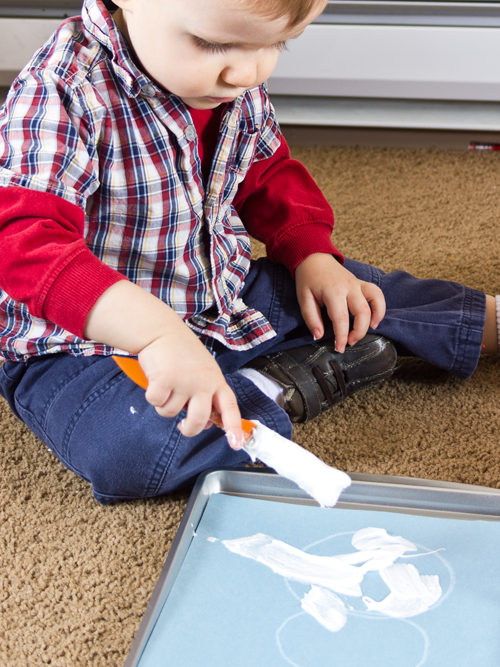 This will be our first week of tot school so I will be sure to let you know how it goes. Let me know if there is anything specific that you would like to see in a tot school post or if you have a tot school question and/or idea. You can also find more tot school ideas over here! I am very excited to start tot school with Smiley Man and I really think he will enjoy it. It will certainly be better than Smiley trying to steal Little Bear's work. :) Tot school, here we come!