This week will be the first week of a new kind of tot trays. For the next few weeks I will be doing colored themed tot trays. Smiley Man is okay with his colors, but I want to work on them extra hard with him so he has them down pat. I will actually only be doing one color each week, so this post covers two different sets of trays. In the future I will probably do a separate post for each color, but I haven't decided yet. Next week I'll tell you all about the new tot school schedule that I am doing with Smiley Man and I'll tell you about the Learning Notebook that we are now using. For now, enjoy two sets of tot trays: yellow and blue.
Yellow Tot Trays
Smiley Man is 26 months old.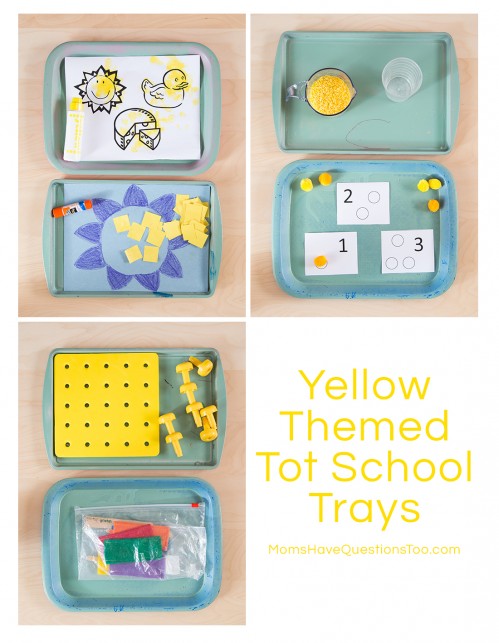 Special Yellow Tray: Yellow Pegboard and Pegs
I got this great yellow pegboard and pegs (along with several other colors) from Oriental Trading. I set this on the tray and just let Smiley Man explore the pegs and pegboard.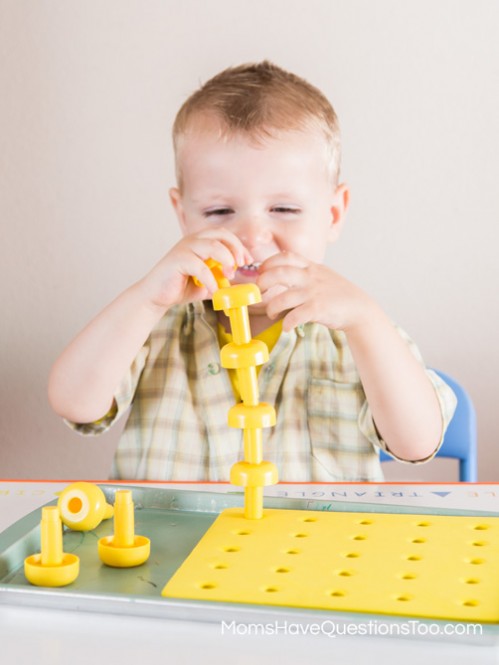 Color Game: Popsicle Stick Color Match
Smiley Man is getting pretty good at this game!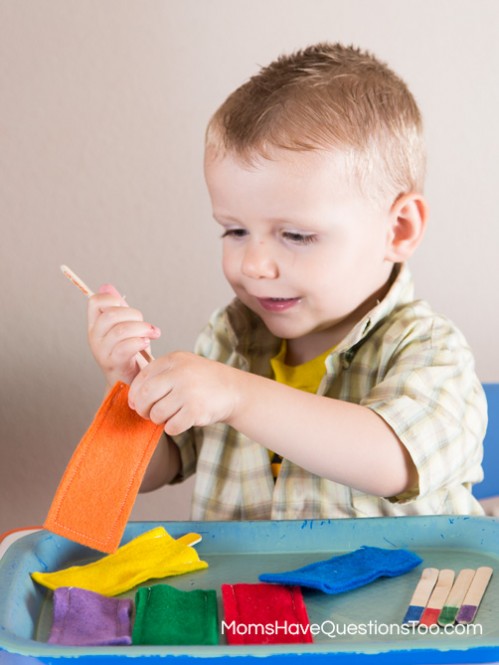 Pouring
I made this yellow rice using this rice coloring method. Smiley Man simply had to pour the rice from the liquid measuring cup to the cup and then back again. He loves pouring so this tray was definitely a favorite.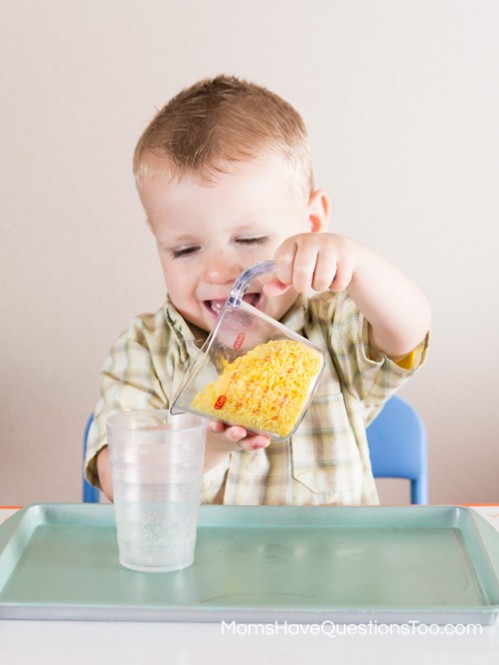 Counting
I made these simple counting cards and put numbers 1-3 on Smiley's tot tray. Once Smiley Man understands the concept of numbers 1-3 (which I think will still take awhile) I will use the fourth number card. This tray also has 6 yellow pompoms. Smiley Man just has to put the pompoms on the circles, then I help him count the pompoms on each card and I point out the number on the card.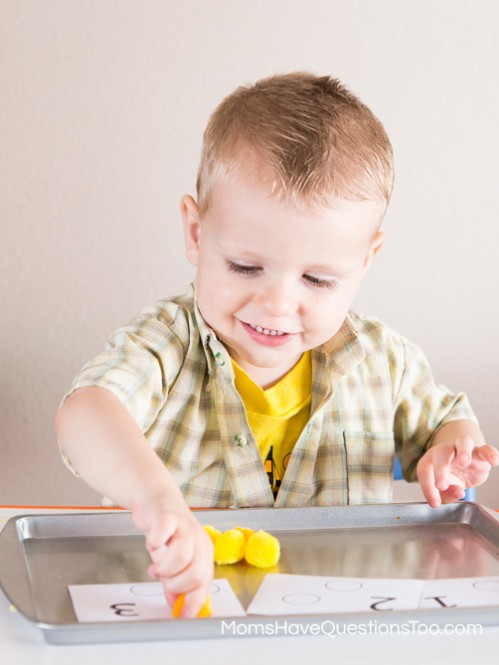 Gluing
This tot tray has a piece of paper with a large flower that I hand drew. You can see that I am not the greatest of artists. ;) Anyway, the tray also has a bunch of yellow squares and a glue stick. Smiley Man uses the glue stick to glue the yellow squares to the center of the flower. This has been another of Smiley Man's favorite trays.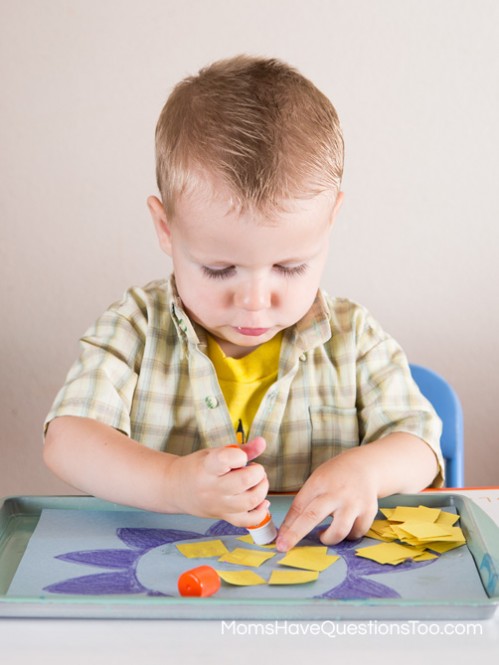 Fine Motor
This tray has a yellow do-a-dot marker and a coloring page that I made with a few pictures of things that are yellow. I was surprised that Smiley Man understood without explanation that he needed to paint the pictures and not the rest of the page. Of course, once the pictures were satisfactorily painted, he dotted the rest of the page, too. :)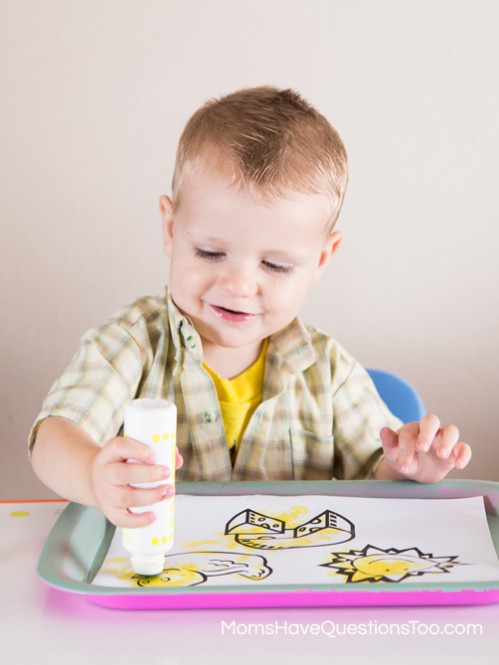 Blue Tot Trays
Smiley Man is 26 months old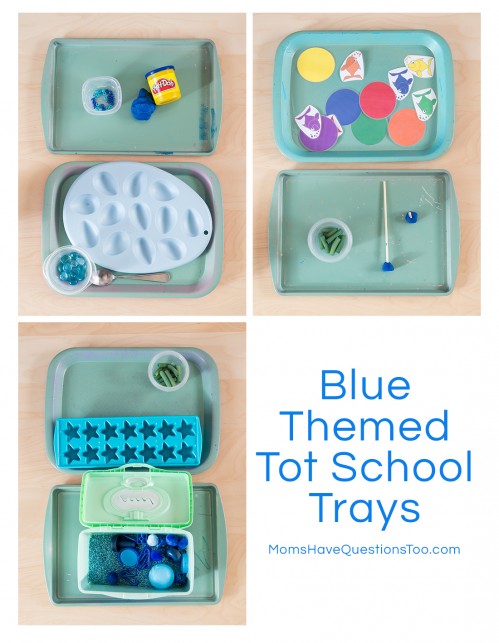 Special Blue Tray: Blue Sensory Bin
You may remember this mini blue sensory bin from this post about sensory bins. Smiley Man loved this sensory bin, but I put it away a few months ago and sort of forgot about it. I figured blue week was the perfect time to pull it out again. Luckily, Smiley Man remembered how much fun the sensory bin was and happily played with it. Plus, it sort of felt like a brand new toy because I've had it put away for so long.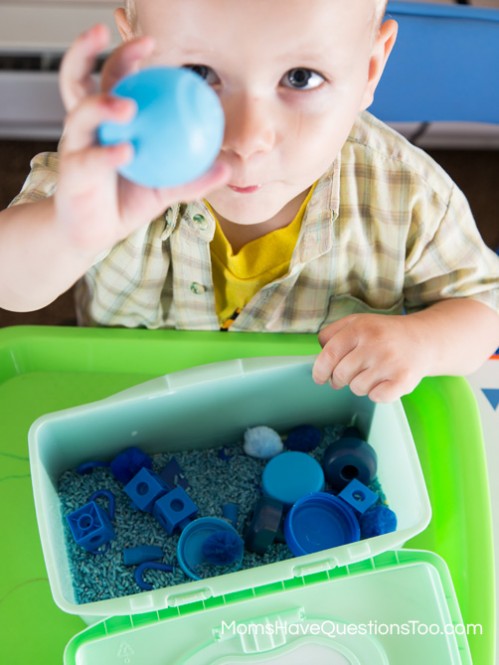 Color Game: Colored Fish Matching
I used the fishes printable from this game for a simple matching activity. Smiley Man is getting so much better at matching colors!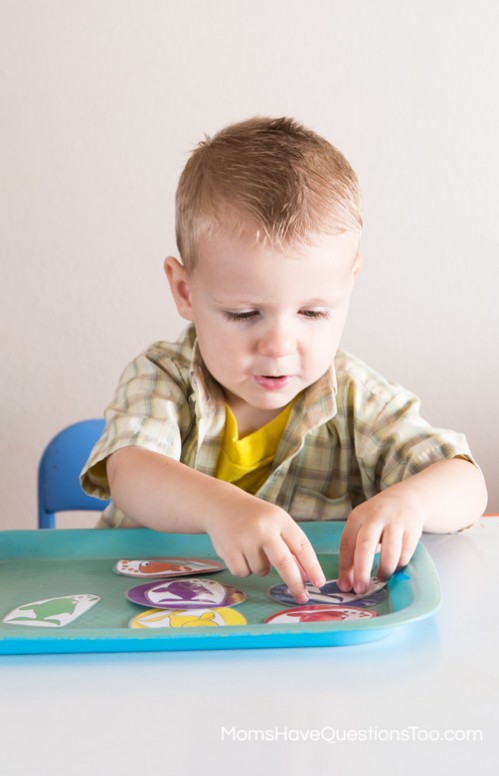 Transferring
Smiley Man simply transfers a piece of pasta to the ice cube tray. I stand by and remind Smiley Man that there should only be one piece of pasta in each cube. He often forgets that. ;)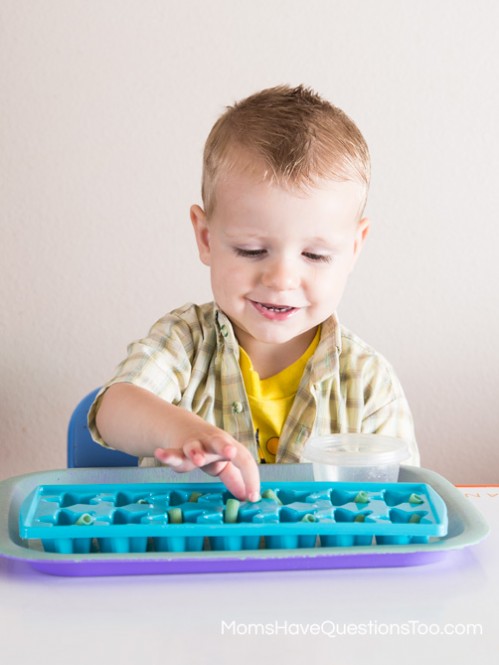 Pasta
I made some blue pasta for this tot tray using this method. The tray has some skewers stuck in blue playdough and the blue pasta. Smiley Man puts the pasta onto the skewers and then takes them off again. I was surprised at how much Smiley Man enjoyed this tray.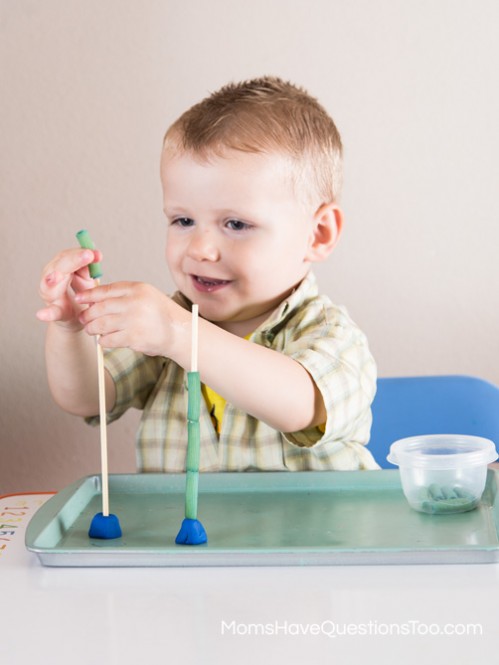 Sensory
Smiley Man loves playdough, so I thought it would be the perfect sensory activity. I also included some blue straw pieces and some playdough scissors on this tray. Smiley Man had a blast exploring different ways to play with these materials.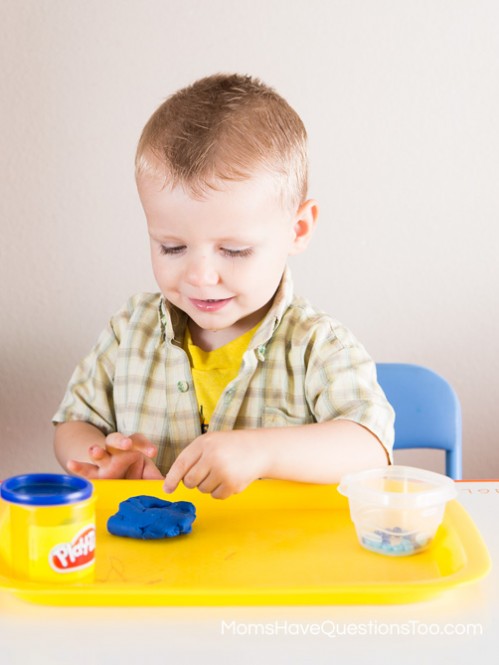 Spooning
This tray has an egg tray that I got from a thrift store a long time ago. It just happens to be blue too! It also has some blue glass gems in a Tupperware container. I was going to put the gems in a bowl, but I figured the Tupperware would make the spooning easier. Smiley Man just used a spoon to put one glass gem into each empty egg spot on the egg tray. When he finished, he used his fingers to put the glass gems back into the Tupperware.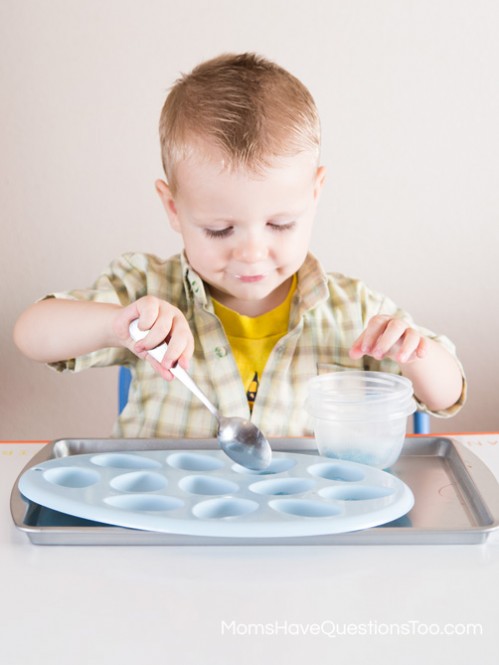 [hr top]