How can I effectively and efficiently shop on Black Friday?
I love Black Friday! Getting a great deal on something gets my blood pumping like nothing else. This Black Friday will be my 6th Black Friday. I have loved every year (even the year that I threw up in the car on the way to the store :) ). I feel like I'm an adventurer on a quest. A quest for savings! Hurrah!!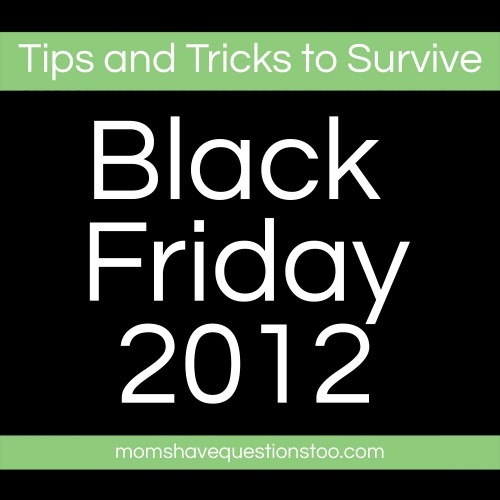 I have done Black Friday many times and I have learned many things along the way. Read my Black Friday tips and tricks below, then be sure to check out the bottom of the post for specific information for the most popular Black Friday stores. If you have any other tips or tricks to share or know of any especially awesome deals please comment and let us know!
You must be at the store on time (or very early). Most people get in line early and wait around for several hours until opening time. There are also those who don't arrive until right as the doors open (if you do this, please don't go in the store until after those who have been standing in line). If you are looking for a big ticket item, you must be there extremely early and must stand in line for a long time. If you are just looking for something small, you can arrive right when the doors open. Just be sure that you get to the store on time. If you are even 30 minutes late, you might miss all the deals.
Plan ahead!!! Look through Black Friday ads ahead of time and choose the store that has the most things that you want. Make a list of things that you want to get and don't get anything extra (otherwise you're not saving money).
Prioritize your list. Find the most important thing first, then go back and get the other things. You don't want to get distracted by a great deal on towels, only to miss the T.V. that you came to get. If you pass something on your list on the way to a more important item, go ahead and grab it, but be quick and keep moving to the more important item.
If possible, do not get a cart. It will be much easier to maneuver the crowds without one. If you must have a cart, bring a person with you whose only job is to stay by the cart while you run and grab items.
It is best to choose only one store to visit. If you want to go to two stores that open at different times, go ahead. Just don't attempt to visit two stores that open at the same time because by the time you get to the 2nd store, the deals will probably be gone.
Bring snacks to keep you energized and awake. Just have some light foods to keep your body going. A water bottle will probably be nice, too, with all of the running around the store that you'll be doing.
Be kind to your fellow man. No trampling, hitting, or abuse of any kind! That being said, if someone is blocking your way, Black Friday is a time when it is socially acceptable to politely push someone out of the way. That means, push them and say, "Excuse me, thank you, Merry Christmas," while you're pushing them. ;)
It is a smart idea to do Black Friday with your spouse, child, or a friend. Each person gets a list of things to grab. If you see something on the other person's list, grab it in case they don't find it in time, but otherwise, stick to your list.
Try on clothes BEFORE Black Friday. Know what colors and sizes you want, so on Black Friday you can just grab and go.
There will be an insanely long line when you go to buy your items. Don't be surprised or annoyed by it. Take advantage of the snacks and/or friend that your brought. If you don't have those, break out your cell phone or make friends with the people in line behind you.
If you don't want to go to all of the work of Black Friday, but still want the Black Friday deals, you can always go shopping in a small town. ;) You'll have less competition, but all of the same deals.
For more ideas on saving money this Christmas, check out these great inexpensive gift ideas.
Store Information for Black Friday
Walmart
Opening Time: Thursday, 8 pm, more deals at 10 pm
Facebook: Get Black Friday store map by "liking" Walmart on facebook. Can also get map from the store app
Best Deals: $198 Emerson 40 inch HDTV, $279 HP laptop, great deals on select DVDs and Blu-rays
Extra: Don't forget to get the Black Friday store map with locations for items on sale on Black Friday
Best Buy
Opening Time: Thanksgiving day at midnight
Facebook: No special offers for "liking" Best Buy
Best Deals: $39.99 Toshiba wi-fi ready Blu-ray player, $179.99 Toshiba 40 inch HDTV, $79.99 Canon powershot 16.0 megapixel
Extra: Can shop bestbuy.com on Thanksgiving day. Special online only deals
Target
Opening Time: Thursday, 9pm until Friday 11 pm
Facebook: There are no special deals for "liking" Target on facebook
Best Deals: $199.99 4GB Xbox 360 Kinect Bundle, $499 Canon T3 DSLR bundle, $40 Target gift card with purchase of Apple 16GB iPod touch
Extra: Sign up to receive Cyber Monday deals, Free $10 Target gift card when you spend $50 or more in apparel, accessories and home
Kohl's
Opening Time: Midnight on Thursday until 1:00 pm Friday
Facebook: Visit facebook page or sign up for sale alerts to stay up to date on Black Friday
Best Deals: $89.99 for a Poloroid Android Tablet (after $30 rebate), 20%-50% off electronics, 50%-60% off all handbags, accessories, and wallets
Extra: Everyone gets $15 Kohl's cash for every $50 spent.
Lowe's
Ad: Lowe's Black Friday Ad Ads will also be mailed out and in stores Monday or Tuesday of next week.
Opening Time: Friday morning, 5:00 am
Lowe's Black Friday Throwdown: When customers "like" Lowe's on facebook they have a chance to win 16 products or a $50 gift card
Best Deals: Exclusive deals on full kitchen suites from Samsung, Whirlpool, and Frigidaire
Extra: Customers will receive free shipping on qualifying orders of $19 or more. Customers may also shop early by visiting lowes.com on Thanksgiving Day.
Sears
Opening Time: Friday doorbusters (in store and online) 4:00am-1:00pm. There are also Saturday doorbusters from 7:00am-1:00pm
Facebook: No special deals for "liking" Sears
Best Deals:
Extra: Layaway will be available for items that meet normal Layaway Policy. There will be no price matching on Black Friday.
JCPenney
Ad: Not available yet, but should be up in a few days
Opening Time: Friday, 6:00am-11:00pm
Facebook: No special offers for "liking" JCPenney
Best Deals: Boots $12-$40, Winter coats $40, Scarves $5