What are some Fall themed activities I can do with my toddlers that will promote learning?
This week is fall week and so far it has been a blast. Smiley Man has loved his tot trays for this week as well as the other activities we have done. I guess everyone just loves this time of year. :)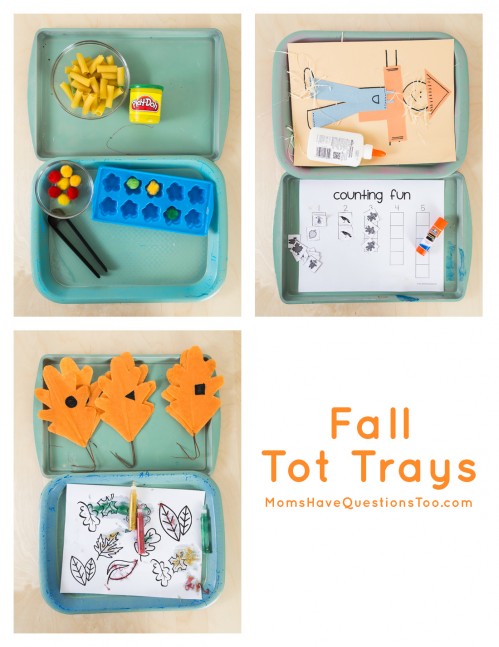 Make a Scarecrow
This tot tray has an outline of a scarecrow along with some construction paper overalls, shirt, and hat. There is also some hay (raffia) and some glue. The idea is for Smiley Man to glue the items onto the scarecrow outline to make a scarecrow. This is a pretty simple craft, but Smiley Man was really proud of himself when it was finished.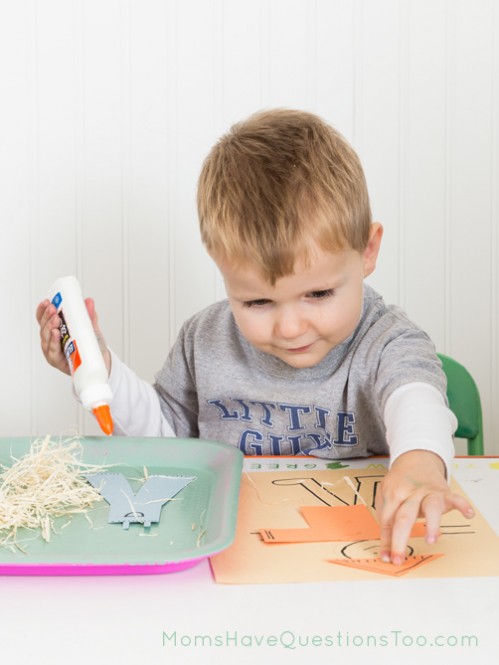 Matching
I found these cute large orange leaves from the dollar store (here are some cool ones from amazon) and knew they would be perfect for a tot tray. I got six leaves and drew three shapes (each shape twice) onto the leaves. Each leaf only has one shape. I drew two circles, two squares, and two triangles. Smiley Man is supposed to pick up a leaf, then find the leaf with the matching shape and put them together. This was pretty hard for him at the beginning of the week, but by the middle of the week, he was really good at it. He is starting to identify circles, squares, and triangles in the things around him too. :)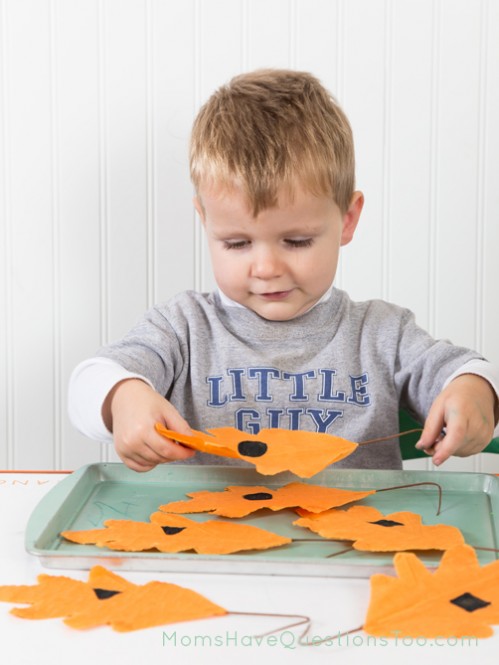 Pasta
This tray has some green playdough and some dry pasta in a bowl. To use this tot tray, I first spread the green playdough out flat on the tray. It's supposed to look like a field. Smiley Man then puts the pasta (which is supposed to vaguely look like a corn stalk) on the playdough. When it's finished it's supposed to look like a corn field. This was definitely Smiley Man's favorite tot tray this week. He loved sticking the pasta in the playdough. He got so good at it, I started making little dots for him to put the pasta onto. This provided an added challenge, but it was still right on his level and he loved it!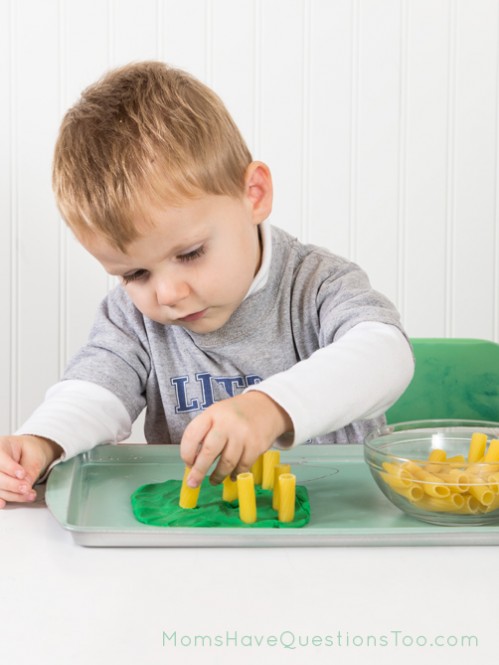 Fine Motor
This tray has some leaf outlines (click to download) and some glitter glue pens from the dollar store. Smiley Man was supposed to cover the leaf outlines with the glitter glue. He didn't follow the outlines exactly, but he did have a fun time with this tray. He got some great fine motor practice squeezing the glitter out of the container, so this tot tray was definitely a success.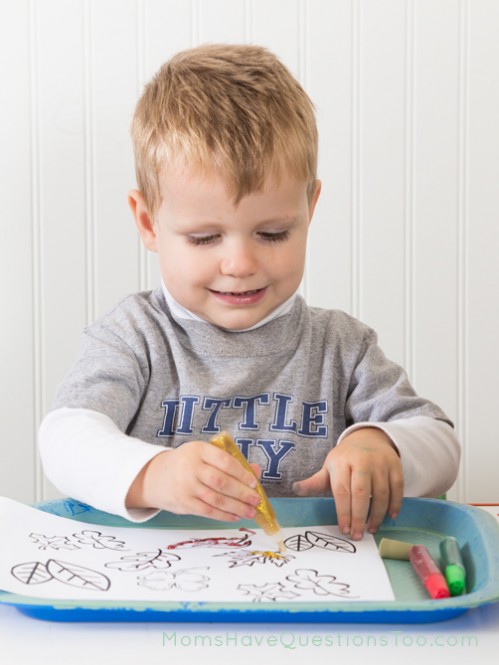 Transferring
This tray had a small ice cube tray, a bowl filled with just the right amount of pompoms (in fall colors, of course), and some child-sized tongs. Smiley Man used the tongs to transfer the pompoms into the openings of the ice cube tray and then back to the bowl. Smiley Man is still getting the hang of the tongs, but I definitely saw lots of progress this week.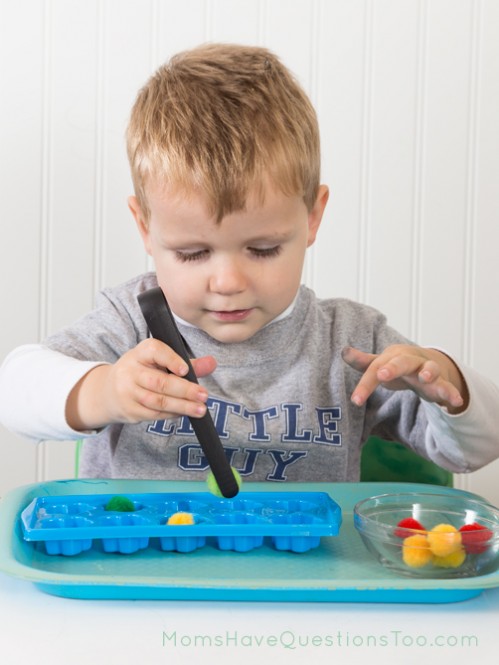 As always, we also did some printables on one of our trays and some printables in Smiley's Learning Notebook. Here is a list of the printables that we used.
Tray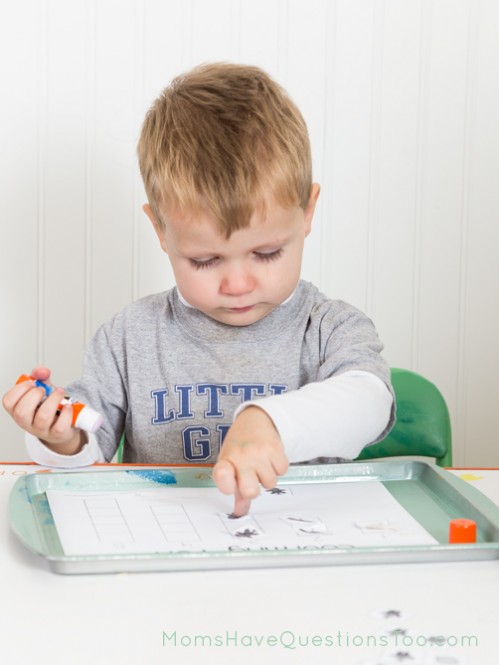 Learning Notebook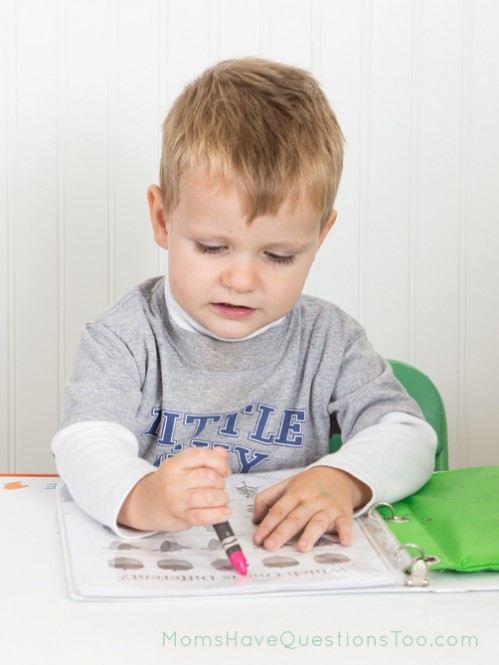 Here are some other fun Fall activities we are doing during Fall week: