Little Bear has been enjoying the gardening tot trays that I put together for Smiley Man, so I thought it would be fun to give him a gardening activity of his own. Little Bear has been asking a lot of questions about gardens lately. We are not able to have a garden this year, :( so unfortunately, I cannot give hands on explanations. I just recently explained to Little Bear that a garden has rows and there are different vegetables in each row.
This fun color, cut, and paste page is built off of the idea that there are different vegetables in each row. It is perfect for preschool, but honestly, it is simple enough that an older toddler could also complete it.  To complete the page, just cut out each of the vegetables (with the dotted lines) at the bottom of the page.
Then, glue the vegetables into the correct row. I tried to leave an empty space in different places in each row to make just a bit more challenging. Little Bear often gets frustrated by cutting, but this added challenged left him a little more excited to cut the squares. He also liked that he only had to cut five squares as opposed to the 12 in the match the font worksheet.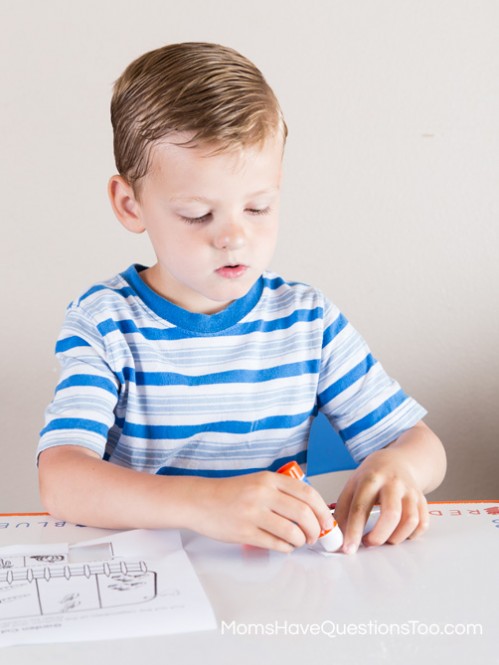 Once all of the vegetables are cut and pasted into the right row, have your child color the whole paper. While Little Bear was coloring, we had a great discussion about which colors he needed to use. He first wanted to color the garden green, but I explained that it was actually brown because vegetables are planted in dirt, not grass. Little Bear was happy to make the change when he realized this.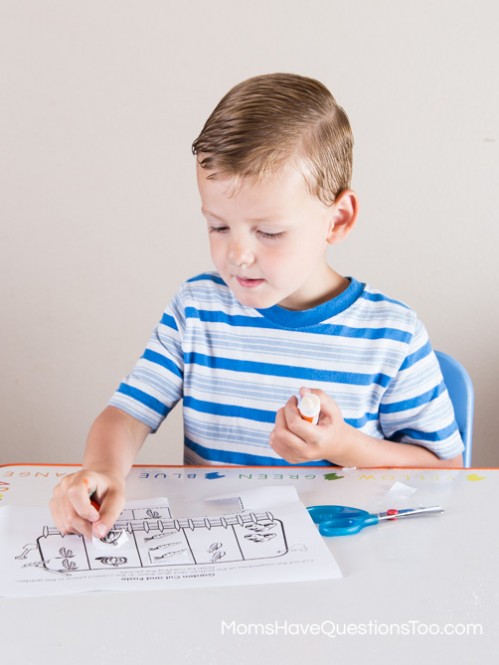 This was a fun color, cut, and paste page and Little Bear really enjoyed that he got to color the entire picture when he was done. All of this gardening talk makes me really sad that we don't have a garden right now, but don't worry, next year we will definitely have a garden and I can't wait!
*Want to see more themed activities like this for toddlers or preschoolers? Check out our store page where our toddler and preschool series are compiled into Activity Packs for only $1.99! The Activity Packs are full of lesson plans, printables, and a curriculum guide.