After a very crazy weekend, I was up late last night with a sick Smiley Man. :( So, I'm sorry that this post went up a little late. He seems to be doing a little better this morning, so the rest of the posts for this week should go up without any delay. We will be announcing the winner of the Do-a-dot giveaway tomorrow, so be looking for that post. For now, here are some fun gardening tot trays that I put together for Smiley Man. He did enjoy these trays, although, with the warmer weather, he definitely wants to be outside more and inside doing tot trays less. ;)
Smiley Man is 25 months old.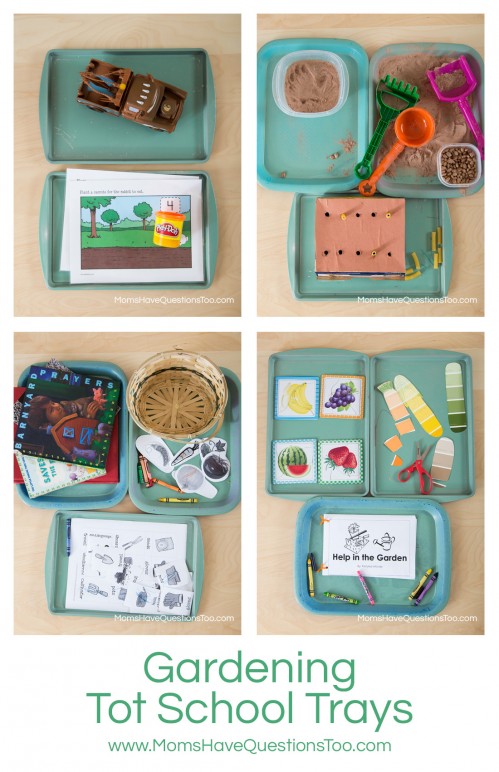 Gardening Tools in Dirt
This tot tray has some gardening tools I got from the dollar store. There is also some "dirt" (I didn't want to use actual dirt because of the bugs so I made this sensory dirt using 1 cup baking soda and ½ C cocoa powder). The tray also has some beans which we pretended were seeds.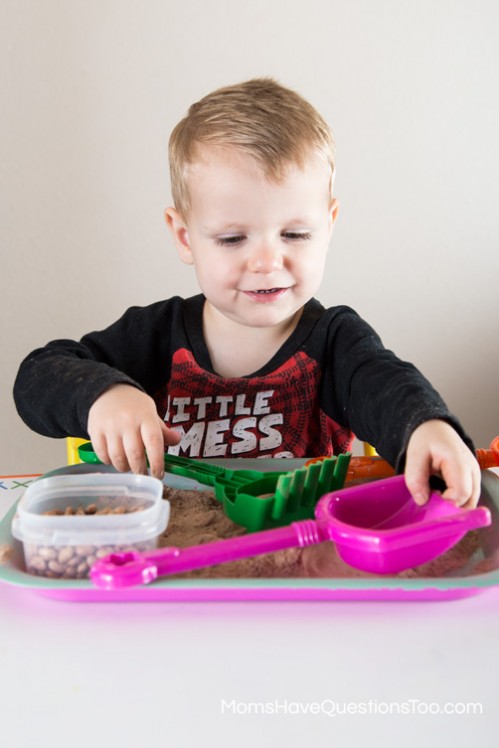 Carrot Playdough Mat
I found this cute gardening playdough mat from somewhere. I actually printed this mat about a year ago for Little Bear and it has gotten a lot of use since then. Smiley Man really liked playing with this mat because usually Little Bear is the one playing with it. The idea is simply to put the correct number of carrots in the dirt.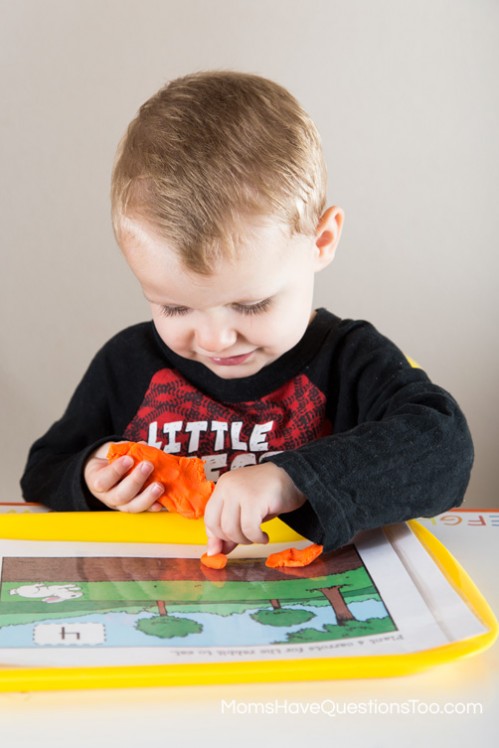 Vegetable Cutting Practice
I made this tray by getting several paint chips that I cut and decorated to look like vegetables (carrot, cucumber, corn, and potato). I put the "vegetables" on the tray along with some scissors. Smiley Man uses the scissors to cut on the lines of the paint chips. Smiley Man obviously loved this tray because it used scissors. :)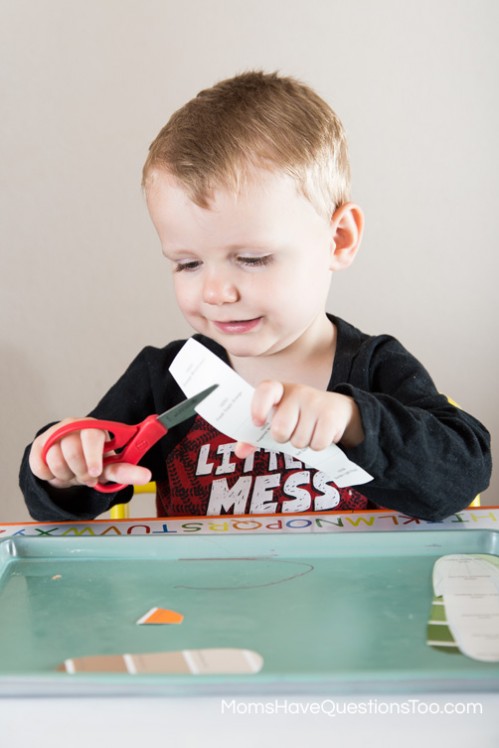 Put "Seeds" in the "Dirt"
This tot tray has a popcorn box with brown construction paper glued on the top of it. There are also holes in the top of the popcorn box that are just big enough to fit some penne pasta. To the side is a bunch of penne pasta. We pretended that the pasta were seeds to plant. Smiley Man really enjoyed putting the pasta into the holes, then dumping them out and doing it again. This was one of his favorite trays.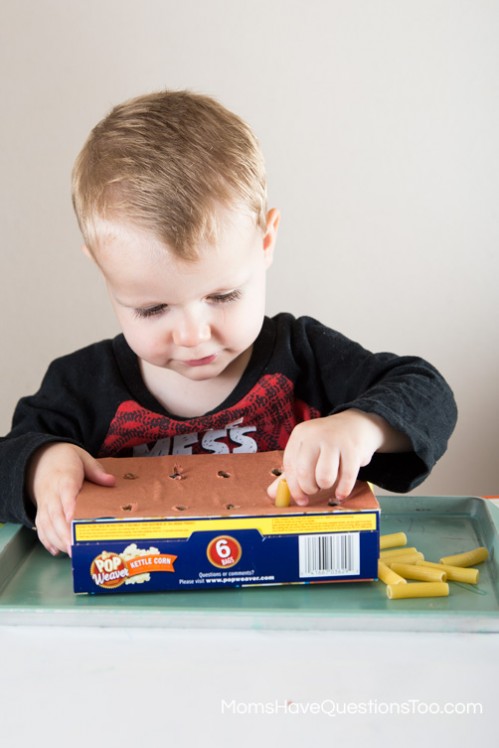 Fruit Puzzles
I found these cute fruit puzzles from the dollar store and thought they were perfect for our gardening theme. Smiley Man did have a difficult time putting them together since the pieces were thin. He still enjoyed this tray though and liked looking at all the different pieces.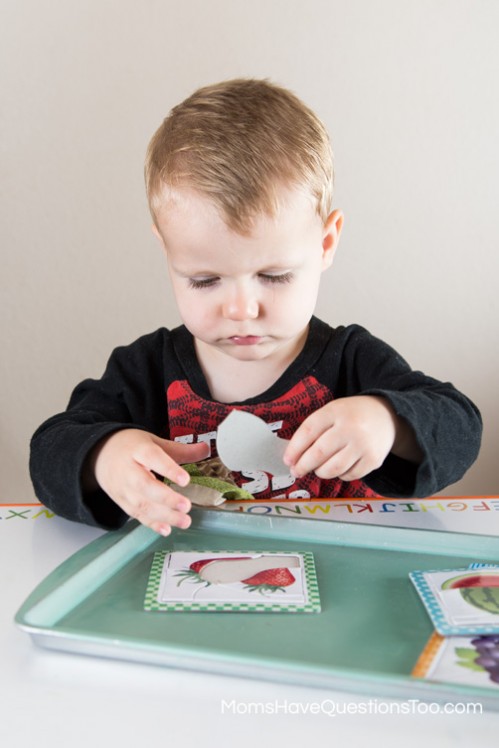 Gardening Tot Book
I read this book at least once during the time that these trays are out. If Smiley Man uses this tray while I am working with Little Bear, he can color the pictures or just look at the pictures as he turns the pages. I do not in any way expect Smiley Man to learn how to read by looking at this book. This book is simply for exposure to words and letters and concepts of print.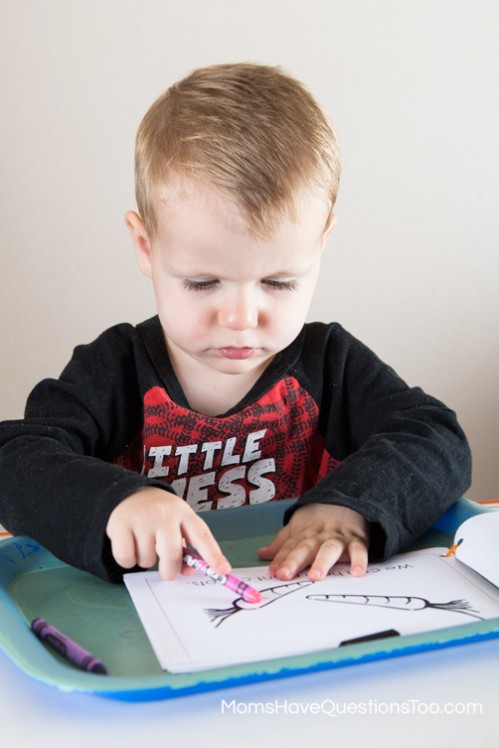 Printables
Matching Cards (Garden Preschool Pack, part 1 page 4&5), Pre-Writing Practice (Garden Preschool Pack, part 1 page 6).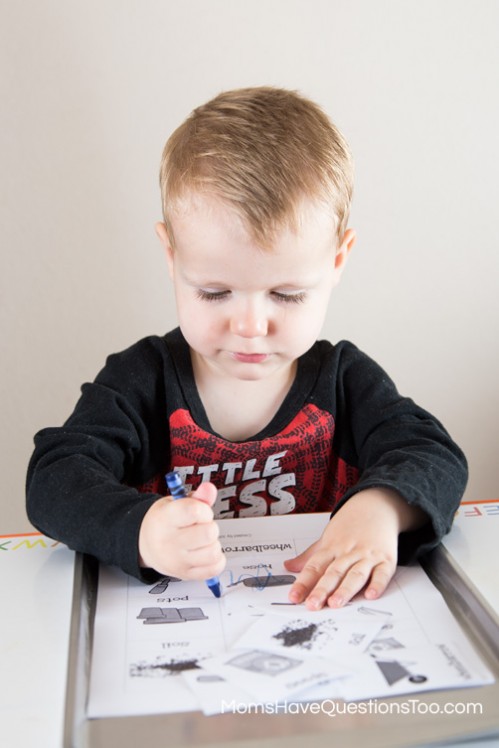 Featured Toy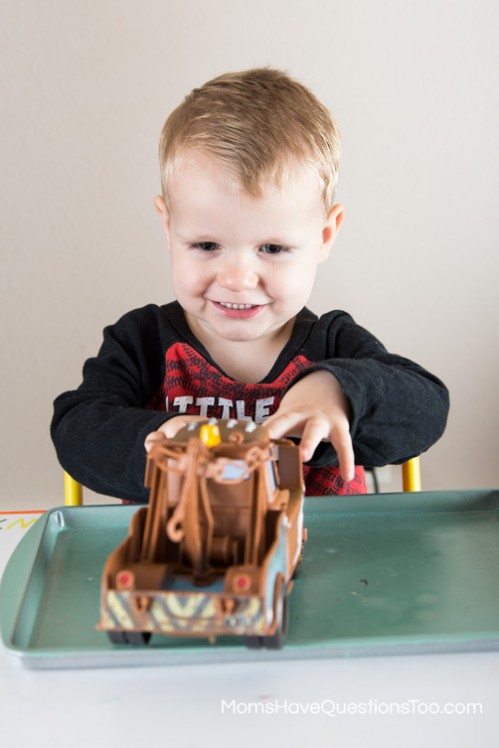 Themed Books
Jack's Garden by: Henry Cole
My Garden by: Kevin Henkes
In the Garden by: Elizabeth Spurr
Who's Hiding? In the Garden by: Christiane Gunzi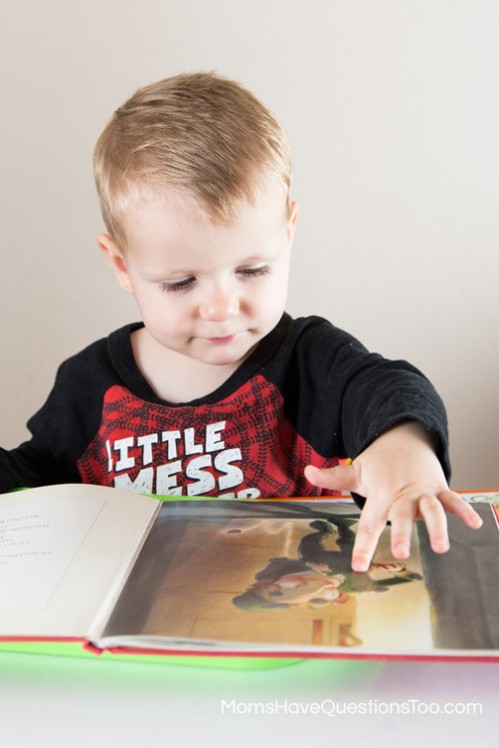 Put Veggies in Basket
I wanted to have some knitted or plastic vegetables for this basket. I think it would have been better, but Smiley Man still enjoyed this tray more than I thought he would. Instead of using 3D vegetables, I just printed these vegetable pictures in black and white and let Smiley color them before gathering them into the basket.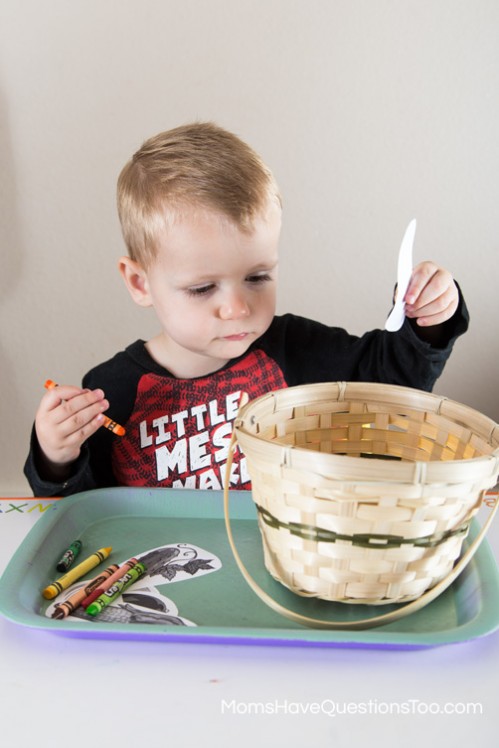 Plant Seeds
This tray uses more sensory dirt and some dried pinto beans. I showed Smiley Man how to plant a seed (make a hole, put the seed in, then cover it with dirt). He was supposed to plant all of the pinto bean "seeds" correctly. He had a hard time with the "correctly" part, but he still enjoyed this tray quite a bit.