Below are two General Conference activities. For more activities, visit my Toddler General Conference activities page, my Preschool General Conference activities page, or the General Conference Linky party. Enjoy!
For Toddlers: Toilet Paper Tube and Popsicle Stick Sorting
For Preschoolers: Pipe Cleaner Patterns
*Get all of our General Conference printables in one easy download here.*
Toddler General Conference Activities – Toilet Paper Tube and Popsicle Sticks
I saw a wonderful idea for sorting popsicle sticks on The Princess and the Tot. There are lots of other great ideas for older toddlers on that same page so be sure to check it out. For Smiley Man, I covered three toilet paper rolls in construction paper. I used orange, green, and red construction paper, one color for each roll.
Next, I got several popsicle sticks and painted them orange, green, or red. You can used colored popsicle sticks, paint, do-a-dot markers, crayons, or markers to color the popsicle sticks. I used do-a-dot markers and love how they turned out.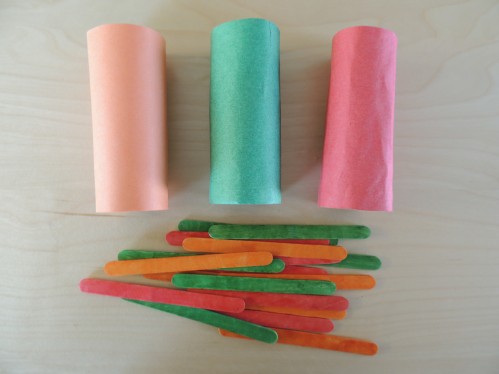 Put the toilet paper rolls on a tray and have your toddler sort the popsicle sticks into the correct toilet paper roll.
Preschool General Conference Activities – Pipe Cleaner Patterns
Did you know that pipe cleaners are the perfect size and width and strength to fit pony beads? The pipe cleaner is sturdier than a string, but still fits pony beads, which means it is far less frustrating for a preschooler to put beads on a pipe cleaner, than to put beads on a string. Even though it is easier, it still takes a high level of concentration which makes it the perfect General Conference activity!
Since Little Bear is really good at beading, I thought I would add an extra element to the mix just to make it a little more challenging for him. What is the extra element that I added? Patterns! Patterns are not Little Bear's strong suit, yet. So, I definitely wanted to incorporate them into this activity.
I simply put pony beads onto a pipe cleaner in a simple pattern. I used about 18 pony beads. After they were on, I hot glued them to the pipe cleaner and this became a guide that Little Bear would follow. I did three different patterns on three different pipe cleaners. Next, I put the right color and number of beads and three empty pipe cleaners into the bag with the patterned pipe cleaners. During General Conference, Little Bear will take out one patterned pipe cleaner at a time along with the bag of beads and an empty pipe cleaner. He will use the extra beads to create the same pattern that is on the patterned pipe cleaner.