What are some activities my toddler can do during General Conference?
Below are two General Conference activities. For more activities, visit my Toddler General Conference activities page, my Preschool General Conference activities page, or the General Conference Linky party. Enjoy!
*Get all of our General Conference printables in one easy download here.*
For Toddlers: Pull Cup (or box)
For Preschoolers: Pattern Block Cards
Toddler General Conference Activities – Pull Cup
I saw this amazing idea for a toddler pull box from We Can Do All Things. I used the same idea, but made it into a pull cup. To make it, I cut slits into the bottom of a plastic cup. I used a very sharp knife. Be extra careful! Once the initial slits were cut, I made them slightly bigger by sliding the top of the knife across the edges of the slit. This really helped to make the ribbon slide through the slit easily. Next, get ribbons in different colors (I did the colors of the rainbow) and put them through the slits. Finish by tying a knot on both ends of each ribbon (the end on the outside of the cup and the end on the inside of the cup).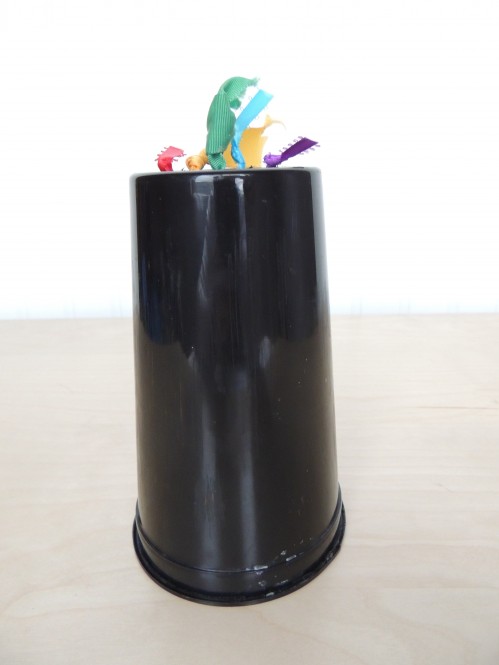 Give the pull cup to your child with the ribbons pulled all the way inside of the cup until the knot stops them. Have your toddler grab the ribbon and pull it through the slit. Once all of the ribbons are through, your toddler can turn the cup around and pull the ribbons back through the other way.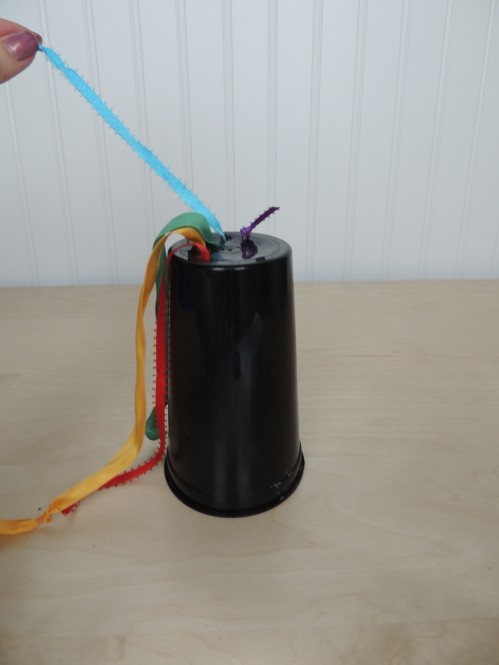 Preschool General Conference Activities – Pattern Block Cards
I made two pattern block cards for you. There is a temple and a mountain. If you don't have any pattern blocks at home you can print this black and white version that I found at jamesrahn.com. I do highly suggest getting a set of pattern blocks though. They are a great learning tool for young children! Check out my Pattern Block Activity Pack for some great pattern block activities.
To use these fun cards, print them off, laminate them for durability, then use the correct pattern blocks to cover the cards.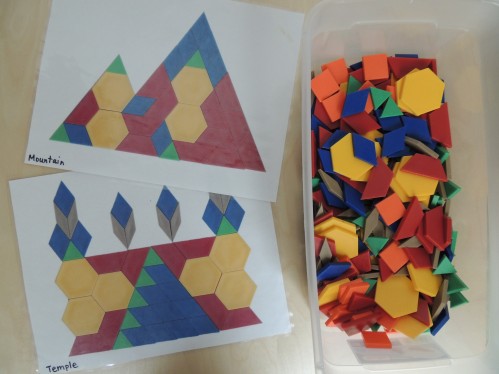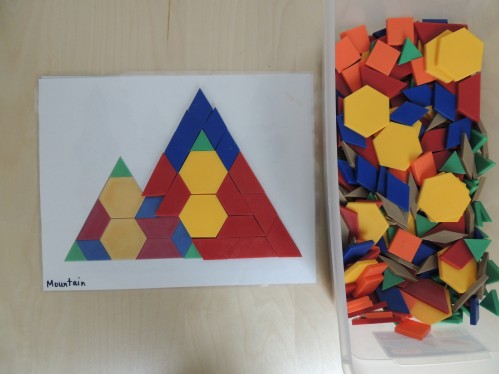 Follow my General Conference Ideas pinterest board for the latest General Conference activities. Find out more about General Conference here.