What are some fun Halloween tot school trays I can do with my toddler?
I love Halloween! It is such a fun holiday for theme related activities. I had a great time putting together these tot school trays and so far Smiley Man has loved them. Hopefully they provide lots of inspiration for you! We forgot to get an overhead shot of each of the trays, oops! :)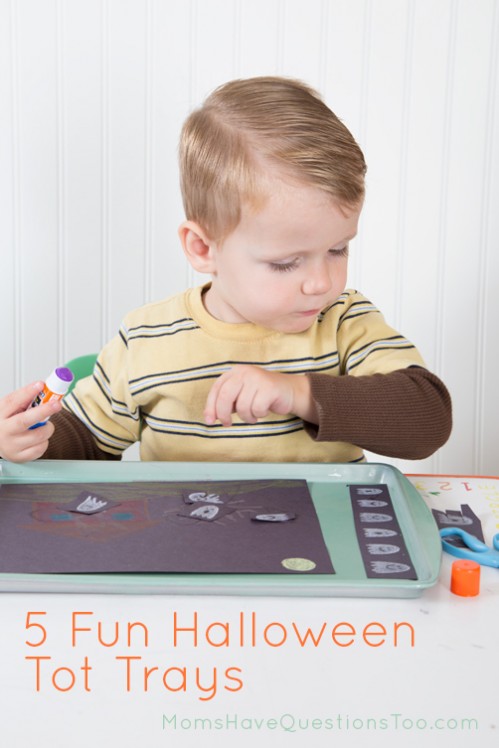 Cookie Cutter Match
I have a bunch of holiday themed cookie cutters and I wanted to do something fun with the Halloween ones that I have. So, I traced 5 of the cookie cutters onto orange construction paper, then I cut them out. Once they were cut out, I glued the orange paper onto black construction paper so that the shapes would stand out even more. To use this tray, Smiley Man just has to match the cookie cutters to the cut out shapes. This was actually harder for him than I expected, but he got the hang of it by the end of the week.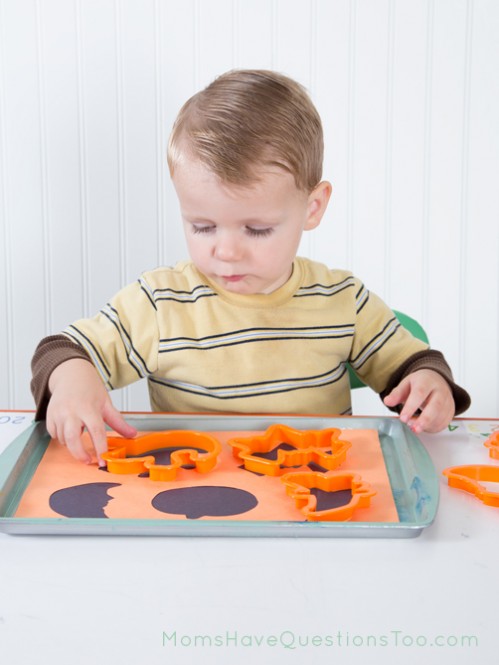 Sorting
This tray has a piece of orange construction paper with a line down the middle. It also has a bowl with two types of Halloween stickers. The idea is for Smiley Man to put the correct Halloween sticker on the correct side of the paper. I made sure to do the first few for him so he could understand how to do the activity. He really liked this tray because he loves stickers, but it was pretty difficult for him to get the backs off the stickers by himself. As long as I was there helping him though, this tray was enjoyed.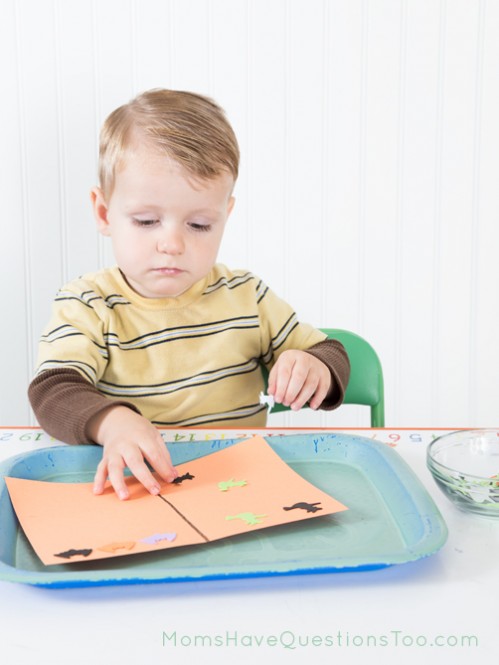 Cutting
For this tot tray, I drew a simple Halloween-ish scene on a black piece of paper. It just had a house and a tree and a moon and yes, I know my drawing abilities are ridiculously limited. ;) This tray also had strips of paper with ghosts drawn onto it, plus some scissors and a glue stick. Smiley Man just had to cut a ghost off the strip and glue it onto the paper. I tried to encourage Smiley Man to do most of the cutting by himself this week. It was pretty difficult for him because he is still in the very early stages of cutting, but he was able to get a few ghosts cut all by himself.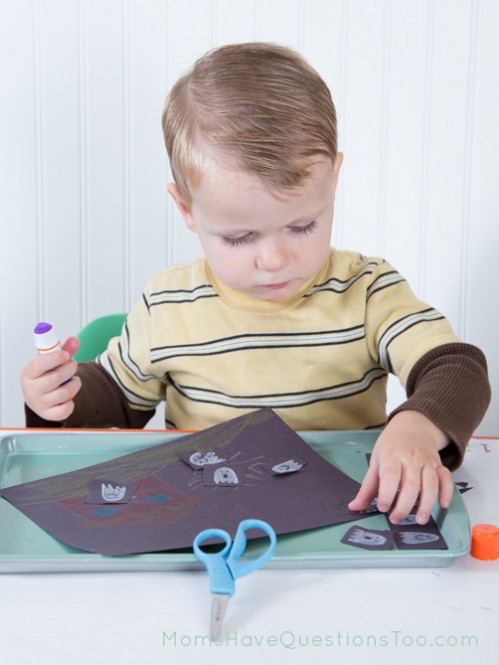 Coloring
I got this cute pumpkin coloring book from 3 Dinosaurs (Halloween Tot Pack, page 15-17). I only put four colors in the book to make it easier for Smiley Man (red, orange, blue, and green). I also put four markers (red, orange, blue, and green) on this tray. Smiley Man simple had to color the pumpkins the correct color. He really likes using markers, but he is only allowed to use them with supervision, so this was a real treat to have markers on a tot tray. This was definitely one of his favorites. Plus, he actually gets some good fine motor practice from removing the marker caps and putting them back on.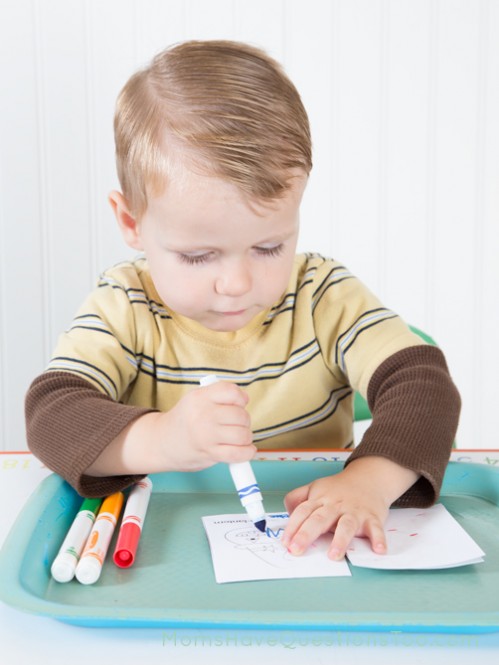 Puzzles
I got these Halloween puzzles from 3 Dinosaurs (Halloween Tot Pack, page 14). I just printed off two of the two part puzzles so I wouldn't overwhelm Smiley Man. He is still having a hard time with puzzles in general, but I think he started to understand the concept by the end of the week.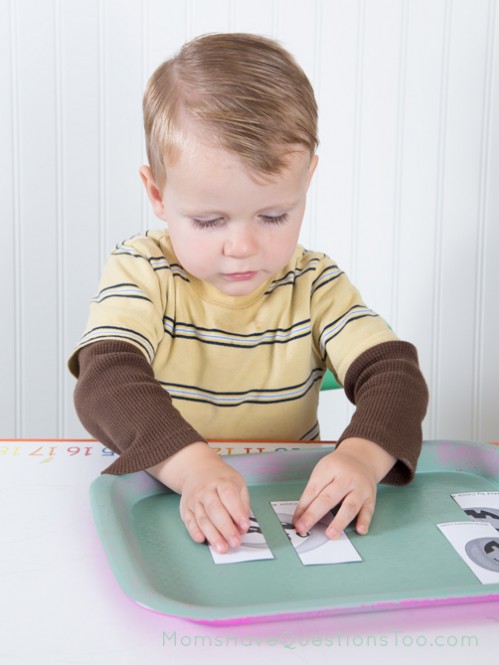 Flying Bats Craft
We have done and will be doing a bunch of crafts from our Halloween crafts page from last year, so be sure to check it out if you haven't yet. For this tray, we worked on the Flying Bats Craft. I was impressed with how well Smiley Man did with the gluing portions. I cut out all of the pieces and then described what to do. He did a great job and loves playing with these bats!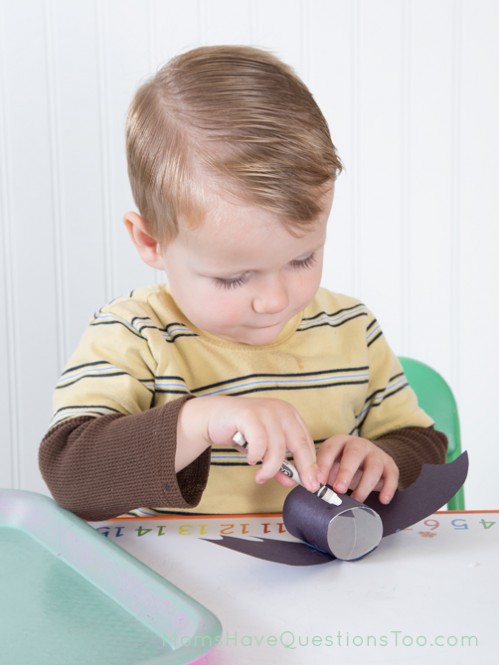 I also had some fun printables in his Learning Notebook. Usually I list out exactly which printables I used and where they came from, but somehow I lost my list, so instead I'll just give you links to the packs that the printables came from.
Halloween Pack from 3 Dinosaurs
Preschool Halloween Printable Pack from The Frugal Navy Wife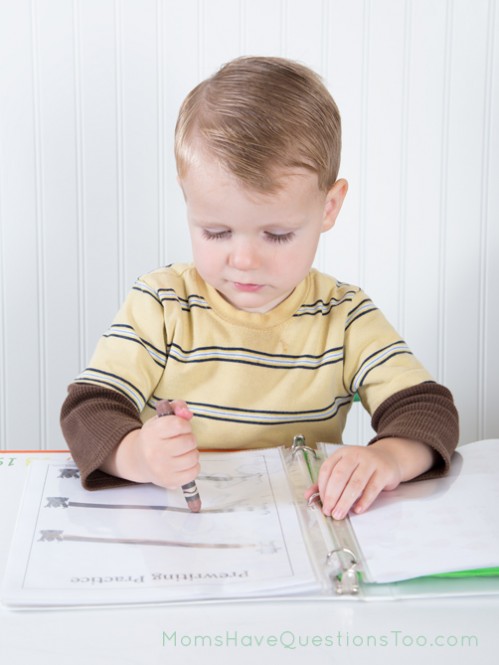 We also did some fun activities with the book Room on the Broom (this post has a link to watch an animated version of the book on youtube!) and we did a fun pumpkin garland. Hopefully your October has had as much Halloween fun as ours. ;)

[hr top]
We've found some fun people with great linky parties. You might just see this post linked up on one of these amazing sites!
No Time for Flashcards, Train Up a Child, Teach Beside Me, 1+1+1=1, Living Montessori Now, In Lieu of Preschool, ABC & 123, Sun Scholars, All Our Days, Frogs and Snails and Puppy Dog Tails, Homeschool Creations, 123 Homeschool 4 Me, Teaching Mama.