What are some toddler learning games that will teach the letter M?
These fun toddler learning games and activities are perfect for teaching the letter M. The theme is M is for monsters and your toddler is sure to have a blast with these tot trays and other awesome toddler activities. All printables and ideas come from my Toddler Curriculum.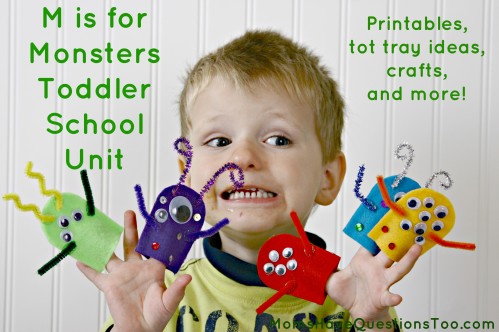 I'm so glad our letter M week just happened to come at the beginning of October. M is for monsters was the perfect theme to get into the Halloween spirit. Of course, it would have been fun at any time of the year, but I love that it worked out this way. Smiley Man was actually a little nervous about monsters, but once he saw how cute they were, all his fears were gone. :)
Smiley Man is 3, read here about ages for the Toddler Curriculum
Make the Letter
We used playdough to make the letter M. I made one to show Smiley Man how to do it, then he made his own.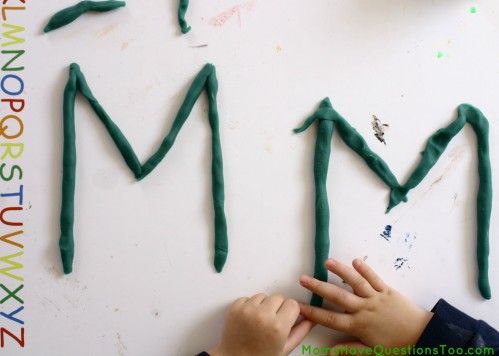 Learning Notebook
Smiley Man loved the dot to dot page in his learning notebook. He doesn't quite understand  these yet, but this was the best he has done so far. He was really excited that it made an M when it was finished.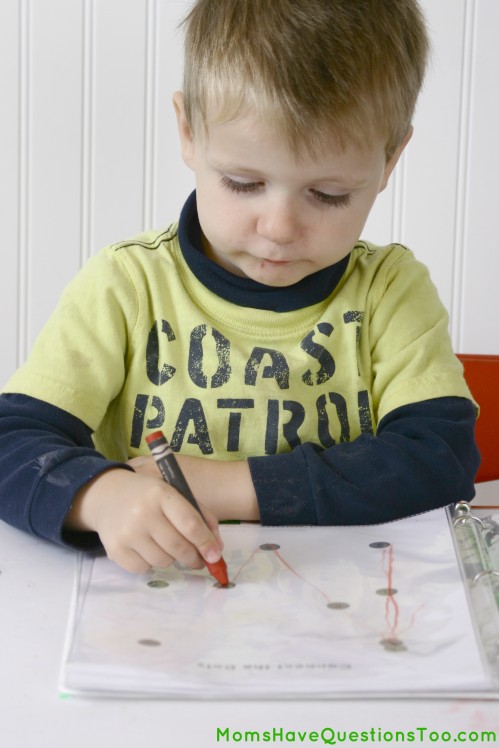 Tot Trays
Theme: Make felt monster finger puppets. Tell stories with puppets.
I used the template from our Halloween finger puppets to make these monster finger puppets. Then, Smiley Man told me where to glue the antennae, arms, eyes, and sequins. I used a hot glue gun, so Smiley Man didn't help with the gluing. :)
Matching: Match cut out monsters to monsters on the mat. Laminate and add magnets to the back of cut monsters. Use THIS PRINTABLE.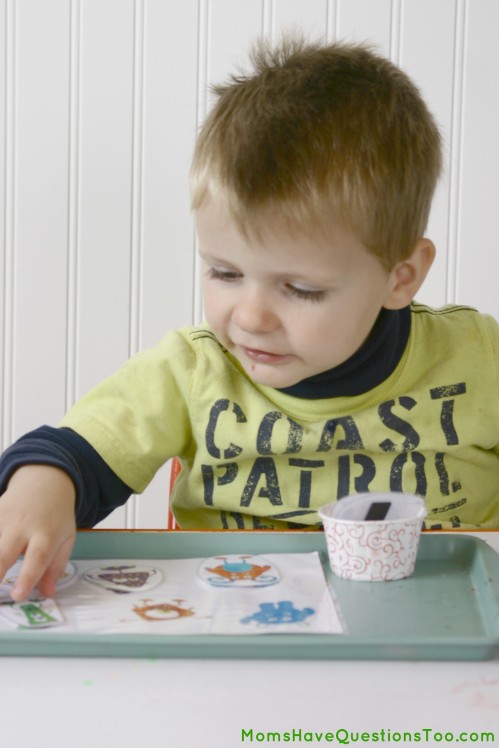 This printable is not included in the Toddler Curriculum. I made my original idea a bit easier by just making a matching sheet. If you purchased the curriculum and would rather use my matching sheet, download it for free here.
Coloring: Use free printable monster drawing sheet found here to draw monsters.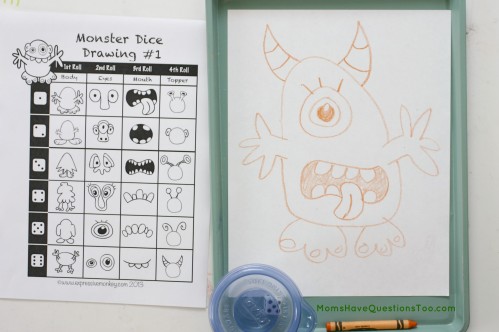 Smiley Man actually really liked this activity, although his monsters didn't really look like monsters. ;) Somehow I didn't get a picture of him though, so this is a monster I made.
Fine Motor: Build towers with wooden blocks. Use a finger puppet monster to knock towers over.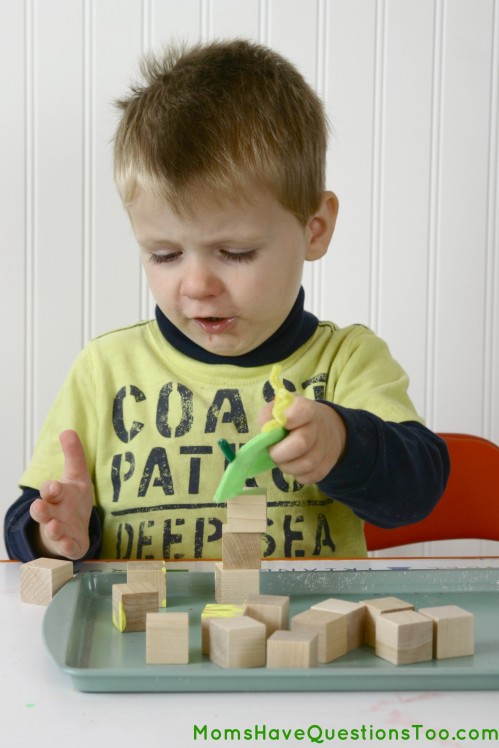 Transferring: use tweezers to put pompoms on the empty circle spaces on the monsters.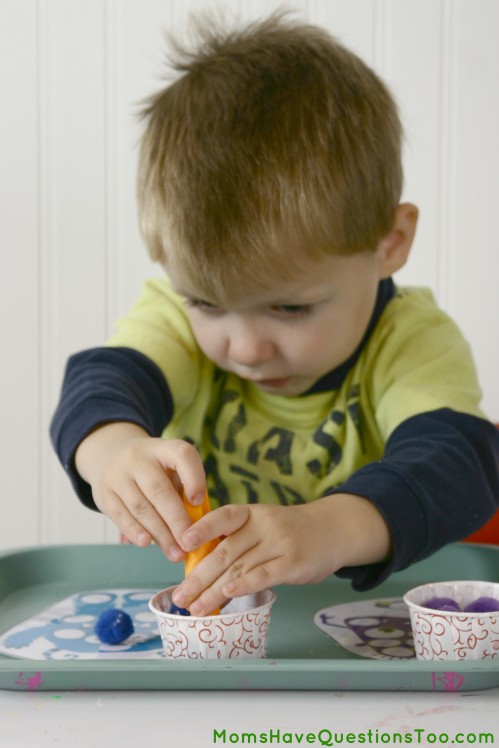 Supplies Used: Trays, home laminator, felt, googly eyes, pipe cleaners, sequins, magnet strip, wooden blocks, kid tweezers (see my review here), pompoms
Tray Printables
Smiley Man loved these clothespin cards. He is getting really good at counting, but still needs lots of practice identifying numbers.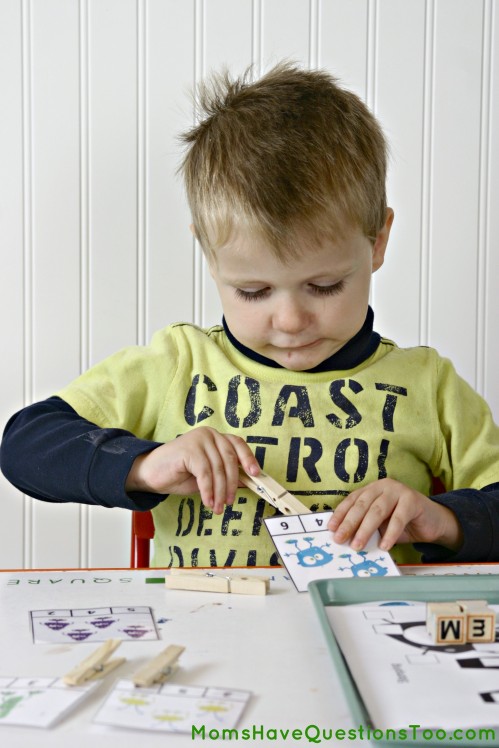 Letter Activities
Painting of any kind is always a favorite, so Smiley Man really enjoyed painting this Dot Marker M. Dot marker pages for all uppercase and lowercase letters are included in the Toddler Curriculum.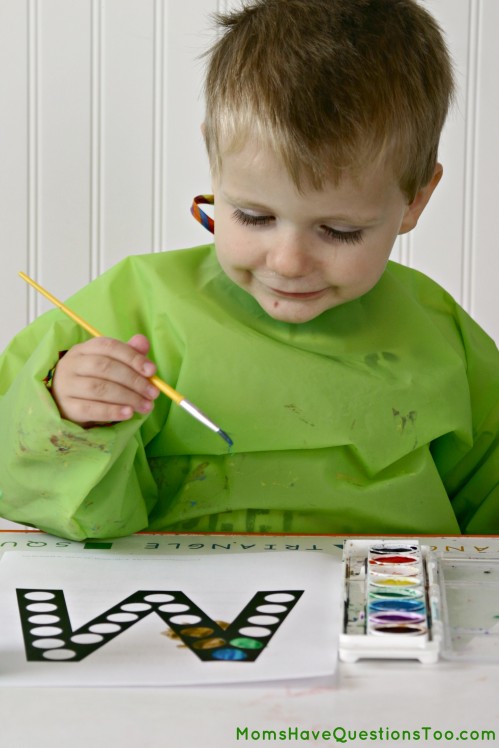 Books
If you follow me on instagram, you know I found the most amazing monster book while at the library a few weeks ago. It's a lot like Dinosaur Roar (which we also love), but it was about monsters. You can get Romping Monsters, Stomping Monsters from amazon.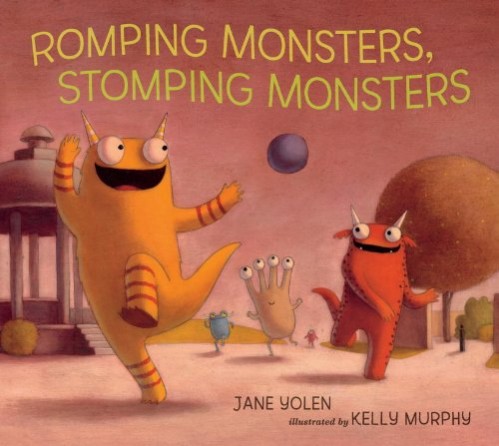 Letter M Craft
Smiley Man painted rocks, then we added googly eyes and a few other goodies to make monster rocks. These have been WELL loved by my kids this week. Definitely one of their favorite activities.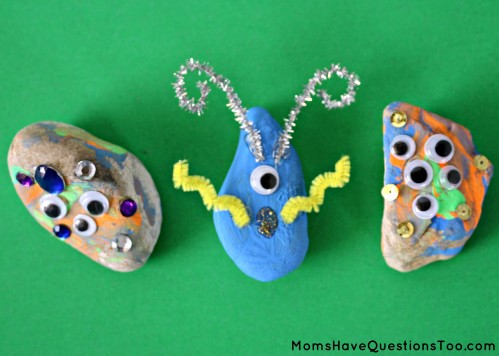 Sensory Bin
We used buttons for the base of this sensory bin. The only downside was that I wish we had more buttons. Ours only just covered the bottom of the bin. Smiley Man's favorite object was the mitt. Perhaps we have tee-ball in our future? Read more about my ABC Sensory Bins.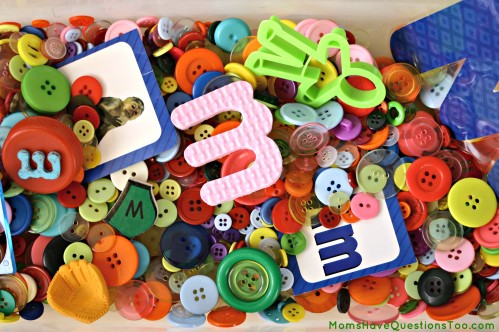 Subscribe now for more toddler ideas in your inbox.
Other Posts You Might Like