We have been so much fun this December making Christmas candle holders, pretzel hugs, and playing candy cane math. I love making Christmas time an extra special time. However, with all the excitement of toys and ornaments, I really want my children to remember the true meaning of Christmas. We have been doing our Christmas scripture countdown, but aside from that, I really wanted to incorporate the nativity into a preschool activity.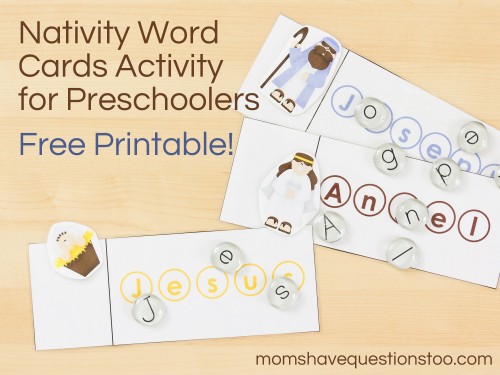 I searched the web for something I could use and I found these amazing nativity pictures for a nativity play. The character pictures are found after the nativity play; just scroll down a little to find them. So naturally, I immediately printed off the pictures and thought of a way to use them. I ended up with a fun idea that Little Bear begs me to do. :) That is what I consider a success.
First, print off the nativity pictures. All you do is right click the picture, click "save link as", save the link somewhere you can remember (like the desktop), then find the copy of the picture that you saved and print it as a full page.
At first I simply laminated the pictures and put magnets on the back so I could tell the nativity story with the characters on our fridge or a cookie sheet, then have Little Bear retell the story. He LOVES this game. Since he loved it so much, I thought I would expand on the idea.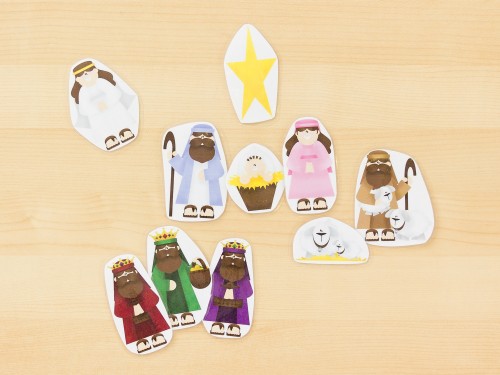 I made these nativity word cards that can be used with a flat marble alphabet. We made out flat marble alphabet set several months ago, but they are very simple and cost less than $2 to make.
To do this activity, Little Bear puts one nativity card on a cookie sheet. He finds the nativity character that goes with the card (by sounding out the letters or just by color matching) and puts the picture in the empty box on the left.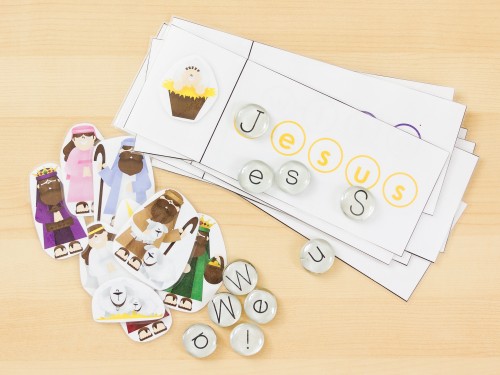 Next, he uses the flat marble alphabet (you can attach magnets to the back so they stick to the cookie sheet) to fill in the letters on the word cards. When all the letters are filled in, he says the word. He isn't exactly reading the words because he knows them by memory, but he sure is getting lots of exposure to words from the nativity. Little Bear really enjoys this activity, too, although he usually only does a few cards in one sitting.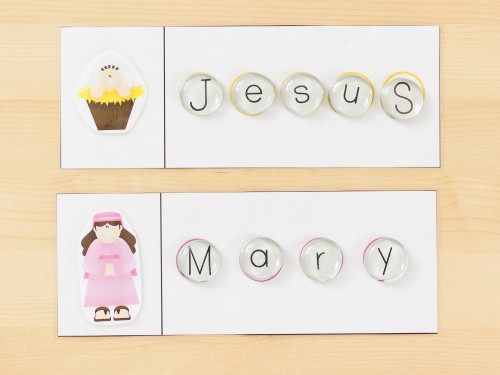 The best part of this activity is that Little Bear is starting to remember the story of the nativity. He used to ask me what came next after each part that he said. Now, he remembers most of the story. THAT is the real success. ;)