I want to introduce you to my sister! She has some amazing sewing skills and has done some really great things lately with sewing her own clothes and also refashioning clothes. One of her projects was especially interesting to me so I asked her to write a blog post for us so we could share it with you.
My name is Brianna Northrup and I am Cassidy's sister. I have recently been getting into sewing and refashioning clothes and have had quite a bit of success doing it. For my guest post today I am going to tell you about one of my more successful Saver's shopping trips and refashion projects.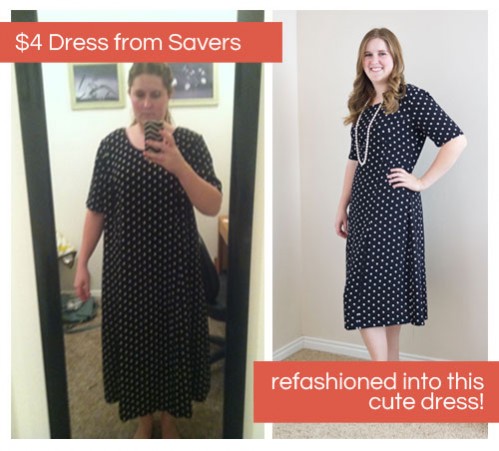 Over the past couple of months I have been following the blogs of people who go to places like Saver's and Goodwill and find clothes that still have some wear in them and give them new life. I am a pretty good seamstress and thought this sounded like a lot of fun. I had some free time on a Saturday and was in the mood to sew so I headed to my local Saver's to see what I could find. I have never been the kind of person to shop at thrift stores and upon walking in I was reminded why, but possibility of a good find was just too tempting so I made my way into the store.
After about a half an hour of looking I stumbled upon a polka dot dress that seemed like it had some potential. It was several sizes too big but the fabric still had a lot of wear left in it and other then a small tear in the seam on the front the dress was I good condition. I picked up the dress and headed up to checkout. On my way to the checkout an infinity scarf near the register caught my eye. I had been looking for one similar to it for awhile so I picked it up as well.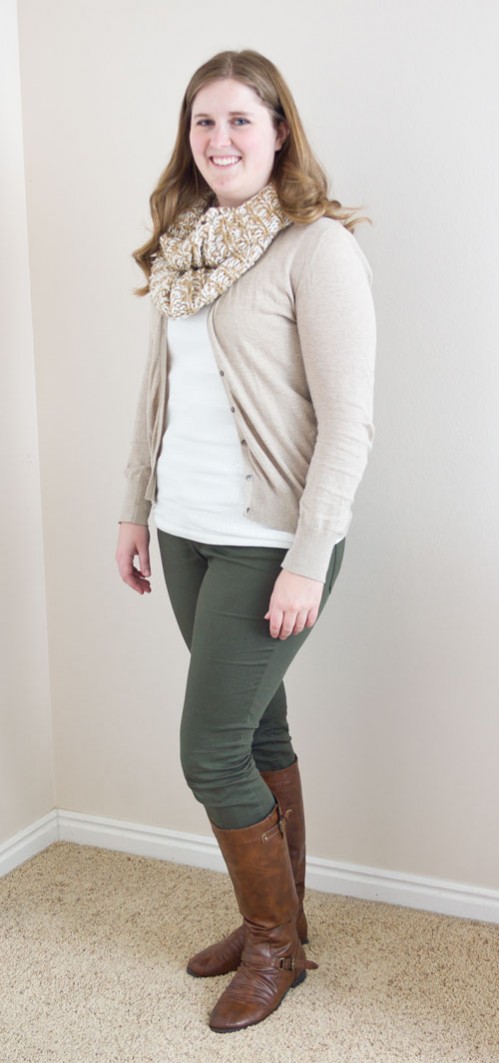 My purchase totaled about $6. $4 for the dress and $2 for the scarf. (Sorry about the awful picture of the dress, I was in a hurry to get sewing so I just snapped a picture with my phone).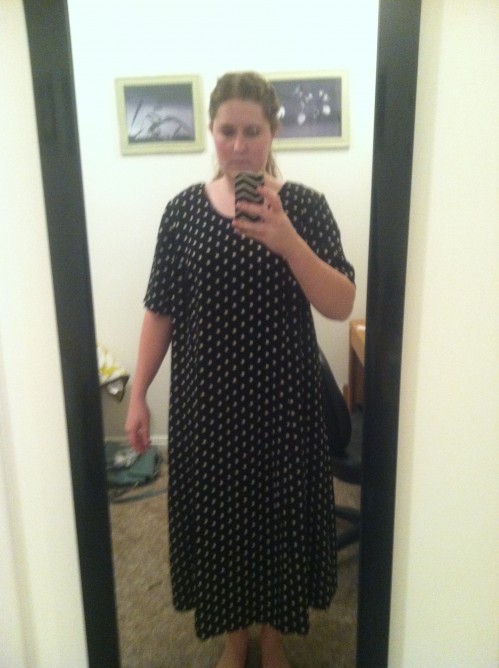 I brought my purchases home and I got to work on my dress. I had to wash it twice before I began to get rid of the smell. Once my dress was clean I was ready to begin. There were three things that I wanted to change about the dress. I wanted to take in the sides and the sleeves and hem the dress. To get an idea of how much I would need to take the dress in I turned it inside out and placed a dress that I like the fit of on top and traced the sides (see photo).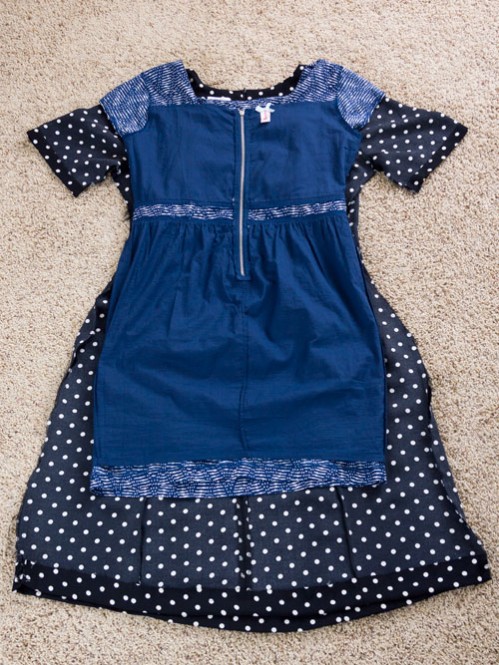 Then I started to sew. I started at the edge of the sleeve and sewed all the way down to the bottom of the dress following the lines I had traced earlier. After I had sewn both sides I tried on the dress to see how it looked. It was still a little bit loose fitting so I sewed it in a little bit further following along the seam I had just sewn. I had to do this three times before I had it just perfect. Once I had it the way a wanted it I cut out the extra fabric. I tried it on one more time just to make sure I liked the way it looked. Now I was ready to do the hem. As you can see in the first picture the dress was almost to my ankles. I wanted it to come just below my knees so I decided to hem it about four inches. I pinned it up four inches and tried it on again. I liked the way it looked so I sewed them hem and trimmed the excess fabric and I was done! In the end it took me about two hours to do and I was very pleased with the result. What do you think?