What is a fun baby shower gift idea? How do I make a diaper cake?
Kirstylee and I have a friend who recently had a baby. So fun! Our group of friends decided to get together and make a diaper cake for her. We figured while we were at it we'd show you how we did it!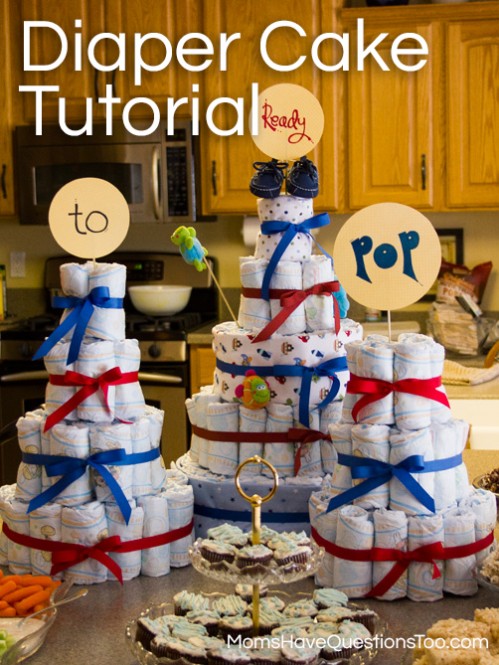 Here is what you'll need:
Lots of diapers (We bought a box of 200 at Costco but it ended up making 3 large cakes, I'd recommend a smaller box or two with about 60-100 diapers. I also recommend using size 3 diapers so they can use the cake as a decoration for a while.)
Small Rubber Bands (we used these little hair rubberbands)
Large Rubberbands
Ribbon (we bought ours at the Dollar Store!)
A cardboard base (we used the diaper box)
Cardboard tube or a tower of bottles
Strong Tape (we used duct tape since it was just attaching to cardboard, if you use bottles I'd recommend masking tape or something a little less sticky)
Optional: Receiving blankets, small toys
So, first you start by rolling up each of the diapers and putting a small rubber band around it. We thought it looked best to put the "open" end on the inside of the roll.
Once you have all the diapers rolled up you'll want to make the base of the cake. Start by cutting a large circle out of cardboard. This will go under the largest layer of the cake so you'll want it pretty big.
Next, you'll attach the cardboard tube or bottles to the base. These will provide support for the cake and prevent the layers from sliding off each other when you move it.
Place a few diapers around the base of the cake and then place a large rubber band around them. Keep adding more diapers inside the rubber band until the base layer is as large as you'd like.
Start placing diapers on the next layer using the same technique as above. Do the same for any additional "cake" layers.
Once all the layers are set just how you'd like them, you'll tie ribbon around the middle of each layer to cover up the rubber band. If you want, you can wrap each layer with a receiving blanket before adding the ribbon. This is a fun way to include extra gifts on the cake.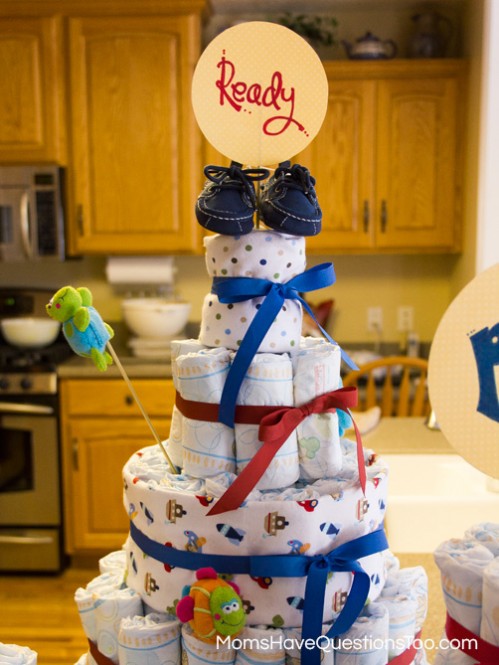 You can also add a card or sign to the cake as well as decorate the cake with little toys or clothes. So many options!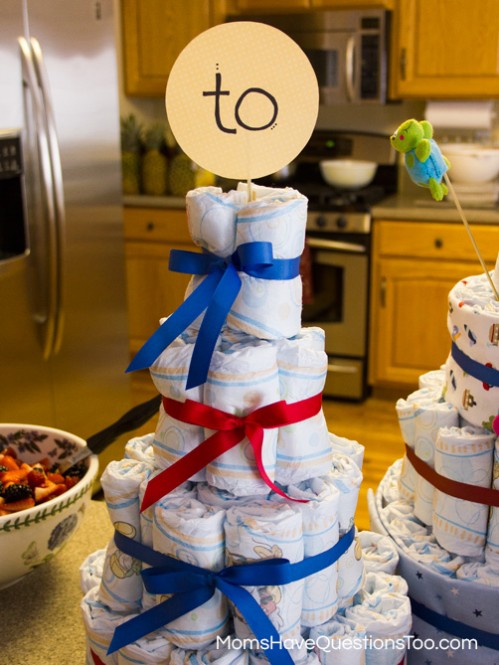 Like I said earlier, we ended up making three cakes with all the diapers we bought. It was a lot of work but she loved it! It was a really fun thing to make and a great useful gift too!