How can I be more optimistic in my daily life?

A little while ago my brother-in-law showed Kevin and I this video by Shawn Achor who studies happiness. We originally started talking about it because of the unicorn story at the beginning, but Kevin and I were both intrigued by the rest of the clip. Now I'm sure you're intrigued as well, so go ahead and watch the clip!
Isn't it awesome?! He has also written a book called The Happiness Advantage that I want to buy/read. I have been thinking about journaling a lot lately. In General Conference, President Thomas S. Monson mentioned in one of his talks (a great talk by the way…) that he keeps a daily journal and that is how he is able to remember so many experiences from his life. I have always felt like I should keep a journal, probably because the prophets throughout the ages have recommended doing so, but I've never been very good at it.
When I watched the video by Shawn Achor I decided that 3 things I am grateful for and one positive experience aren't very time consuming to write. So, I asked Kevin if he would do this with me. At the end of each night (no matter how tired we are) we are going to write in our journal 3 things we are grateful for and one positive experience from the past 24 hours. I feel like it will help both of us feel more optimistic about life and follow the counsel of our prophet! Kevin agreed to do this with me so we'll see how it goes!
I knew I would be more motivated to keep doing this if I had a cute notebook to write in. So… I went shopping. I've always wanted to buy washi tape but never had a good reason to. I couldn't think of very many practical reasons for using it. So, I splurged and bought this cute notebook, some washi tape, and a cute, thick rubber band (another thing I've never been able to justify buying… again, no use for it really).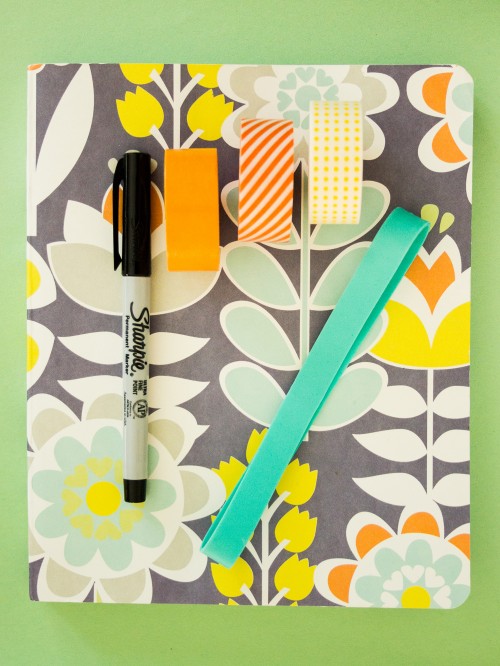 I know this time of year people are always focusing on gratitude and gratitude journals. I am really planning on doing this indefinitely though. I want it to be part of my daily life. I would love for you to join me! If you don't want to go buy a new notebook, just use one you have or, better yet, make one! I made this Think Positive page that is an easy start for journaling The Happiness Advantage items. You could also give them to older kids and have them join in too. We'll also have a post tomorrow with some ideas for making your own journals!