How do I teach the letters to my toddler?
You may have noticed that the blog has been a bit quiet lately. Life has been crazy (see this post). On top of it all, I stopped nursing baby Sport and my post-partum depression got a lot worse. Annoying, since it did the exact opposite with Smiley Man. Oh well, that's life. I am doing okay, it's just really hard for me to focus on anything except clothing and feeding my children. At least Little Bear is out of school for summer vacation! I love sleeping in!!
So, full disclosure, I didn't do any of these activities with Smiley Man except when we took the pictures. He did do the whole letter I craft for the picture, but that's about it. Sometimes you just do what you gotta do. Anyway, hopefully the pictures are helpful to you as you prepare tot school for your toddler. :)
I is for Insect
Smiley Man is 3. Read here for appropriate ages for this toddler homeschool curriculum. Go here to purchase Toddler Curriculum.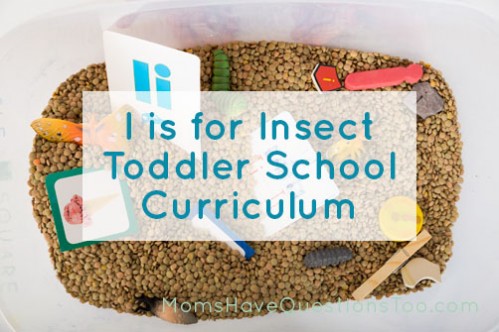 Make the Letter
Poke page: Print the poke page (or draw the letter on a piece of paper) and have your child poke the letter with a toothpick or an oversized push pin. Be sure to keep a close watch over your child while doing this activity since sharp points are involved. Printable coming on Friday.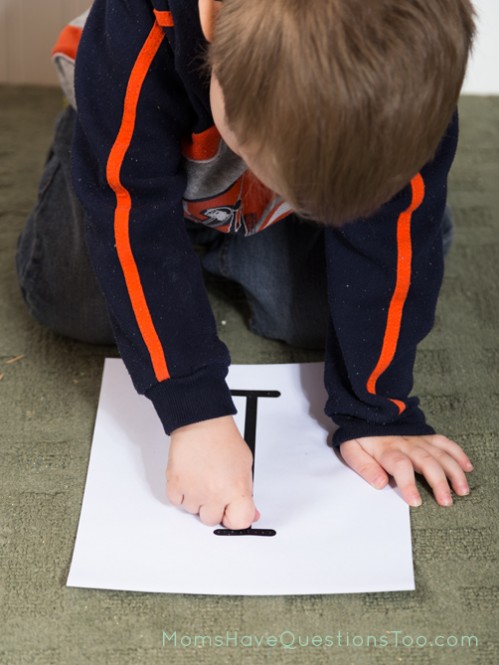 Buy oversized push pins here.
Learning Notebook
This is a shape tracing page. I was very surprised to see that Smiley Man actually attempted to trace the shapes instead of just color them.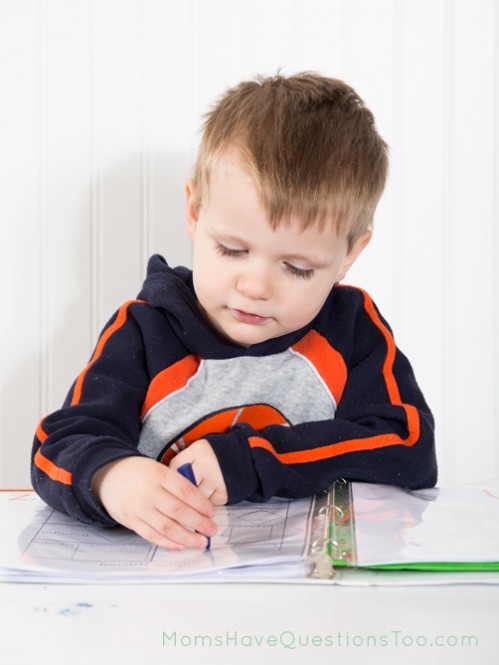 Tot Trays
Theme
Make a thumbprint on the jar picture (printable in curriculum). Add eyes, wings, and antennae to make it a bug. Punch a hole and put it on a necklace and add beads.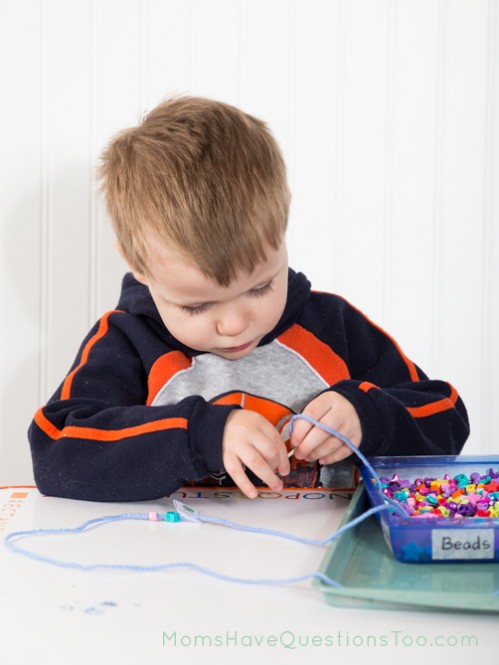 Matching
Match caterpillar/butterfly toys from Learning Life Cycle Set (Oriental Trading) to correct place on printable. I simply copied and pasted the product image from Oriental Trading onto word document and printed it.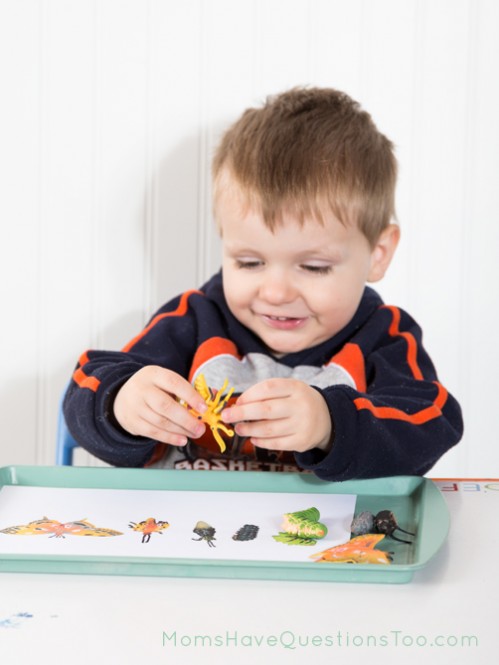 Pasta
Use colored pasta to decorate the butterfly (printable in curriculum).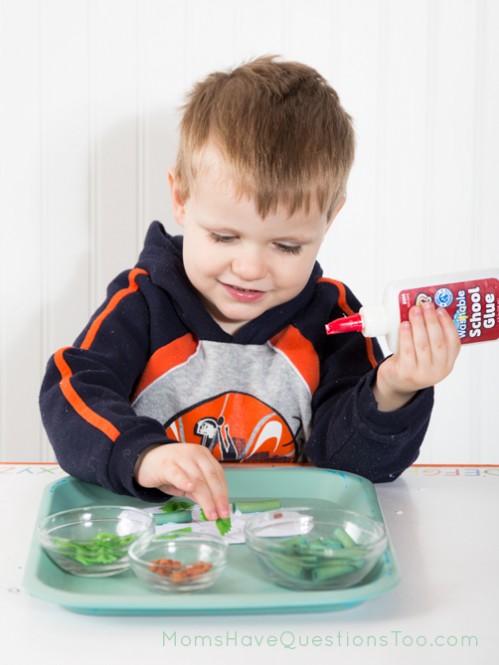 Fine Motor
Put plastic bugs (from Dollar Tree) in a "spider web" (polyfill stuffing for pillows). Pull insects out to help them "escape."
Transferring
Use tongs to transfer "caterpillars" (pipe cleaners with beads on them) into spots in water bottle ice cube tray. Smiley Man did NOT want to use the tongs, so he just used his fingers.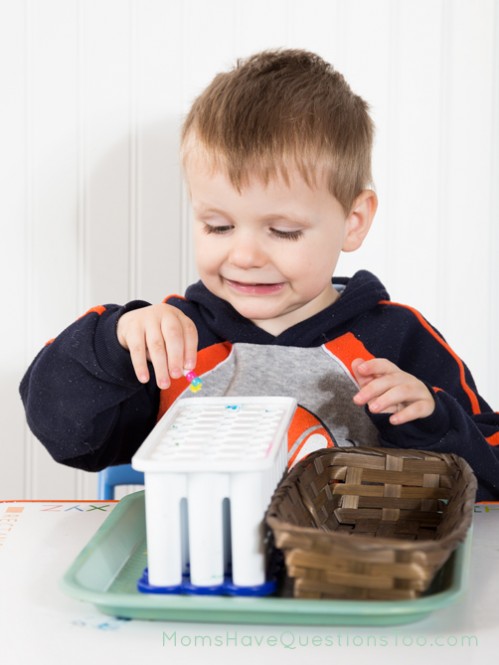 Supplies Used: beads, Learning Life Cycle Set, bugs, stuffing, pipe cleaners, laminator, laminating sheets, printables from Toddler Curriculum
Tray Printables
Cutting practice. Smiley is getting much better at this.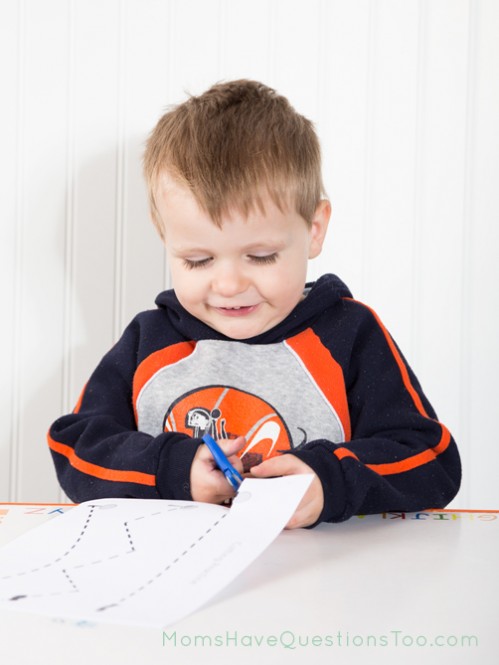 Letter Activities
We didn't do this and I didn't get a picture. :-/ My plan was to have Smiley Man crumple small pieces of tissue paper, then glue them onto the do-a-dot letter I which is included in the curriculum.
Books
We actually did read The Very Hungry Caterpillar, but that's only because we read it about every other day. We have a pop-up version that is really cool and it's Smiley Man's favorite book.
Letter I Craft
Paper towel and watercolor butterfly. Smiley Man really enjoyed painting the paper towel for this and he was so proud of the butterfly when it was done. He had to show Daddy his finished product about 10 times. Although, he may have been so happy about it because it was pretty much the only thing he actually made for this unit. Haha!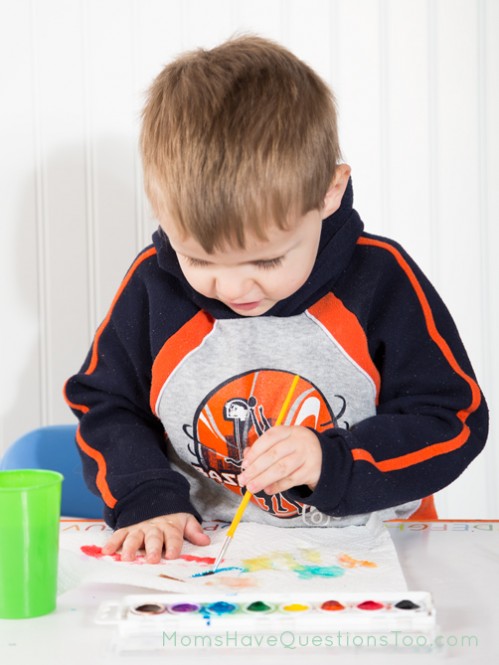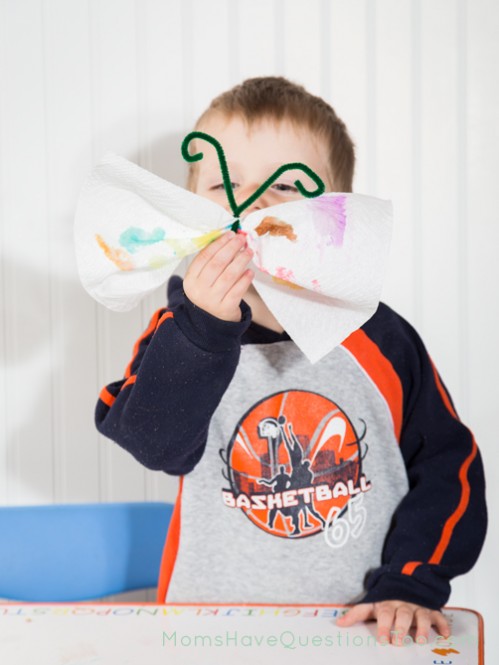 Letter I Sensory Bin
We used lentils for the base of our letter I sensory bin. Smiley Man only played with the sensory bin for the pictures, but he really loved the lentils. I didn't think they would be all that different from dried beans, but apparently they were because I had to literally pull the bin away from Smiley Man to get him to take more pictures. Read about our ABC Sensory Bins here.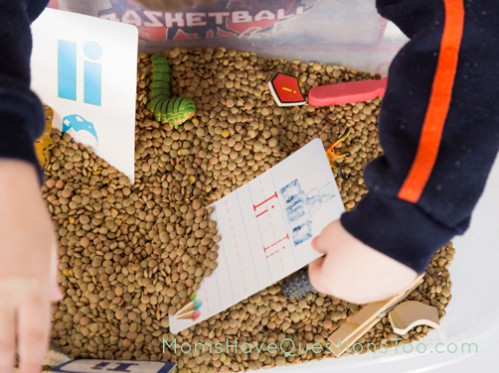 I'm really bummed that we didn't really do anything for this unit because it was a great unit. I might have us go back to it sometime when we have time. If you have any questions about my toddler homeschool curriculum, be sure to read my Toddler Curriculum and Schedule post. What is your toddler's favorite insect activity?
Other Posts You Might Like