Where can I find some inexpensive and unique birthday gift ideas for kids?
Kids are probably the easiest age group to buy for, but buying inexpensively can still be difficult. When your child wants to buy an iPad for their friend's birthday, you'll have to be armed with some pretty awesome and unique inexpensive ideas to dissuade him. :) Luckily, I have just such a list for you.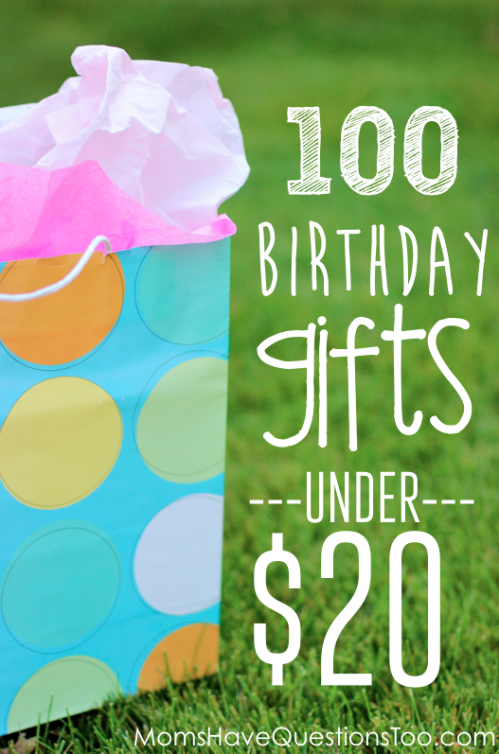 These birthday gift ideas for a child are categorized by price. There are ideas under $5, under $10, and under $20 so you can browse according to your budget. These inexpensive ideas are great for friends, siblings, nephews, nieces, or just for a low budget birthday. You're sure to find a unique gift idea that will make any kid happy.

Birthday Gift Ideas Under $5
Homemade play dough with a rolling pin (I've seen one like this at Hobby Lobby for $3) or cookie cutters
Wood Painting Kit (you can almost always find a birdhouse or a kit like this in the dollar bins at Target, Micheal's, Walmart, etc.)
Plastic Bugs (also look for these at the Dollar Tree)
Homemade shoebox "home" (for dolls, animals, or Little People)
Puzzle (check the Dollar Tree)
Mini Sensory Bin (use an old diaper wipes container, then just add a base and a few trinkets)
Grow Capsules (like these, but they almost always have them at the Dollar Tree)
Bubble gun (this one is nice, but I've always been able to find a good one under $5 at Target)
Paint with Water pictures (Also check the Dollar Tree for these)

Birthday Gift Ideas Under $10

Birthday Gift Ideas Under $20
Like this post? Please take the time to share it on facebook, pinterest, or twitter. Don't forget to sign up for our newsletter for more kids' ideas! To make things easier for you lovely readers, I made this one page shopping guide with a list of all the ideas. Print it off and take it to the store with you as you shop. :)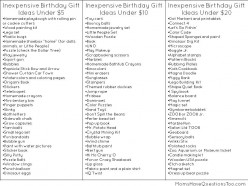 Other Posts You Might Like