I just love Christmas! Sometimes I'm just a tad overexcited about it. So, naturally, it's my job as a mother to make my children a tab bit MORE overexcited about Christmas. After all, that is what mother's do. :) A little while ago I found a free font called Xmas Lights BRK. I downloaded it immediately and was waiting for Christmas so I could do something with it. Being the educator that I am, I thought of four activities in one to do with this glorious font.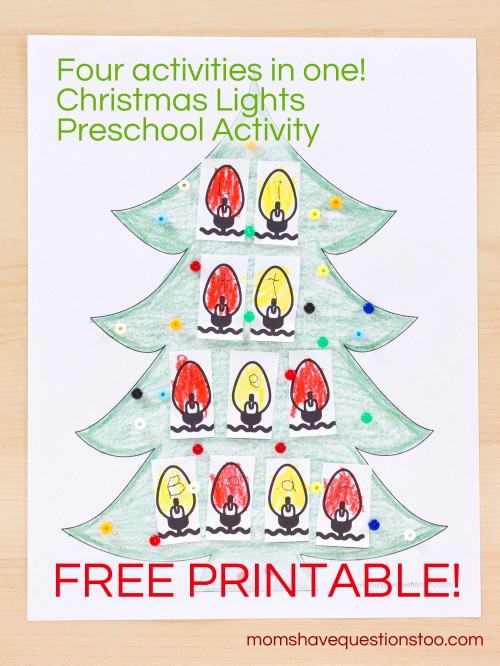 Activity #1: Name Practice
This is a font so I could have just typed Little Bear's name with the Christmas lights, but we have been working on writing his name lately and I wanted to give him a fun way to practice. So, instead I wrote a bunch of commas (which are basically just lights) and printed it off. Feel free to download a copy of some almost Blank Christmas Lights (you can also download this Christmas tree to use later) to do this activity. You could also download the font and just type your child's name if desired then have them color it.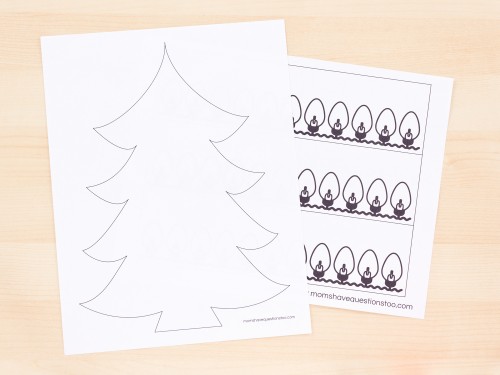 After printing, I had Little Bear write his name on the Christmas lights. The Christmas lights are a bit on the small side which was perfect because we have been working on forming smaller letters.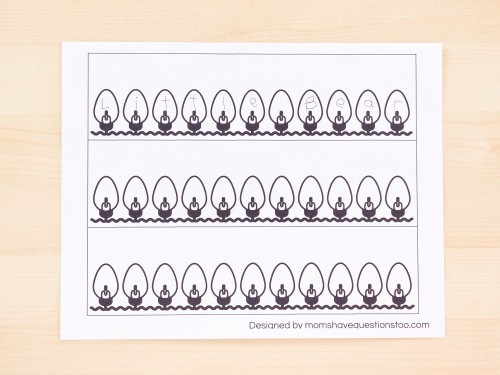 Activity #2: Patterns
I am doing a bunch of pattern activities this month and I can really see Little Bear's improvement. After his name was written, Little Bear used two crayons to color the Christmas lights in an AB pattern. He colored his name in the pattern, but then he wanted to color the rest of the page, too. I happily told him to go right ahead.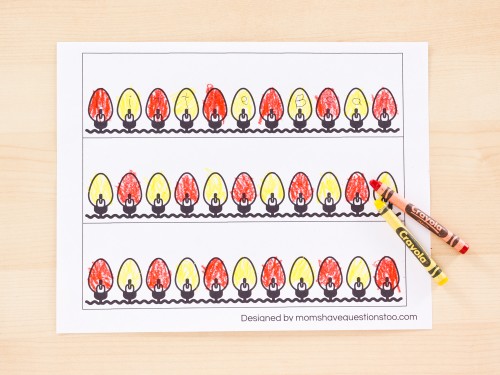 Activity #3: Cut and Paste
We did the next two activities on a different day. I cut out the Christmas lights so that they were in a thin string of lights, like this: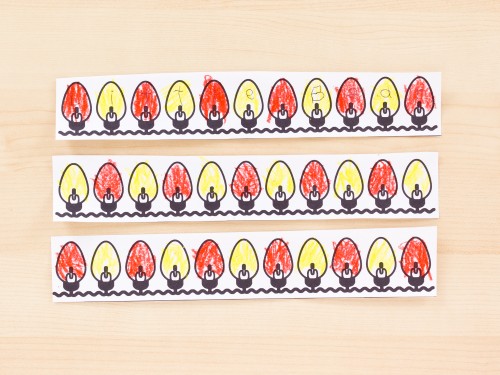 Little Bear then used his scissors to cut off each Christmas light individually. As he cut each one, he set it aside and I reminded him to keep the colors in the right order (both so the letters of his name were in order and so the pattern was still in order).
Next, Little Bear pasted the Christmas lights onto a paper Christmas tree. I used this Christmas tree template and printed it on green construction paper. You could also print it on white paper and color the Christmas tree green. The tree was so cute with all of the fun Christmas lights.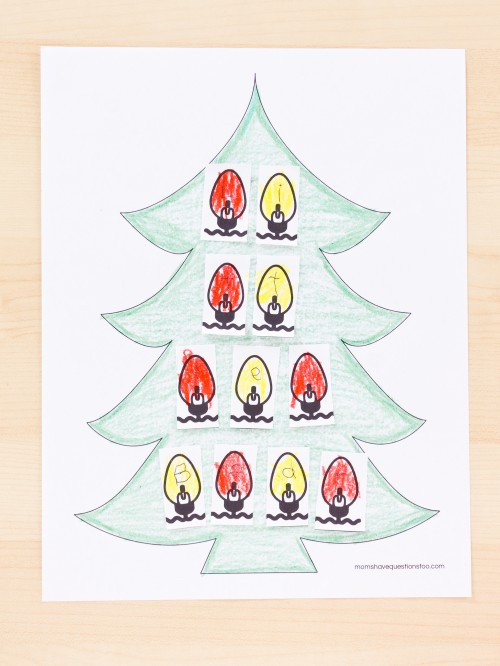 Activity #4: Gluing Beads
The final activity was decorating the Christmas tree even more. We just used Elmer's glue to attach some small beads. You could also use buttons like this awesome felt Christmas tree counting activity.
There you go, four activities in one that all started with a cute font. :)