What is a fun way to teach my child about geography and the United States using a map puzzle?
Let me start by saying that this isn't the post I intended to write today. In fact, I wasn't planning to write about this at all, but when you're pregnant, and you have two active kids, and you're getting ready to move, and your oldest has already started Kindergarten in his new school in the new city you are moving to (which is 30 minutes away from where you currently live), sometimes your plans change. Yes, life is just a bit crazy for us right now, but we should be all moved in and settled in about a month. Whew, just saying that gives me some relief. ;)
Anyway, I recently made a United States map puzzle for Little Bear. Why did I decide to take on such a huge DIY task you ask? Because I'm insane, and as always, I didn't think it would take as long as it did. I think it turned out well though, so I thought I would share it with you. Here is the end result.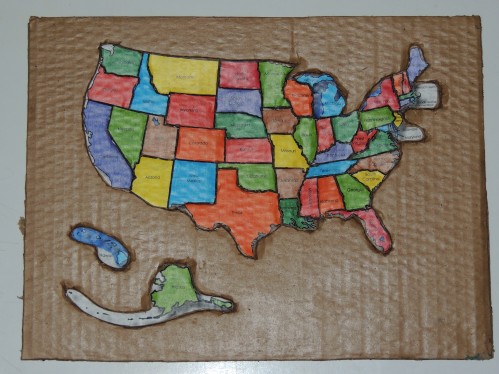 I'll explain how I made it in case anybody wants to make their own United States puzzle. Sorry I don't have more tutorial pictures for you, but like I said, I wasn't intending to write about this. (If you don't want to make one, here is an awesome one from amazon. I talk more about it in the last two paragraphs).
Find a map from google images that you want to use for your map. (I found a completely blank one, then put it in powerpoint so I could add the names of the states using word boxes. Yes, it was a little tedious.)
Color the map with colored pencils (This is obviously unnecessary if you choose a map that is already colored and print it with a color printer.)
Cut out the outside edge of your map (and Hawaii and Alaska).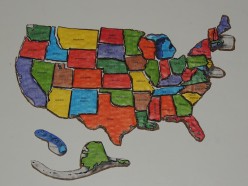 Mod Podge the top of a thick piece of cardboard (check out my homemade recipe here), carefully place the paper outline of the United States (and Hawaii and Alaska) on top of the cardboard and mod podge it in place.
Let it dry completely
Use an exacto knife to cut out the outline of the United States (and Hawaii and Alaska).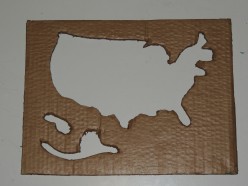 Now, use the exacto knife and cut out each state individually.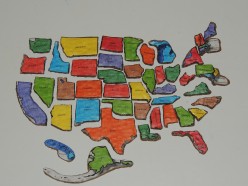 I cut out Vermont, New Hampshire, Massachusetts, Connecticut, and Rhode Island all as one piece. I also cut out Pennsylvania, New Jersey, Maryland, and Delaware all as one piece. All other states I cut out individually.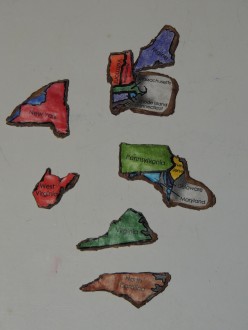 Using sandpaper, sand down the inside outline of the cardboard.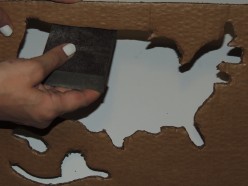 Now sand down the outside edges of each state.
Mod Podge around in the inside outline of the United States and the outside edges of each state.
Let dry completely.
Optional: You can hot glue the big cardboard outline to another piece of cardboard so that the puzzle has a bottom.
And tad a, here is my final product.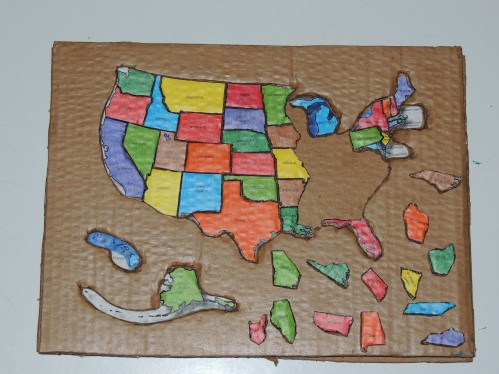 In all honesty, I'm not sure if this project was really worth the time that it took. If I had to do it over again, I would probably just buy this puzzle. I like that the states are cut out individually just like in my puzzle. I also like that it shows the state on the puzzle piece and it shows the capital on the bottom. I also think it's pretty cool that each state has a little picture on it of something that you can associate the state with. Okay, seriously, this puzzle is way cooler than mine! :( Oh well, I actually really like how mine turned out. I might end up buying this awesome Wooden United States Puzzle someday anyway, but for now, my DIY puzzle will have to do.
And again, yes, I am completely insane for taking on a project like this when I have so many other things going on in my life right now. But when your five year old is super interested in maps and wants to learn more about the United States, you do what you have to do. ;)