What is a good deal at the dollar store? How can I use dollar store items in my preschool?
Welcome back for another part of Dollar Store Finds. This will probably be an on-going series that pops up every once in awhile. Basically whenever I find something awesome from the dollar store, I'll do another post for this series. Since there are SOO many things, it will probably pop up quite often. So, what did I find this time? Hair Clips and clothespins.
Hair Clips
I found a package of 30 small hair clips and I thought of a way to use them for preschool! I know, I'm pretty creative. As a mom of two boys, I have to use my imagination when I want to buy girlie stuff for a daughter that I don't have. I will note that I got the package that had the least amount of girly colors. There were pink and purple clips, but there were also blue, green, yellow, orange, and white.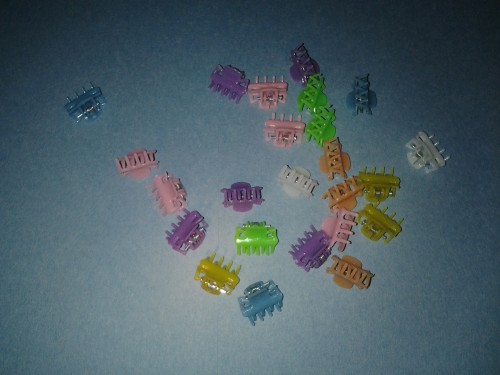 I used the hair clips with clip cards from the Letter of the Week curriculum from Confessions of a Homeschooler. She doesn't name them clip cards in every letter set, but there is something like them in almost every letter set. They are basically a picture with a number on it. The T letter set has 10 turtles. Each turtle has a number 1-10 on it. Some of the clip cards have a number of objects rather than an actual number. For example, the U letter set has 10 umbrella pictures. Each umbrella has raindrops above it. The first one has 1 rain drop, the second one has 2 rain drops, etc.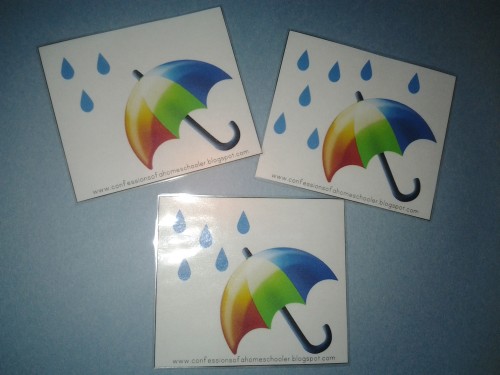 To use the hair clips, the students simply have to clip the right number of hair clips to the clip card. Since there were only 30 clips, the students clip the right number of hair clips on a card, count to check, take the hair clips off, then go on to the next card. If you wanted, you could buy two packages of hair clips and then the students wouldn't have to remove the hair clips with each card. They could leave all the hair clips on until the very end. If you only give them 55 hair clips, then they can self check because if they have any extra hair clips or not enough hair clips at the end, then they know they made a mistake. The hair clips are great, too because they are slightly difficult to open which really helps with fine motor skills!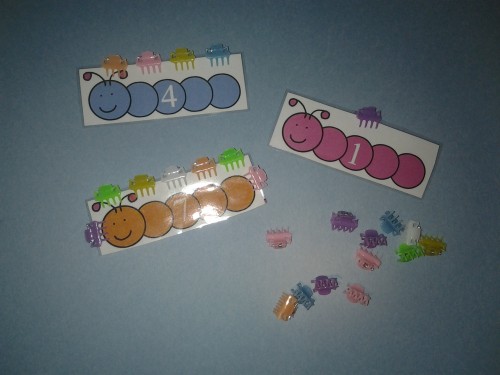 Clothespins
This was an item I was happily surprised to find at the dollar store. I bought a package for 36 clothespins for $1. I haven't found them cheaper anywhere else. Now, clothespins are one of those things that have a million and one uses. I'm sure you can think of plenty of ways to use clothespins, but here is how I use them to make words. On each clothespin I write a different letter of the alphabet. I do all 26 letters and a few extra for the words that have double letters.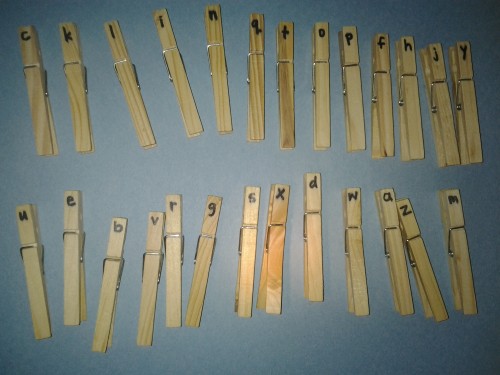 Every week we get a new set of words to add to our word wall. There is usually one sight word that cannot be easily sounded out (was, the, our, etc.) or that is extremely common (it, in, to, etc.) and a few words that are easy to sound out and that have the vowel sound we are currently working on. Our short a words were wag, man, sat, ant, tap, bad, fan (We didn't do all of those in one week ;) ). I write the words on word strips (hey, those are also from the dollar store, cool). Next, each student gets a word strip. They look at the first letter in the word and find the clothespin that has the same letter. Then they open the clothespin and put it on the letter so that the letter on the clothespin is showing. They repeat with the second letter and third if there is one. Again, this really helps with fine motor skills, plus I find that kids really love clothespins. I don't know why, but it's universal.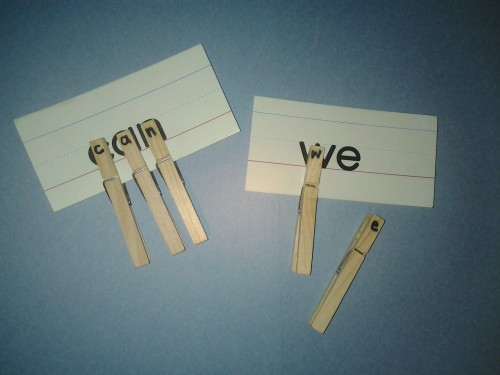 There you go, two fun activities courtesy of the dollar store!