What is a fun way to teach patterns to my preschooler?
I was trying to think of a new pattern activity for our pattern series and I needed something that would take minimal effort to put together. I decided to go with the easiest thing I could think of, making patterns with beads on a pipe cleaner that could turn into a bracelet or a necklace. Now, Little Bear is old enough that he refuses to wear a bracelet, but luckily, he doesn't think it's too girly to make a bracelet.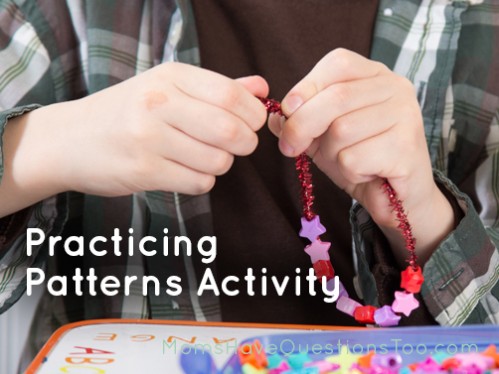 I pulled out our trusty pipe cleaners and beads and let the boys get to work. Little Bear wanted to create elaborate ABCD patterns, but I told him just to start with a simple pattern like ABAB or ABC. He was disappointed at first, but quickly got into the craft. Maybe it's because I wear jewelry on a regular basis and occasionally make it, but Little Bear thinks it's pretty cool to make jewelry. He makes me beaded jewelry quite often. :)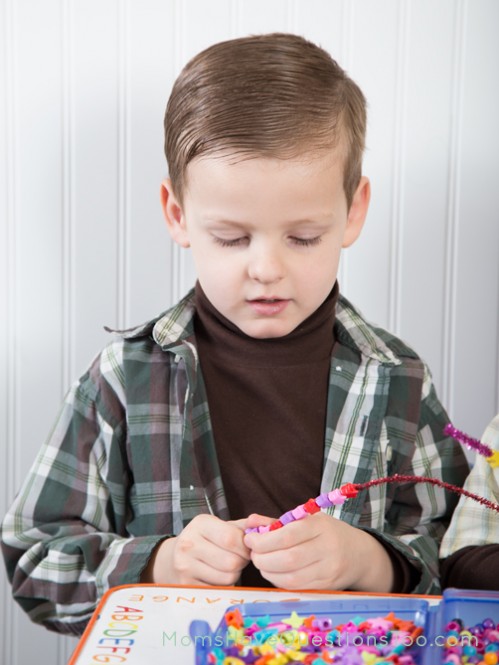 Little Bear started talking about how his bracelet was so cool and he wanted to show it to the kids in his class. I said that was a good idea, as long as he didn't give the bracelet to a girl. (Little Bear is slightly a ladies man, which worries me since he's only 5!) He promptly said, "Yes, I am going to give it to a girl, Mom." So, I responded the only logical way. "Fine, as long as that girl is your cousin." Luckily, Little Bear thought that was a great idea, so these bracelets quickly became future Valentine's Day gifts for his girl cousins.
I was able to help Smiley Man make a patterned bracelet too, but he didn't really understand the pattern part of it. He is still pretty young to understand patterns, so I didn't worry about it too much. He got lots of great fine motor practice putting the beads on the pipe cleaners. He really likes beading using a pipe cleaner because it stays in place much better than a string. This was a great way to practice patterns in a fun way.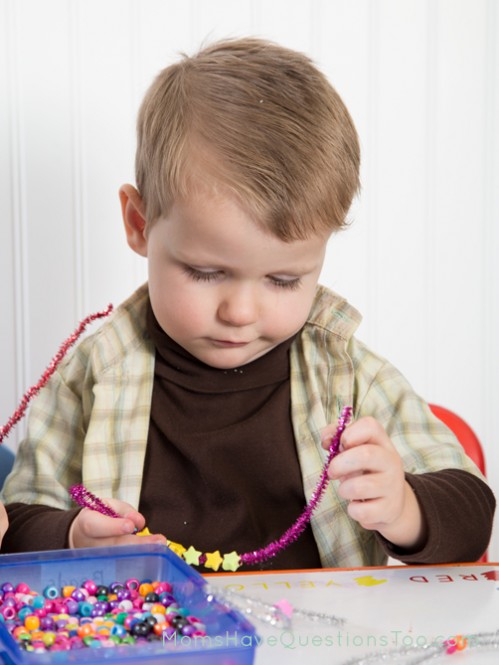 [hr top]
We've found some fun people with great linky parties. You might just see this post linked up on one of these amazing sites!
No Time for Flashcards, Train Up a Child, Teach Beside Me, 1+1+1=1, Living Montessori Now, In Lieu of Preschool, ABC & 123, Sun Scholars, All Our Days, Frogs and Snails and Puppy Dog Tails, Homeschool Creations, 123 Homeschool 4 Me, Teaching Mama.