What is a busy bag for my toddler or preschooler that will teach spatial reasoning skills?
I got the idea for this busy bag from this awesome pin. Unfortunately, it looks like the post is no longer on the internet, so I had to improvise and make up the directions as I went along. Luckily, I am super excited about how this busy bag turned out!! This one will be a favorite for a long time to come for sure.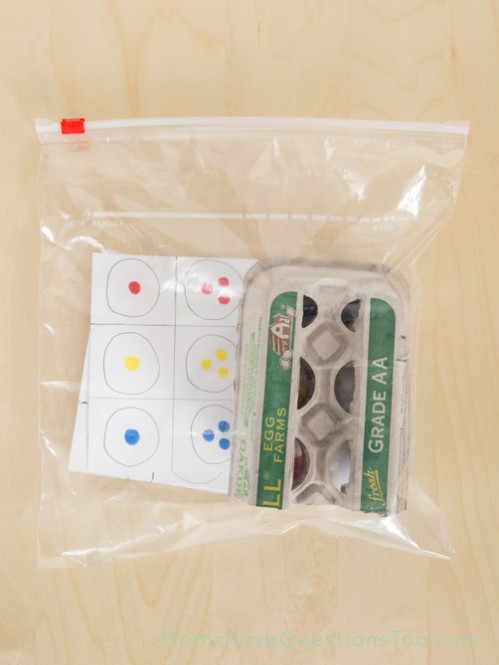 I started with 6 plain white ping pong balls and an empty egg carton that I cut in half. You could of course use 12 ping pong balls and a whole egg carton, but since I made this for a two year old, I went with 6.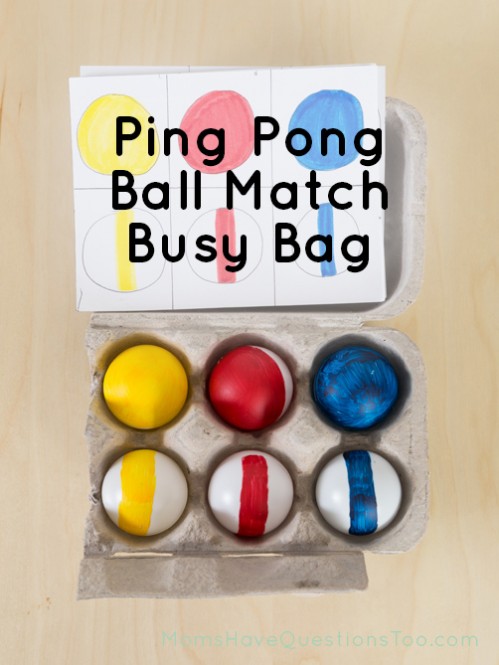 I used red, yellow, and blue paint to make each of the ping pong balls unique. There are four different designs for each color (one for each side of the ping pong ball and two ping pong balls for each color). Here are the four designs I used: plain color, one dot, stripe down the middle, three dots.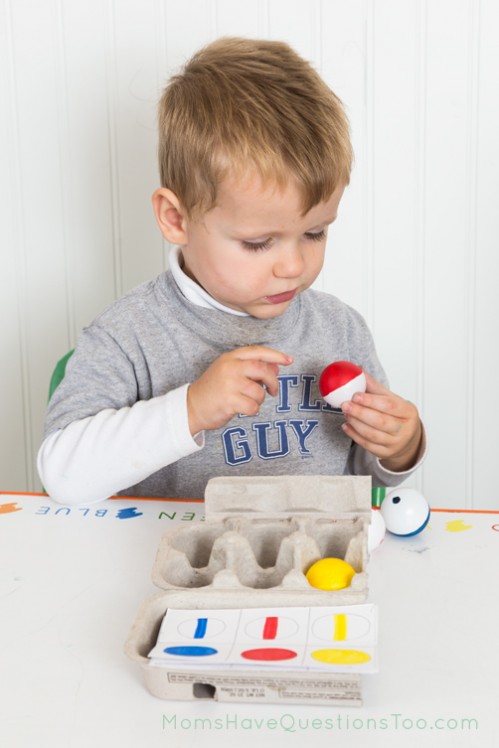 Finally, I made some cards that show how to put the ping pong balls into the egg carton. I made them really fast and by hand, so they aren't very professional looking. After I was done I decided to make printable cards for you. Now you don't have to spend the time yourself! You can download them here. I tried to make the first page of cards as simple as I could since they are for a toddler. The second page of cards has more difficult placements, appropriate for preschoolers, as Little Bear already loves playing with this busy bag.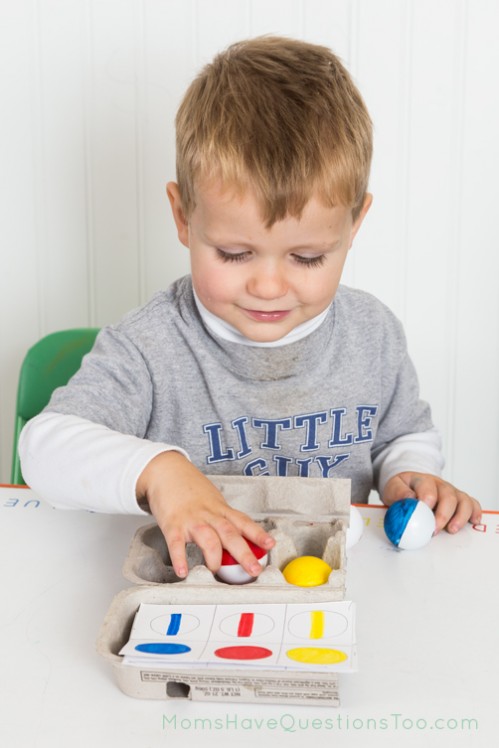 The great thing about this busy bag is how busy it keeps Smiley Man. It took quite a bit of teaching before he understood what he was supposed to do with the cards and lots of effort on his part to match the ping pong balls correctly. This means he can work on it for quite awhile with lots of concentration and without any help. I was surprised by how long it kept him busy. Plus, when he got sick of matching the ping pong balls, he just played with them and that kept him busy for even longer. This is a great busy bag for toddlers and preschoolers!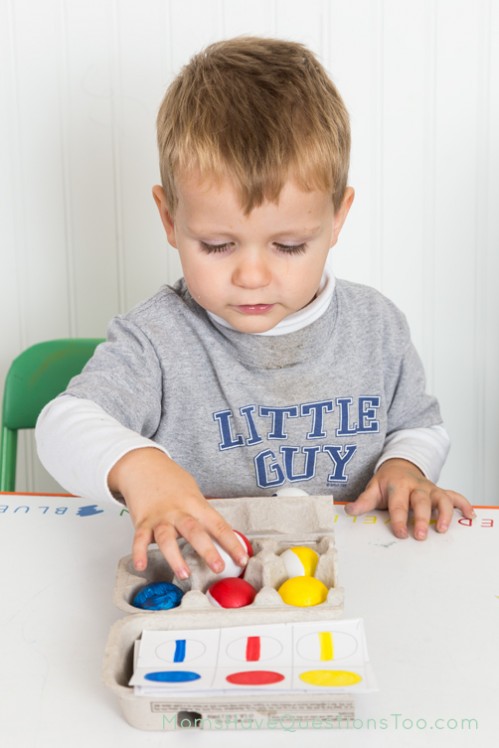 *Want to see more themed activities like this for toddlers or preschoolers? Check out our store page where our toddler and preschool series are compiled into Activity Packs for only $1.99! The Activity Packs are full of lesson plans, printables, and a curriculum guide.
[hr top]
We've found some fun people with great linky parties. You might just see this post linked up on one of these amazing sites!
No Time for Flashcards, Train Up a Child, Teach Beside Me, 1+1+1=1, Living Montessori Now, In Lieu of Preschool, ABC & 123, Sun Scholars, All Our Days, Frogs and Snails and Puppy Dog Tails, Homeschool Creations, 123 Homeschool 4 Me, Teaching Mama.