What is a fun way to incorporate reading and help my child learn the months of the year?
One of my favorite books growing up was Chicken Soup with Rice. I loved the rhyming and the fun pictures. Little did I know at the time it also helped me learn the months of the year! I thought it would be fun to do a months of the year book activity with Little Bear and read this book with him.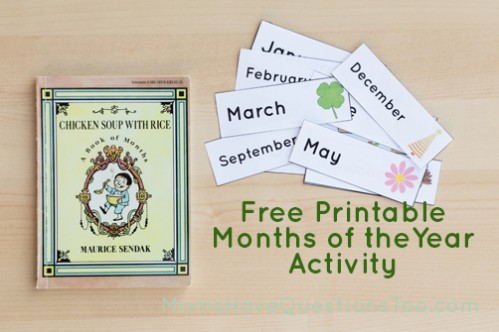 To go along with the book, I made a months of the year printable. Simply print this off and then cut out the months. If you'd like, you can also laminate them for durability. I'm sure you'll be able to come up with more uses for these than just what I'll show you here!
The first thing we did was read through the book. As I read the book, Little Bear would find the correct month and put it in order. This helped him recognize the name of each month and he started to get a sense of their order.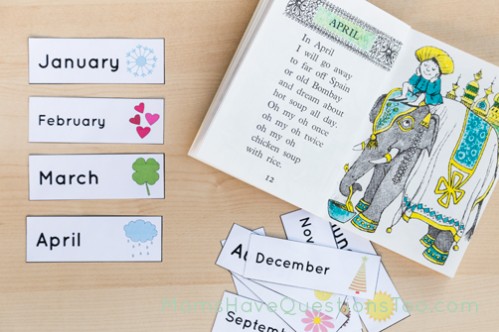 After we read through the book, we just used the printable to practice the order of the months. At first we started with just six of the months at a time. When he had that down we switched and did all 12 at a time. It was harder but he was able to do it.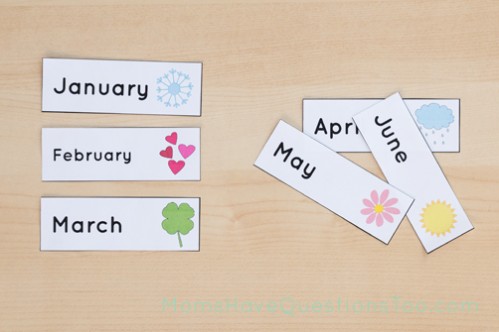 Some other ideas for using this months of the year printable: print off two copies and do a matching game, ask your child to find a specific month, put the current month up on the fridge so they know what month it currently is, or use it as part of calendar time in your preschool routine.
What are other ways you can see yourself using this printable?
[hr top]

We've found some fun people with great linky parties. You might just see this post linked up on one of these amazing sites!
No Time for Flashcards, Train Up a Child, Teach Beside Me, 1+1+1=1, Living Montessori Now, In Lieu of Preschool, ABC & 123, Sun Scholars, All Our Days, Frogs and Snails and Puppy Dog Tails, Homeschool Creations, 123 Homeschool 4 Me, Teaching Mama.